7. Next up is an awesome homemade dog food recipe, more specifically… MEATBALLS!! Your dog will LOVE this one!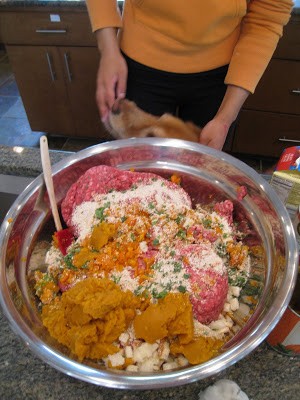 INGREDIENTS
10 lbs ground beef (lean)
2 cups of oat bran
3 cans pumpkin puree
4 carrots, boiled/steamed and mashed
leaves of 4 kale stalk chopped finely
3 slices of bread, cubed small
4 eggs
some salt (not too much, probably about 1-2 tbs for this much meat)
some flour to dredge the meatballs
For the full recipe and nutritional info, check out the original recipe at Mrs. Pacman's Passions.
Source: Mrs. Pacman's Passions
If you liked this recipe, you'll definitely want to check out the MEAT LOAF (a.k.a. WOOF LOAF!!) recipe on the next page!
MOVE ON TO THE NEXT PAGE: