Animal lovers have a lot to say about this story but regardless of what you may think, this is one SMART DOG!
Steve Moore rescued Jackson, a three-year-old Golden Retriever, from the shelter. Jackson needed a home and Moore stepped up to the plate. Moore took Jackson in and began working with him every day.
In just a month, Moore had him trained to do something PHENOMENAL! His "trick" had every passerby that saw Jackson, wanting this dog for themselves… a dog NO ONE showed interest in just a month prior.
Moore took Jackson to high traffic, busy areas so he could work with him while getting used to the noises and distractions around him.
He had Jackson sit and stay. Then he had him sit and stay for a longer period of time. Then, he had him sit and stay while he walked away from him.
He did this repeatedly UNTIL Jackson could be left on his own long enough for Moore to go inside of a store and get his errands done.
Since dogs are not allowed in most stores, this was a better alternative to leaving him in a car where he could overheat.
Plus, he wouldn't be tied up, so if an emergency should happen, Jackson could run to safety.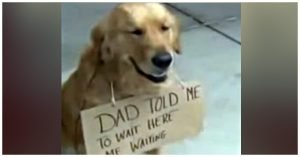 The final stage was to get him to sit and stay WHILE wearing a sign around his neck. "Dad told me to wait here. Me waiting."
And Jackson is really good at waiting! Even with commotion around him and people walking up to say "hi" and give him pets, Jackson waits, FAITHFULLY for his human to return.
Now that's a GOOD BOY!
Next Story:
Basics of Dog Training
It's essential for Dog parents like you to know certain basic factors that determine your relationship with your Dog and can go a long way in training him effectively.
Before you begin training your Dog, it is absolutely essential that you build a loving bond with him. This is important as it helps you to understand his needs and instincts and also allows your Dog to have complete trust in you.
Know more about Dog care from this free mini course
Let us see how…….
How To Bond With Your Dog
Building a bond with your Dog is the first and the most crucial step involved in training him successfully. As soon as you bring your Dog home, you must first try to develop a caring and loving relationship with him in order to win his trust and confidence.
When Dogs are secure in the knowledge that they belong to the family, they are more likely to respond better to their owners' training commands. Just like with any relationship, there must be mutual trust and respect between you and your Dog.
Trust takes time to develop and respect comes from defining boundaries and treating any breach of those boundaries with firmness and fairness.
Without enforceable limitations, respect can't be developed. And when there is no respect, building a bond with your Dog is almost impossible.
4 Golden Rules To Building A Relationship With Your Dog :
Spend quality time together;
Take him out in the world and experience life together;
Establish and promote a level of mutual respect; and
Develop a way of communicating to understand each other's needs.
Building a bond with your Dog will not only help you manage him better but will also make your Dog calm, quiet and an extremely well-adjusted pet.
Love Your Dog and He Will Love You back
Once you're succesful in building a bond with your Dog, you can rest assured that training him and teaching him new and clever tricks will be a cakewalk.
Learn how to bond with your Dog with this free mini course.
How Your Dog Learns…
Your Dog's learning period can be divided into five phases:
The Teaching Phase – This is the phase where you must physically demonstrate to your Dog exactly what you want him to do.
The Practicing Phase – Practice makes Perfect. Once a lesson is learnt, practice with your Dog what you have just taught him.
The Generalizing Phase – Here you must continue practicing with your Dog in different locations and in an environment with a few distractions. You can take your Dog out for a walk, or to a nearby park and command him to practice whatever you've taught him.
Practicing the learned lessons in multiple locations and in the presence of small distractions will help him learn and retain lessons better .
The Testing Phase – Once you're sure that your Dog has achieved almost 90% success….he responds correctly almost every time you give a command, you must start testing his accuracy in newer locations with a lot of distractions.
Example: Take him to the local shopping mall and ask him to obey your command. He may not come up with the correct response the very first time you do this, but you must not lose hope.
The idea is to test your Dog to see how he responds in an environment which is new to him. Set-up a situation where you are in control of the environment and your Dog.
There are only 2 possibilities:
Your Dog succeeds!!! (Trumpets please!)
In case your Dog fails, re-examine the situation. Review and/or change your training. Then try testing again.
Keep on testing until he succeeds. Follow the rule of the 3 Ps – patience, persistence, praise.
Internalizing Phase – Finally, comes the extremely rewarding phase where your Dog does everything he is taught to do even without your commands.
Remember:
Never scold your Dog if he fails. It's not his fault. You have failed as a trainer!
You must be patient and persistent for your efforts to show rewards.
Appreciate and love your Dog when he does it right! A little encouragement will work wonders for your Dog.
Please 'SHARE' to pass on this story to a friend or family member
Stay for one more story, be sure to check out these Top Trending Stories below:
10 Of The "Most Loyal" Dog Breeds On The Planet
Giving love and support to humans is something that some dogs do better than others.
While many dogs love everyone they meet and are willing to take treats or belly rubs from anyone, the pups we found are just the opposite.
These 10 dogs are some of the most loyal breeds on the planet. They are rock steady in their loyalty to their owner no matter what.
1) Akita
When the American Kennel Club (AKC) lists loyalty to describe the temperament of the Akita, you know they mean business. The beautiful double-coated working dog of Japanese ancestry is considered hardwired in protecting those she loves. They should be socialized with other dogs and people from the time they are puppies. Their silly, fun, but dignified personalities round out the loyal Akita.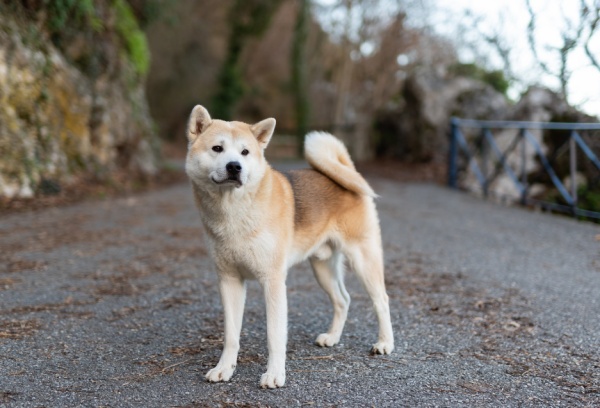 Source: NicoMonaco/Flickr
2) Boxer
This working dog is smart, full of energy, and oh so loyal to their family. They get along great with kids and have an innate instinct to protect their pack. He's a watchdog with a heart of gold who oozes dedication to his owner.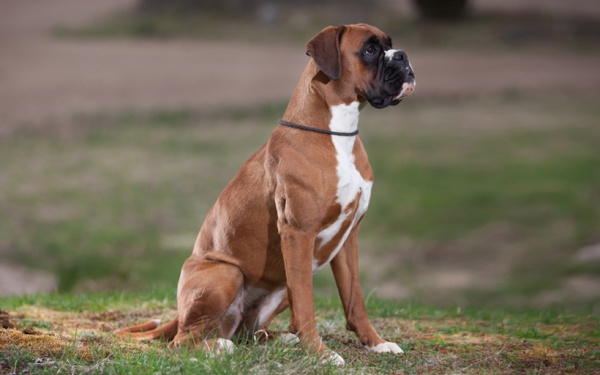 Source: Pierre Pocs Photography/Flickr
3) Skye Terrier
Known as the "small dog with the big ears," this adorable breed hails from the Scottish Isle of Skye, hence the name. Whether you live in the city or the country, this small dog with a big personality is steadfast in snuggling, playtime, and remaining loyal to his owners.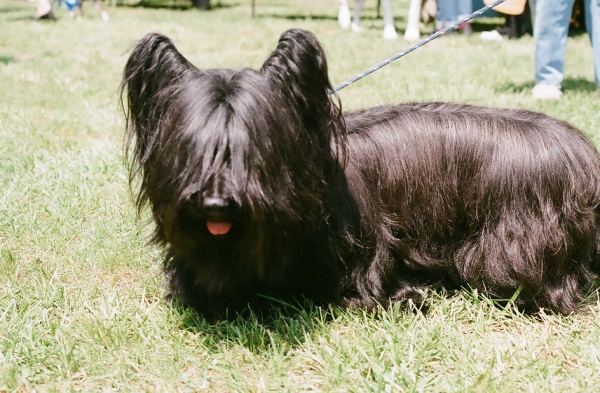 Source: WaketheSun/Flickr
4) Beagle
This merry hound is friendly, curious and incredibly loyal. While he doesn't mind the occasional couch potato time, this spunky pooch is energetic and merry. A fun fact about this hound: the breed standard is for 13 inches and under and another in the 13-15 inch category. No matter how you size him, these adorable dogs just want to cling to you.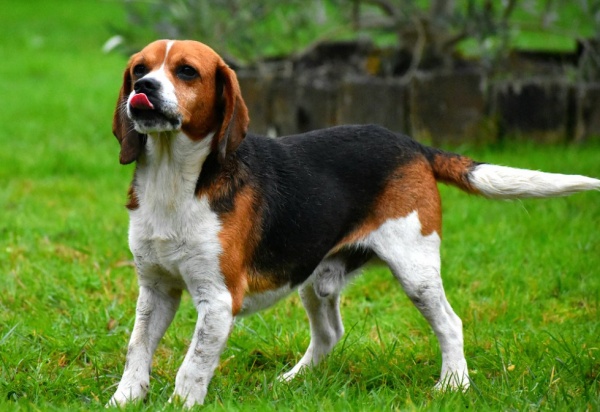 Source: Simon Hameau/Flickr
5) Shar-Pei
This wrinkly non-sporting breed is standoffish to strangers but very loyal to his owner. His ancient Chinese roots are part of the charm of the Shar-Pei. Regal, strong, and smart, if you want a BFF for life, this loose-skinned pooch may be the right choice for you.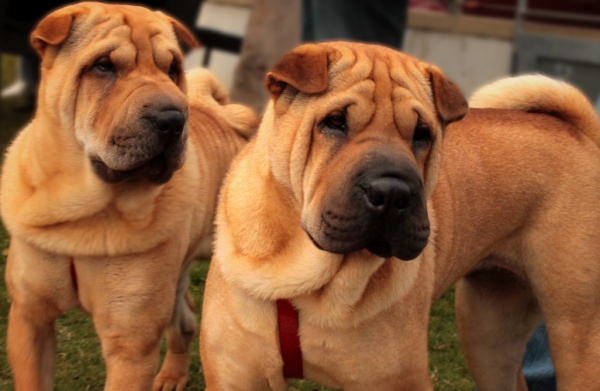 Source: Alessandro Persano/Flickr