You never know what interesting things you might find on the streets of New York City. An Instagram account called "NYC Free at the Curb" helps local New Yorkers find free stuff left on the street, like used furniture.
But recently, the social media account led one woman to a very special friendship, after she learned about a dog abandoned in an NYC subway station.
On March 27, the "stooping" Instagram account took a break from its usual thrifty finds for an emergency alert: a dog had been found in the Fulton Street subway station, reportedly scared and tied up.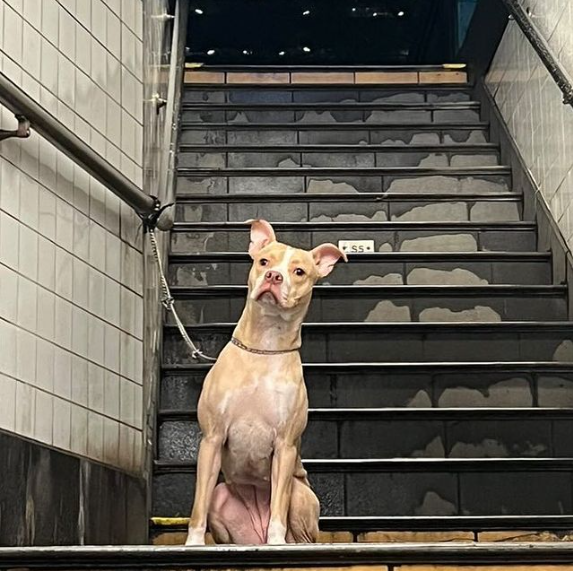 The account got the word out that an emergency rescue was needed — and when New Yorker Heather Hamm saw the post, she knew she had to help.
Heather came across the post while browsing Instagram, and when she realized no one had taken in the dog she took a Lyft to the station. She met the abandoned pup, and quickly formed a connection with her.
"I put my hand out, and for a split second, she backed away — but then immediately came to me. I realized then that she was clearly a puppy still," Heather told Green Matters. "Her tail was wagging like crazy, she was giving me plenty of kisses and puppy jumps. She quite literally jumped into my arms while I was bent down to her."
Police also arrived on the scene and told her that they could take the dog to a shelter if there was room, but instead Heather decided to take the dog to her own apartment, where she set up a space for her.
"I was just like, 'Can I have her?' And they were like, 'She's your dog now, she obviously likes you,'" she told ABC 7 New York.
"I called her Peaches, and she responded. So, I kind of think that's already her name," she added. Peaches is estimated to be about 6-9 months old.
It isn't known where Peaches came from or who abandoned her. She did not have a microchip. Thankfully she did not have any medical issues and vets gave her a clean bill of health.
Heather, who had been planning to rescue a dog, decided it was meant to be and adopted Peaches for good.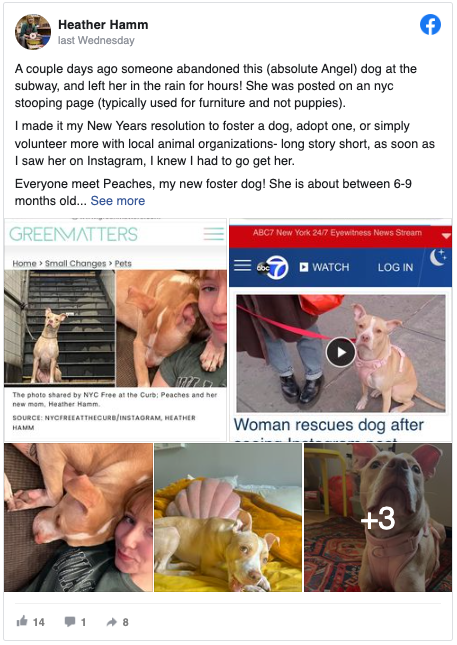 "She's so far been adjusting extremely well!" Heather told Green Matters. "She's super obedient, always looking to me while we're walking, and she already knows basic commands like sit, stay, up, and down. She's always at my step, and lays right at my feet when it's time for bed."
It took some unusual circumstances to bring these two together, but Heather says that Peaches is definitely the best thing she's ever found on the "free at the curb" Instagram account.
"I found my coffee table. I found my couch that I was sitting on when I saw this dog. I found so much on this page, so, this is just my craziest stoop find yet," Heather told WABC.
Thank you to Heather for saving Peaches and giving her a great new home! Please share this amazing news! ❤️🐾