These are TikTok-famous products your pooch would definitely save to their favorites… since your dogs can't scroll your TikTok feed and show you for themselves.
1. A clip-on dog treat pouch for easy access to treats you can toss your *pawsome* pup. Dog trainers say it's an ideal find too!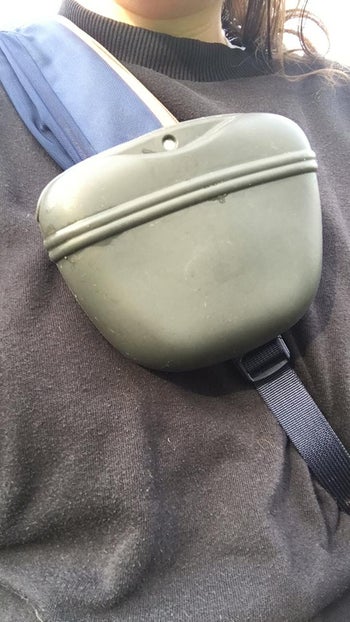 Find out why this pet parent loves this pouch in this TikTok video:
Promising review: "I love this thing! I am a dog trainer; I train sled dogs and this is perfect. There's just nothing bad I could say about it. It cleans well, you can fit your hand in it easy, the pieces come in and out of it easy, the sturdiness is perfect, and you can snap it on your coat pocket if you don't have a belt. You can also snap it on the leash. I am so grateful I chose this one. You will not regret it if you buy it. 😁" —susan Hafner
Get it from Amazon (available in a one or two pack and 10 colors)
2. A portable paw cleaner because your puppy loves outdoor fun but also likes to keep their paws clean, too. Now puppy can have all the fun without leaving traces of it all over the house or your car.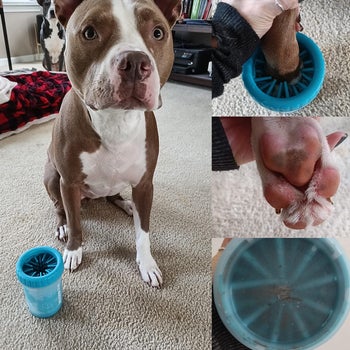 See how practical this portable paw cleaner is in this TikTok video:
Promising review: "This product is great. My puppy is a digger, and we have red clay-type dirt. It gets her paws clean fast and easily. So much better than having to get a bath every time she digs." —Mandi Bultman
Get it from Amazon (available in three sizes and five colors).
3. A dog water bottle you can clip onto their leash so they can stay hydrated while they join you for your morning workout session. And yes, this is the same doggy water bottle from TikTok.
Watch how nifty this is on TikTok:
Promising review: "I love this item. Especially nice when I take my dog to the dog park…for some reason he doesn't like drinking out of the communal dog bowl. The water flows into the cup area and back into the reservoir if the dog doesn't drink it all…with a button to lock in the water. Perfect product." —J. Chevalier
Get it from Amazon (available in two sizes and in three colors).
4. An indoor/outdoor pet brush with treat mat that you can attach to a hose or your shower so that you can breeze through bathtime. The brush is easy to turn on and off and super easy to attach. Bye smelly dog, hello clean companion.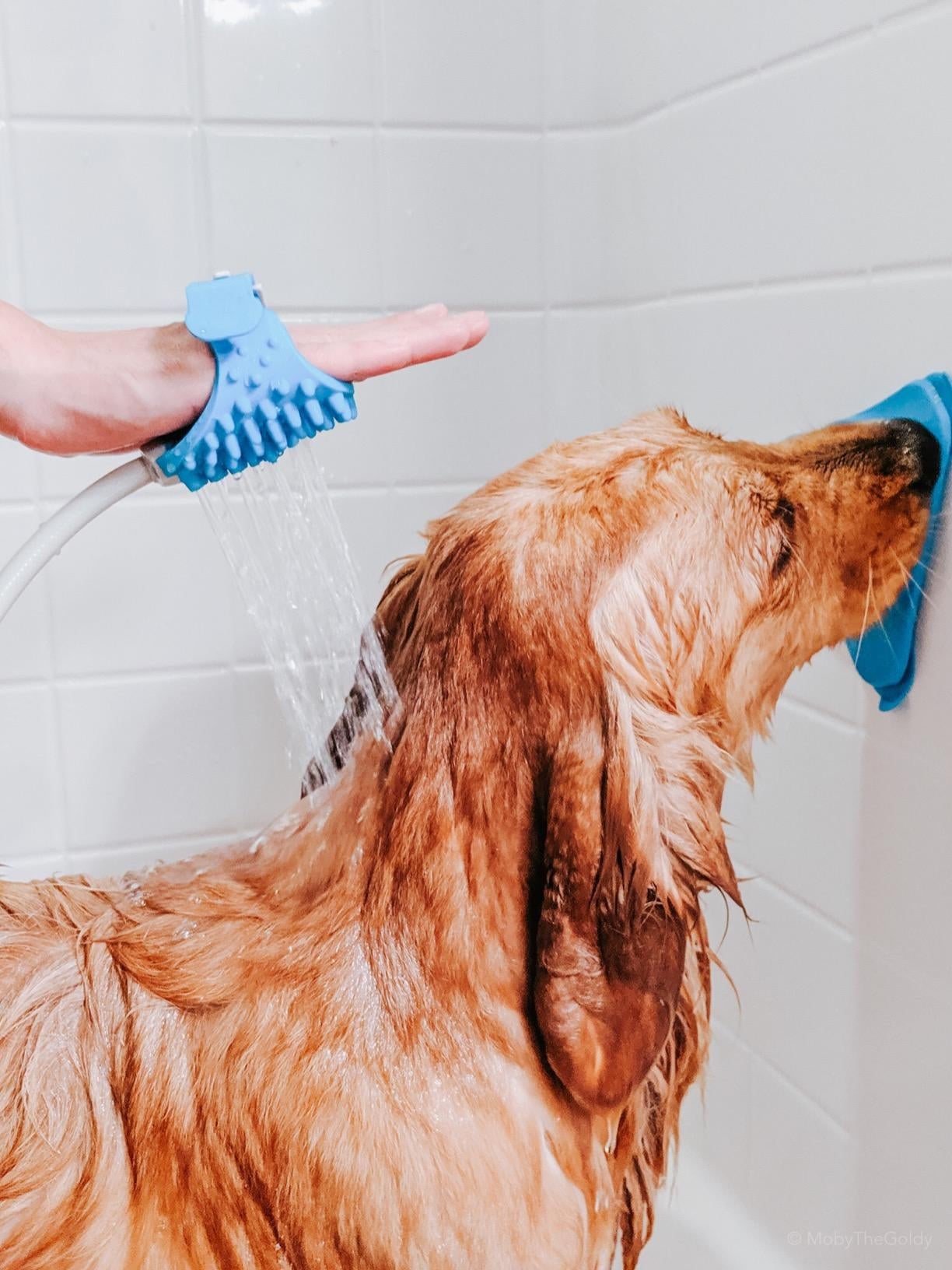 Watch how easy this brush is to use in this video on TikTok:
Promising review: "Our 6-month-old puppy hated bathtime! I bought this and the silicone suction thing for her to lick some peanut butter and bananas off of. It seriously made bathtime a breeze! She was completely distracted and the speed that I could get her scrubbed and rinsed was amazing. Before it was a two-person job, and I ended up with bruises, but with this set up it could be done by one person. Also, installation was very quick and easy!" —Britany
Get the brush and treat mat combo from Amazon.
5. A Furbo camera so your pet will feel loved even when you're at work or out running errands. You can monitor them from your smart device, and toss them a treat to give them a little reminder that they're loved and you'll be home soon.
Watch this pet parent explain why they love their Furbo in this TikTok video:
Promising review: "I was always concerned leaving my puppy home alone because he will cry a lot. When I got the Furbo, things got much better! Furbo sent me notifications to my phone when he was crying, so I would log on and talk to him right away. This changed everything!! My puppy knows I'm always there, so his separation anxiety is getting better. He cries less, and I feel much more relieved." —Susan
6. A training toy you can spread peanut butter on to encourage the pup to spend time in their crate. They'll even start to actually enjoy it. It gives them something to do as well as a delicious treat, and you can enjoy the peace and quiet.
See it in action in this TikTok video:
Promising review: "Our puppy loves this! We used it to lure her into her crate and be comfortable spending time in there. The licking is self-soothing, and it is great having something cold for her sore mouth while she is teething. She hasn't been biting or chewing on it, but having something cold has stopped her from chewing up other items! We are also in a humid climate where the average temperatures have been in the high 90s and low 100s so having something cold to cool her off really helps. We purchased other similar items (like lick mats) but they have not worked nearly as well, and they don't have a cover! The cover is key to being able to freeze this and keep it clean between uses." —LadyTodd
Get it from Amazon (available in four colors).
7. A pet hair roller to collect all the fur that's left on your couch, bed, and armchair like little piles of buried treasure.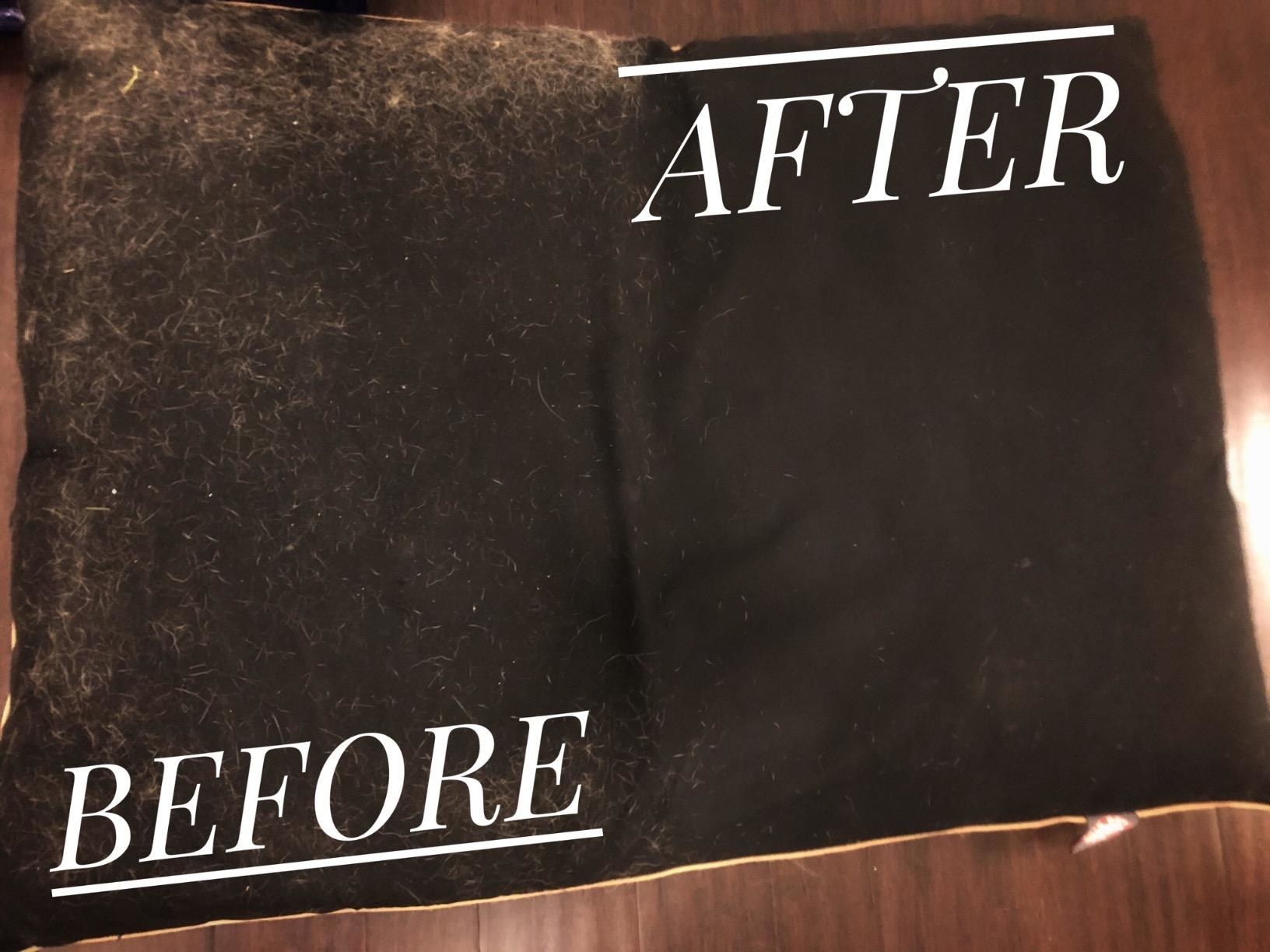 Watch how amazing it works in this TikTok video:
Promising review: "I have a golden retriever and the shedding is out of control. My fabric sofa is constantly covered in hair and I finally decided to try this after reading an article about popular TikTok products. The reviews do not lie, this thing works magic!! I wish I had taken a before and after picture because the difference is noticeable. I watched the video tutorial before I tried it to ensure I was using it properly and everything he says is true, you do really have to put your arm to work with vigorous back and forth movement! However, I find it's a great arm workout and it works wonders." —Joanne Ertel
8. A pair of waterproof pet leggings as seen on Shark Tank, so your furry friend can be protected from dirt and germs during their afternoon stroll. Or snag a pair of indoor leggings to give them more support while trotting across your hardwood floors.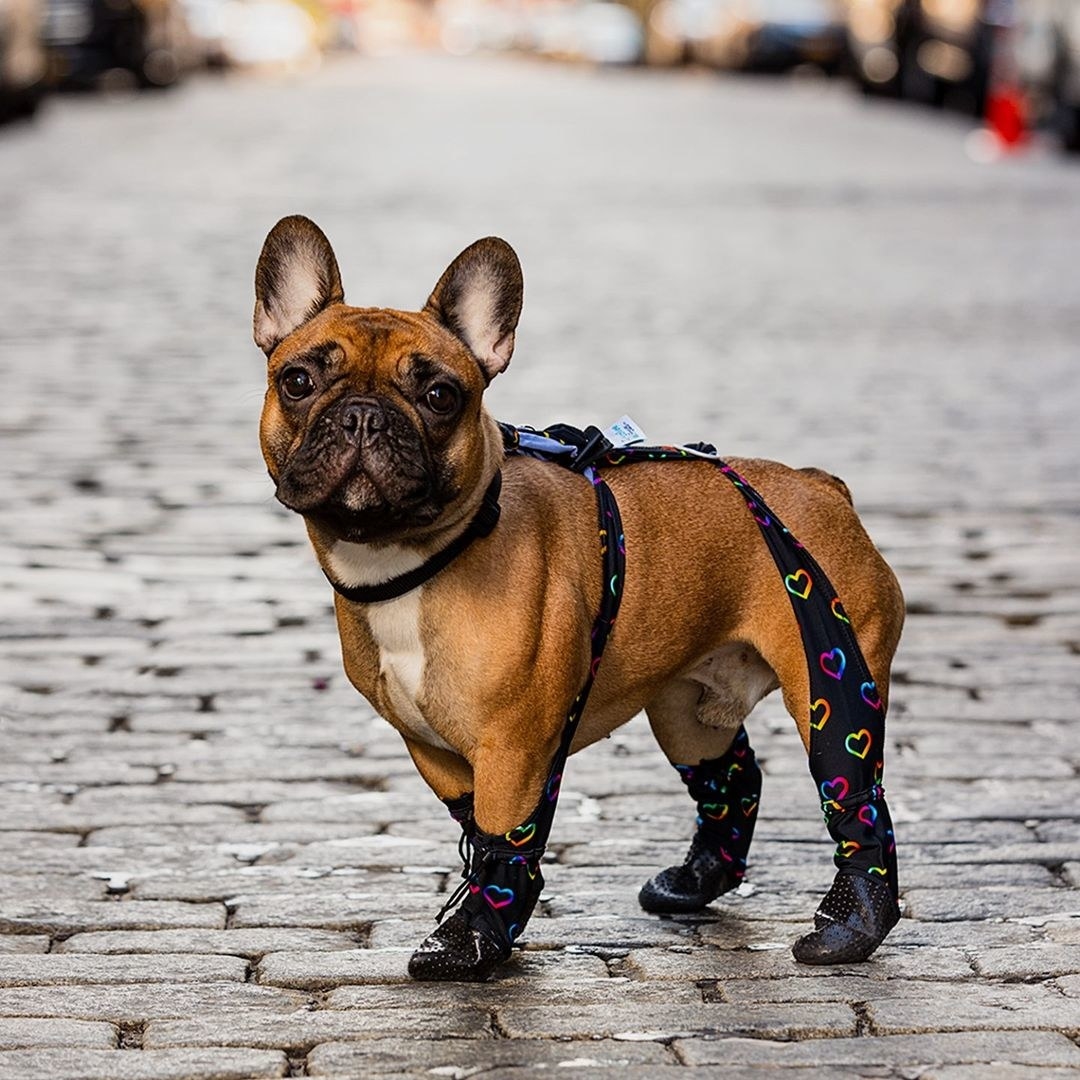 Walkee Paws is a small business that makes doggy leggings so that your pup's paws can stay protected as it struts up and down the streets. Enter our code WALKEEBUZZ at checkout for 15% off.
Promising review: "I love the Walkee Paws. Unlike the other type of dog boots, these stay on her tiny feet. My little girl never liked walking in the rain or snow. The first time I put them on her inside the house, she was hesitant to walk, but with a little coaxing, she walked off the rug onto the wooden floor. When she realized that she didn't slip, she started acting silly, running back and forth in the house. Now she loves walking in the snow and water puddles." —Cynthia C.
Get 'em on Amazon (available in various styles and sizes).
For indoor leggings, click here.
9. A mini pet hair remover in case the amount of pet fur embedded into the carpets is a little bit more than the average amount. This tool has teeth in three different lengths making it easy to switch around to the type of strength you need depending on the size of the task at hand.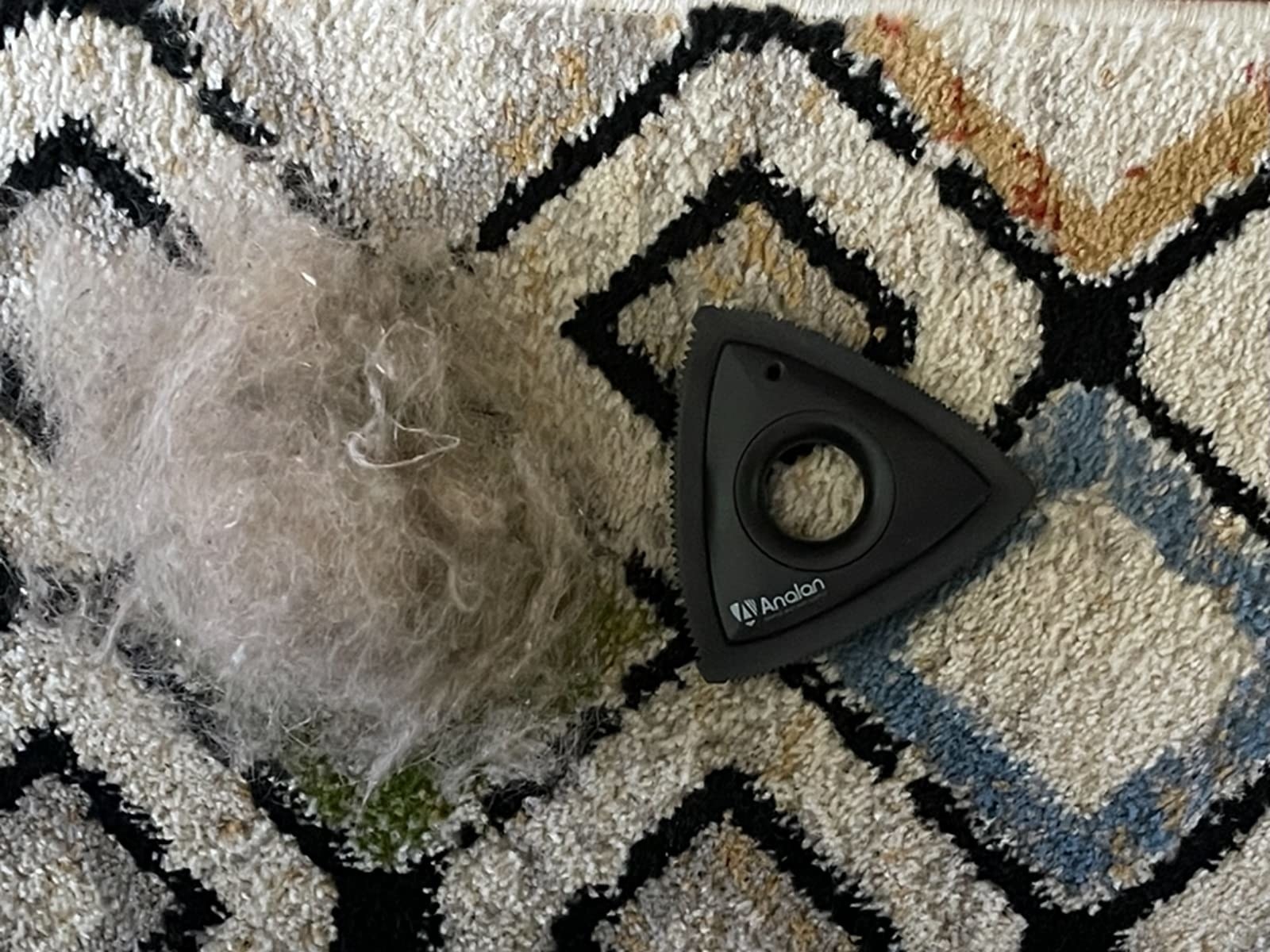 Check out this review video on TikTok:
Promising review: "OK, y'all, I normally do not write reviews. That being said, this thing is not a WANT but a NEED for anyone with long-haired animals! I saw it on TikTok and was like, 'Whatever, I'll try it.' I have a husky and three cats. It normally takes me three HOURS to vacuum my couch and clean it. It took 15 MINUTES. I would rate it 1,000 stars if I could." —Cheyenne cutsinger
Get it from Amazon (available in five colors).
10. A pack of stain-removing pads, pretty much one of the easiest ways to disappear a stain. Got poop? Got pee? Got vomit? Ew. But, these pads will handle them all. Lay them on the spot, ~stomp the yard~ to activate the cleaning and then watch the stain disappear. It works on wine, too!
See it in action on TikTok:
Promising review: "WOW! Honestly, I was a little skeptical of the promise of these pads, but I bought them just to try out. THEY WORKED AMAZINGLY WELL! Seriously. I have some stains that are 1.5–2 years old. I've tried everything to get them out. I put these pads on the stains (two to cover the spot), let sit for about an hour, pulled them up, and the stain was gone. I truly couldn't believe it. The pad was yellow. Somehow the old urine was soaked up into the pad. My carpet looks like new. I couldn't recommend these any higher for what I wanted and what I got. Wish I could give this more than 5 stars." —Matt
11. A Bissell Little Green machine with the cleaning power to restore your carpet to the way it looked before you welcomed your furry pals to the family.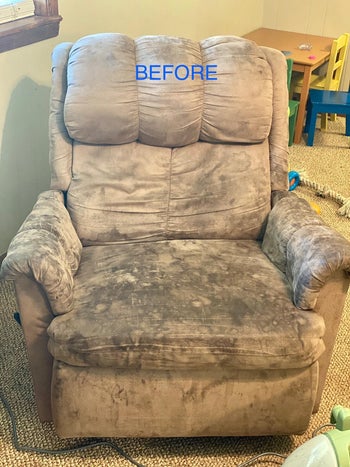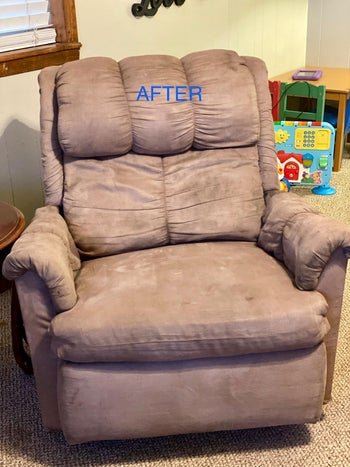 Watch it work its magic in this video on TikTok:
Promising review: "Yep! TikTok made me buy it and I loved it. Looked for it online, and on Walmart they were about $150 for some reason?? Got it here, and I am LOVING IT. Things definitely look cleaner. Spots on my carpet are gone, and my car seats look brand new for the first time since I bought it! Directions are easy. Just a heads up, MAKE SURE TO USE WARM WATER. if you leave water in it and it gets cold, it's not as effective, so just follow instructions and it should be wonderful!" —Carlos
Get it from Amazon (available in two styles).
12. A bully stick holder to put your mind at ease when your tail-wagging friend wants to chow down on their pizzle stick. There's always a possibility dogs can choke on their stick treats especially when the treats splinter or get chewed down to the bare bits. This gadget holds the treat tightly so you can enjoy your Saturday night movie without worrying.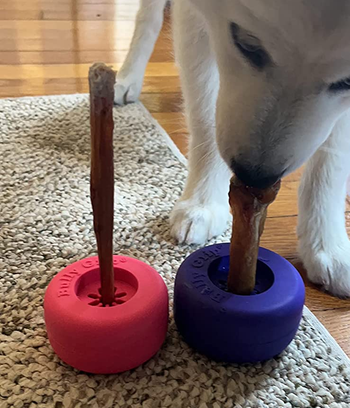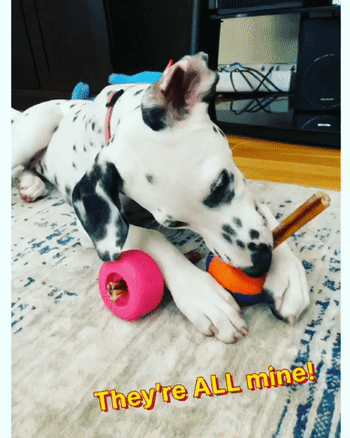 There are several sizes to choose from based on the width of the chew sticks you give your pet: small (for treats 1/2 inch to 3/4 inches), medium (5/8 inches to 7/8 inches), and large (3/4 inches to 1 1/8 inches).
See it in action on TikTok:
Promising review: "We recently got a new puppy who loves to chew on everything (the table, my shoes, our other dogs, etc.). Once we discovered bully sticks, we thought we were home free, but then I started reading about all these horror stories where dogs swallow the last few inches of the bully stick. Sure enough, a few days later, I see one of my other dogs coughing while frantically making chewing motions. I ran over and luckily managed to fish out the last bit of bully just before it went down his throat. If this could happen to my older dog with 13 years of chewing experience, I knew it was just a matter of time before the puppy did the same thing. These are the greatest invention ever! They are sturdy and grip the stick like nobody's business when used according to the directions. (You have to twist the stick, people. Pay attention to the directions!) There are no parts that break off, and the shape is fun for the dogs. Plus, they're light enough that the dogs can carry them around in their mouth. If you give your dog any kind of chew stick, I cannot recommend these enough. We have three BullyGrips at the moment (one small and two medium) but we have four dogs, so we'll probably get one more. These are half the price of the competition and work so much better. We'll never use anything else again." —Mikara
Get the small size from Amazon (also available in medium and large).
13. A creamy paw butter ideal for keeping your doggy's paws moisturized so they don't crack. You can use it on their snoots, too. And it's safe if they lick or swallow it… good to know for your little rascal always getting into stuff.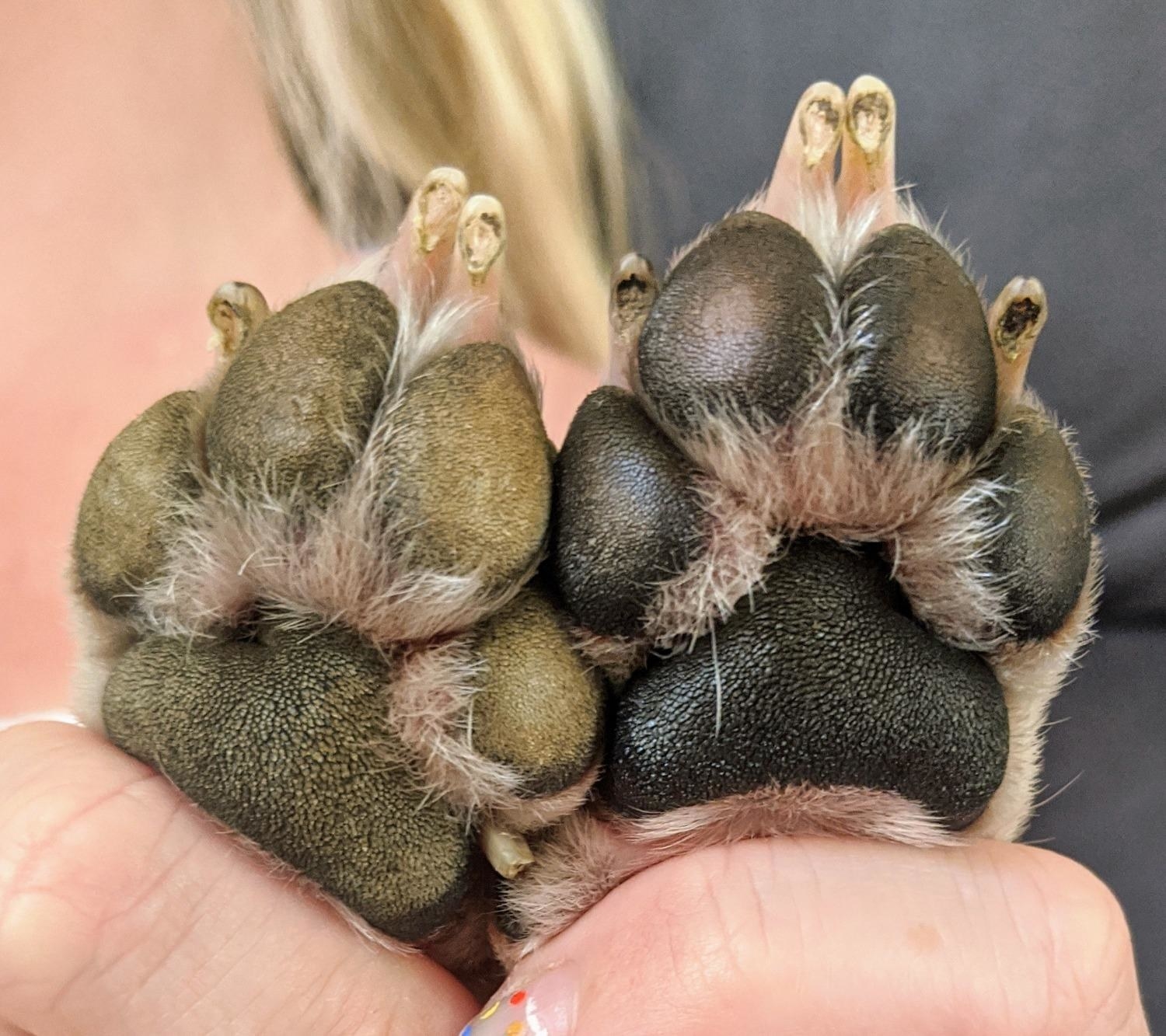 See how good it works in this video on TikTok:
Promising review: "One of my puppers is a super-athlete who lives to go for walks and on runs. She is about 9 now and the vet gave her a stellar bill of health save one thing: her pads were getting really rough and worn from paved trails and city walks and this may be uncomfortable, especially as summer comes and pavement heats up. I was skeptical about any kind of balm as I figured that it would leave a mess on my floors or one/both dogs would just lick it off their feet. No problems whatsoever, and after a single application, both dogs' pads are really soft and supple. Hopefully the dogs can feel the difference. I can surely see it and feel it. Also, the balm smells like oatmeal cookies, so bonus for that." —LRL
14. A pro-level grooming kit because you're tired of those stressful trips to the groomers. It's an at-home kit that comes with a grooming brush, a deshedding tool, a trimming tool, a nozzle head, and a cleaning brush so you can achieve groomer level results from the comfort of your own home. And it has a collecting container so you don't have to worry about those hairs flying all over the place.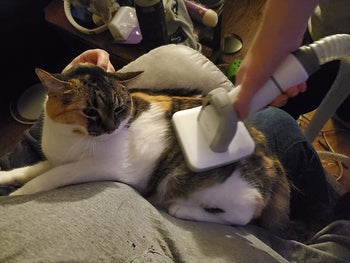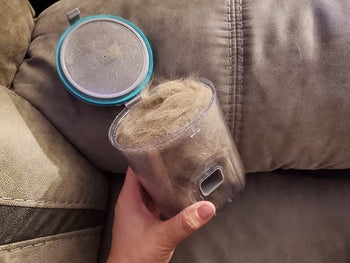 Watch the magic happen on TikTok:
Promising review: "Whoever invented this, thank you!! This is a dream come true. I own five lion head bunnies and they are furry. I've been grooming them myself at home for the past two years and it was hell until I bought this. Just to give you an idea of how much hair is on one rabbit, I fill up two vacuum canisters every time. It use to stress me out just to think of how long (2.5 hours) it would take with one rabbit. Now it's 45 minutes if that. And no cleaning up the floor or hair all over the place. I'm so happy I purchased this! It's totally worth every penny and if I could give 10,000 stars I would. Buy this. It will make you happy." —Maribel
"Not a paid review! I love it, and if I could give more stars I would. It arrived today and I already used it on one of my dogs. The other ones are not sure about it yet. It's really dummy proof; you can't mess nothing up. I mean it's perfect. You got everything you need to make your fur baby beautiful. It has every attachment you can think of for grooming and for yourself as well. So, I feel like if you have a pet this is a must have." —Emma
15. A Wobble Wag Giggle ball with an internal noisemaker and six pockets to keep your pet entertained when you don't have the energy to play or need to keep them distracted so that you can get some work done.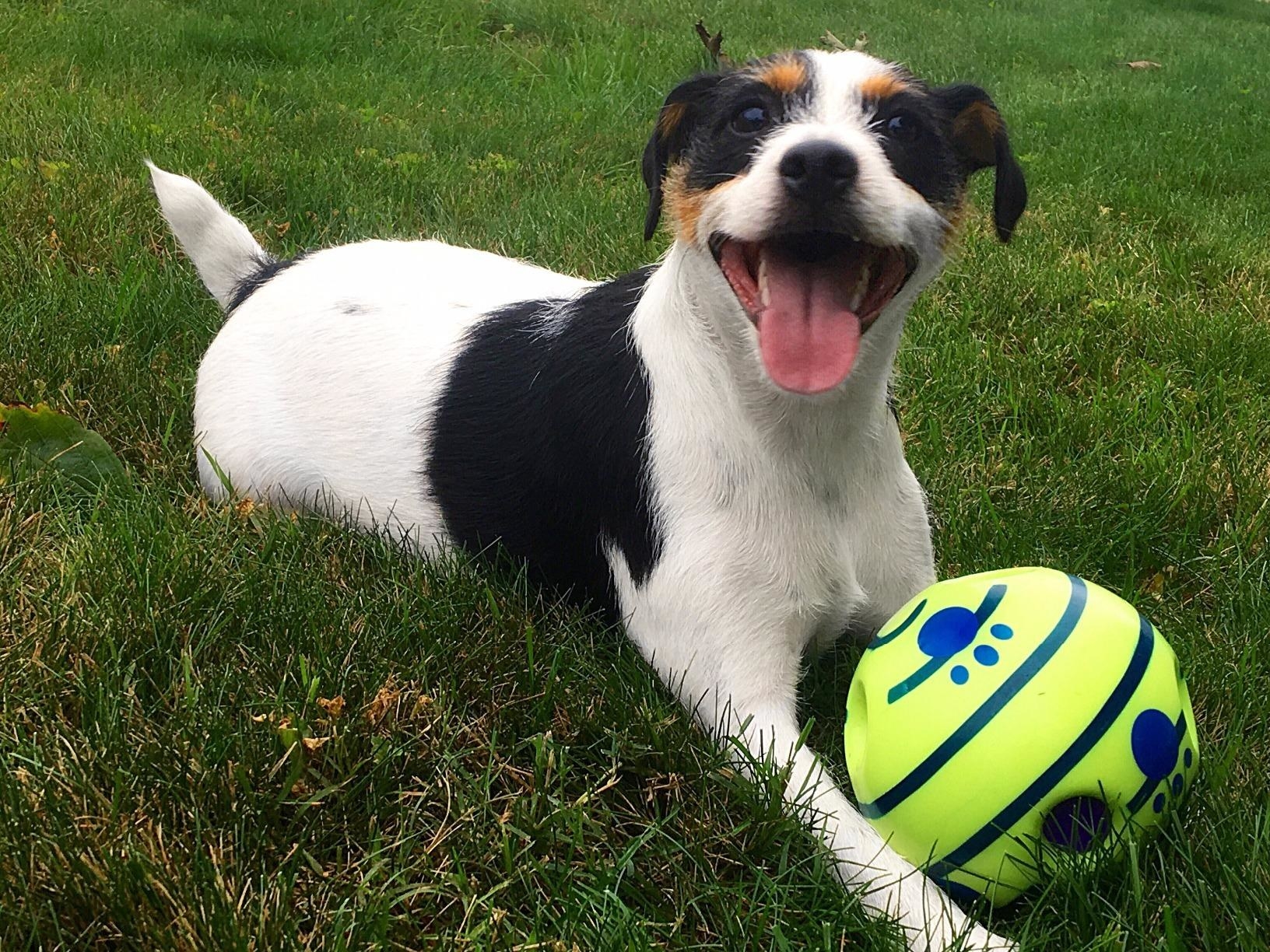 Watch it in action on TikTok:
Promising review: "WE FOUND IT! A play ball that can stand up to our 14-week-old part black Lab, part shark. We have tried several toys that would stand up to the extremely sharp teeth. Nothing has worked for over 15 minutes of intensive play time. We heard about this ball from a fellow puppy owner and ordered immediately. Added bonus: She is exhausted after chasing this thing around, so naptime comes quickly." —james Bennett
16. A broom for pet hair because you probably have no actual idea how much hair is secretly residing in the fibers of your carpet. Brace yourself.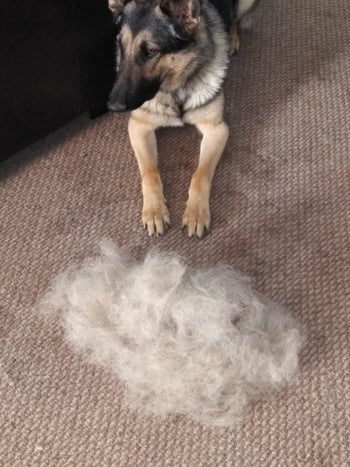 Watch how effective this tool is in this video on TikTok:
Promising review: "I have two long haired dogs and my larger dog (a standard Aussie) sheds a lot. It's a constant hassle to clean up and it doesn't seem to matter how often we vacuum, there's always more hair. I saw this product on TikTok and thought it might be worth a try to get up more hair from our carpets. It worked really well. I personally found the 'squeegee' side worked best on the carpet, but the brush side worked well on the tile." —🤷🏼‍♀️