A dog named Jake was found with a massive tumor — but thankfully some kind humans completely turned his life around.
A labrador retriever was found roaming the streets of Waco, Texas last summer, according to a press release from Texas A&M. He had a massive salivary gland tumor.
The poor dog was taken in by local rescue group Long Way Home Adoptables, who were shocked by the dog's condition. "We've seen some crazy medical cases from neglect and abuse, but we've never had a dog with a mass that big," said April Plemons, the rescue's founder and executive director.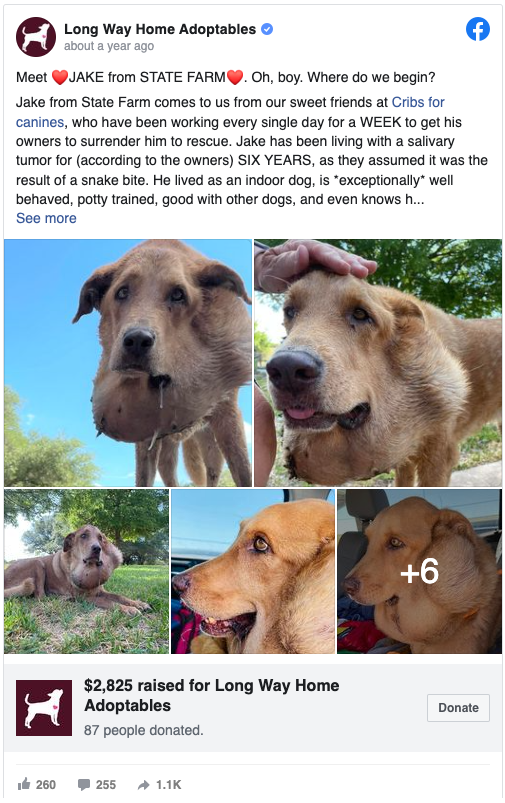 They named the dog "Jake from State Farm" after the insurance spokesman. He was placed in a foster home and began medical treatments for the tumor.
Because of the tumor's large size and tricky location, they were referred to the Texas A&M School of Veterinary Medicine and Biomedical Sciences. A CT scan led to a diagnosis of adenocarcinoma, a tumor of the salivary gland.
"Salivary gland disease is pretty common, but cancer of the salivary glands is not," a VMBS assistant professor Dr. Vanna Dickerson said in the press release. "In Jake's case, saliva built up because he had this big tumor obstructing his salivary ducts. And it's certainly quite uncommon to have it get as advanced as it was in him."
Because the tumor was so large and so close to vital body parts, it's unlikely that he can be completely cancer free, but surgeons were able to remove most of the mass to improve his quality of life and likely give him several more years to live.
Photos show Jake after the surgery looking so much better, the majority of the cancerous mass safely removed.
"It was very instantly gratifying in that he came off the OR table looking so much better," Dr. Dickerson said.
His story gets even better: With Jake's surgery complete, Long Way Home Adoptables began looking for a forever home… and now, Jake has been adopted by a loving family!
"Jake is the absolute best boy and really is living his best life," Jake's new owner Josie Brown, a veterinary practice manager, said in the press release. "He never seems to be in pain and he enjoys being with his people."
She said she has been able to manage Jake's tumor by draining the fluid once a week.
"It didn't take him any time at all to adjust to life with us; it was like he was meant to be here this whole time. We are very thankful for Long Way Home Adoptables and Texas A&M for everything they did for Jake."
It's a very happy ending for Jake thanks to this team of surgeons and his loving new owner. His story has since gone viral, and the real "Jake from State Farm" from the commercials even reached out offering to buy him a new bandana, collar and leash.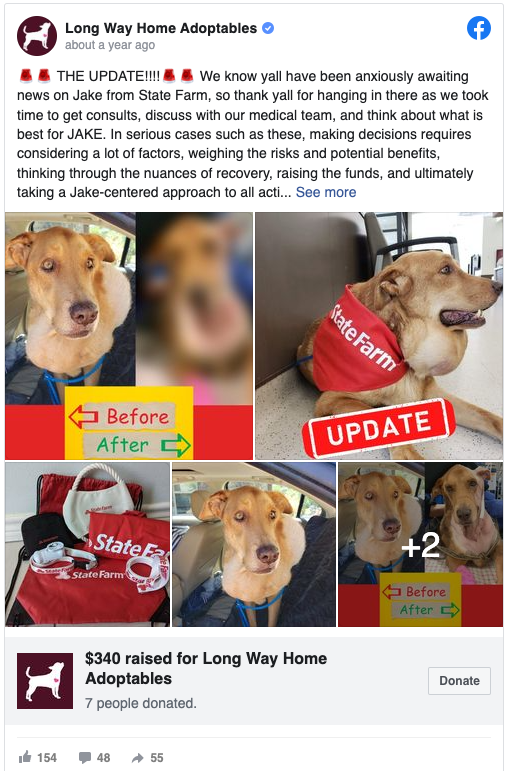 Jake looks beautiful now — thank you to everyone who saved his life by treating his huge tumor! He's going to be very happy for now on in his loving new home ❤️
Please share this incredible story as a reminder of the great things people do for dogs in need.
READ MORE: