Tubs is a one-year-old blue Staffordshire Terrier who lives in North Queensland, Australia. She loves nothing more than hanging out in her family's front yard and wait for people passing by to pet her.
But maybe because of the way she looks, she might intimidate some people.
The result was passers-by walked past without giving the young dog any attention. This left the friendly Staffy a bit heartbroken.
So mom decided to set up a colorful sign. It read: "Tubs is friendly, she would love a gentle pat."
The result? Mom posted up videos to social media that have gone viral:
Tubs is delighted by the attention and her tail simply won't stop wagging.
In another compilation of videos, Tubs is seen greeting a couple who are expecting a baby. As the months go by, the mother-to-be's belly gets bigger until the happy couple are seen pushing a pram.
Tub's mom captions the video, "We feel like we have followed this couple's journey from the start…"
There are always exceptions, however. "Not everyone pats Tubs and that's okay…we understand but Tubs Does not," says her family, before adding, "Lucky she is so loved by mummy, dad, friends, family and 99% of the neighbourhood."
And there are a lot of friendly neighbors. Tubs has made so many new friends since her mom put up the sign that she says she has so many more videos to share.
Tubs is also "a great little Ambassador for the staffy breed," showing just how friendly the dogs are.
Tubs' family also wants to reassure everyone that Tubs is safe in her front yard. The dog is only let out when someone is home and is never left unsupervised.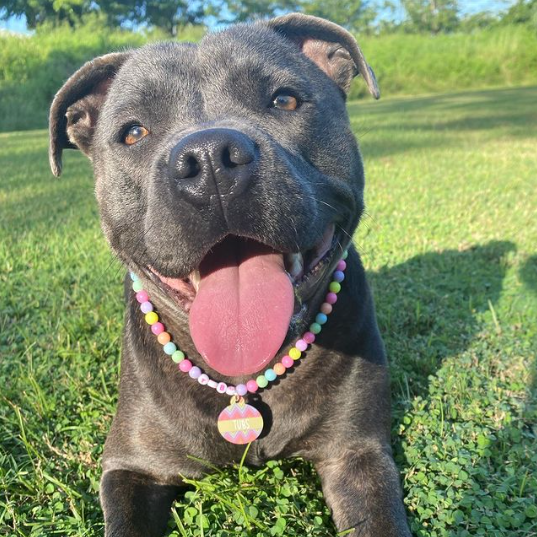 The whole experience has been a win-win and the family has absolutely no regrets in having put up the sign for Tubs.
Her family writes, "She loves all the attention and our neighbours love her."