Do you believe in love at first sight? I know I do. I experienced this the first time I laid eyes on my dog and I just knew he was meant to be mine.
Apparently, I'm not the only one who clicked with their future pet the moment they met, but a family from Oklahoma had such experience themselves. In their case, they went above and beyond to get the gorgeous dog with a special marking.
Once the photo of the collie with a black heart on her chest was posted online by the Broken Arrow Animal Shelter, people went crazy over the dog. In no time, the cute photo was shared more than 27,000 times.
It's a practice at the shelter to post photos of the dogs on their Facebook page because they believe the chances of them getting adopted get higher that way, but they never assumed the photo of this collie would go viral and that hundreds of people would want to have her.
The shelter's policy is "first come, first served" so the Oklahoma family didn't want to risk it not getting the dog so they set a camp in front of the shelter some 27 hours before the adoption day.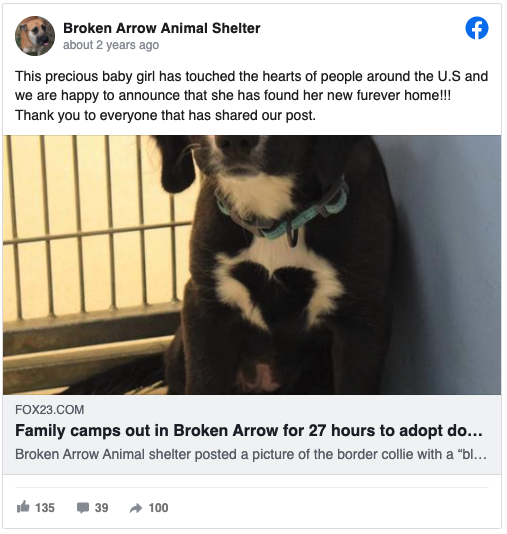 The good thing is that their plan worked and they were the first ones to arrive at the shelter so the dog was theirs. Ryan Pendleton and his family say they are very happy to have her. They named her Luna.
After the adoption was finalized, the shelter wrote, "This precious baby girl has touched the hearts of people around the U.S and we are happy to announce that she has found her new furever home!!! Thank you to everyone that has shared our post."
People were glad the dog that attracted so much attention found her forever home. "I wish we could see more happy endings like this," one person wrote.
We hope the rest of the dogs at the shelter, as well as shelters from all around the country and the world, would be as lucky as Luna. Because, honestly, distinguishing markings or not, every dog is beautiful and special in their own way.
What do you think?