Peggy Edwards posted a story to Facebook that's taking the internet by storm. As she reported to WJAR NBC10, she saw a little dog get spooked by a car and take shelter inside a tunnel.
She tried to help but was afraid of scaring the dog even deeper into the tunnel. That's when she called the Woonsocket Police. Shortly after, officer Joe Brazil came to the rescue!
Without hesitation he took off his shoes and socks and went into the tunnel.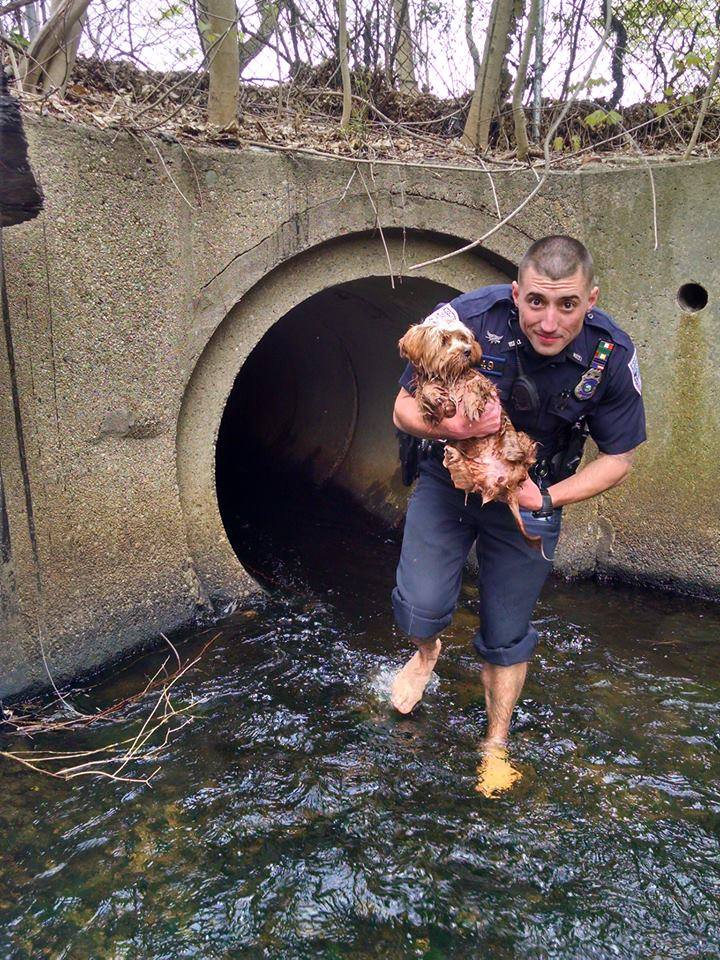 Peggy Edwards/Facebook
The caption of the photo read:
"I wanted to share this picture with everyone I can… On Sat. April 30th, a little dog was running free and was frightened by a passing car. It ran into a tunnel that a nearby brook flows through. She was stuck about 20-25 ft in and was clinging to the side. We tried to help but were afraid of scaring her further in. A call to Woonsocket police and fire depts sent Officer Joe Brazil to the rescue. He went in without hesitation and came out with a very wet, scared little dog. Great guy, Lucky dog. We are very happy he was able to save the little gal. With all the negatives people post and say about police, I thought we should see a positive moment. It may not seem like much to most people but it meant a lot to us and to that scared little dog, it made a world of difference as certain death was at the end of that tunnel. Thank you Officer Brazil…hope the dog is doing well."
What a hero! We'll never get tired of seeing stories like this. 🙂
h/t – BarkPost