A famous piece of advice from Mister Rogers is to "look for the helpers" after a major disaster or tragedy — it can be uplifting in the darkest hours to see responders doing what they can to help.
In the aftermath of the devastating earthquakes in Turkey and Syria, the deadliest in over a decade, one of the helpers was not a person, but a dog: a Mexican rescue dog named Proteo lent his services to searching for survivors in the rubble.
Sadly, Proteo died while on a rescue mission, and is now being remembered as a hero.
Proteo, a rescue dog with Mexico's Secretariat of National Defense, was one of 10 search dogs sent to Turkey to assist in the aftermath of the devastating February 6 earthquakes. The event has so far caused over 41,000 confirmed deaths.
Proteo's job was to search for survivors in the rubble, an important job with so many lives unaccounted for. But sadly, Proteo died while on duty.
The exact circumstances of his death have not been confirmed. According to The Sun, he was crushed by rubble while trying to save children in Turkey.
Since the sad news of Proteo's death, the dog's colleagues have paid tribute to him, praising him as a hero.
"As members of the Mexican Army and Air Force, we are deeply saddened by the loss of our great comrade, the dog named Proteo," the secretariat of national defense wrote in a statement. "You fulfilled your duty as a part of the Mexican team in the search and rescue efforts we carried out for our brothers in Turkey. Thank you for your heroic work."
Another video shows the crew paying tribute to the late Proteo. They hold a moment of silence for the fallen dog, then give him a round of applause.
"Today we say goodbye with honors to a great canine… who always worked with courage," they wrote on Twitter.
Burak Türker, a local graphic designer, also paid tribute to Proteo with a digital portrait remembering him as a hero.
"Thanks for everything Proteo," the artist wrote. "We are grateful to you for finding our… brothers and our loved ones. We will never forget you."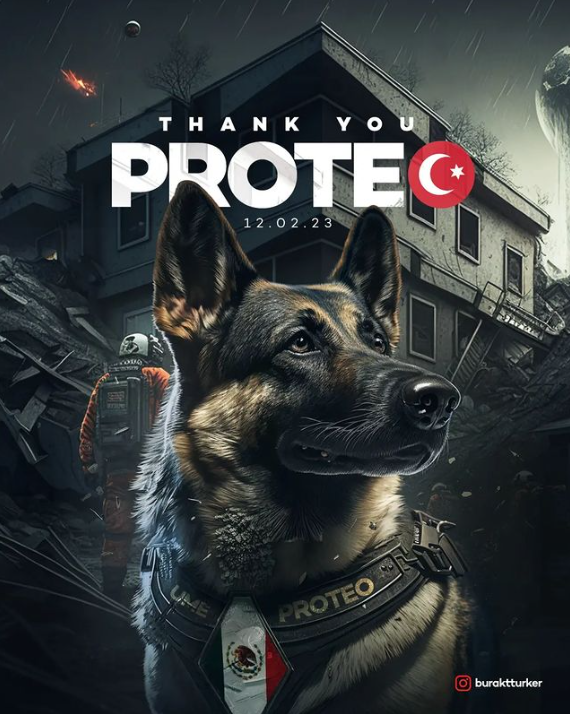 Rescue dogs like Proteo have a way of inspiring people after tragic disasters like this. Perhaps the most famous is Frida, also from Mexico, who went viral after a disastrous earthquake in 2017. She died in November, after receiving many honors including her own statue.
It's heartbreaking that Proteo died on duty, but we can take solace knowing he was doing such important work to help people after this catastrophe. While his mission may be over, Proteo will be remembered as a hero.
Please share this story in memory of this incredible dog.