A stray dog found living in an abandoned school is in safe hands thanks to a Good Samaritan and rescuers. The Good Samaritan called Stray Rescue of St. Louis after they kept hearing howls coming from the building on their street.
Donna, Natalie and Scott with Stray Rescue rushed over and spotted the brown Pit Bull staring down at them through a broken window on the top floor of the school.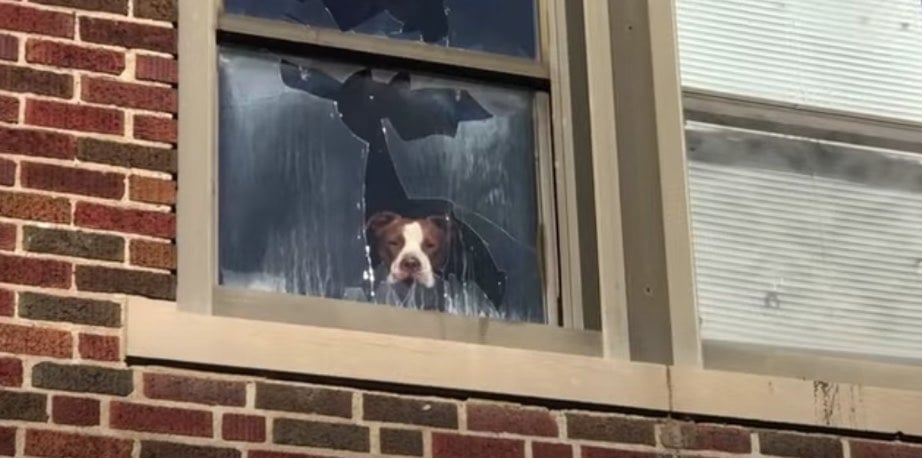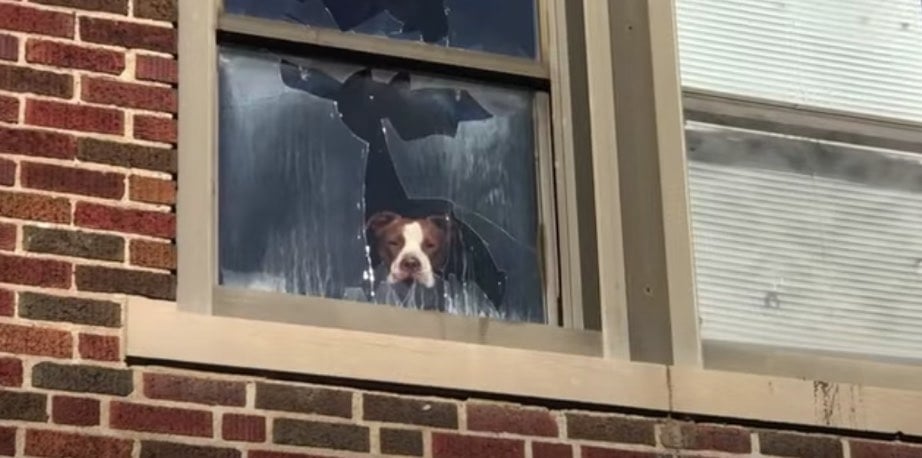 They searched outside the boarded-up school to find a way in and found a small enclosure that had a steep drop into the basement level. The dog must have either crawled through and fell down or was dumped there by someone. Either way, he was trapped inside with no way out.
Eventually they found one window where they could crawl through safely. Once inside they began searching for the dog.
"An eery feeling crept over us when we entered the abandoned school. Class notes, assignments and even messages like 'Have a great summer!' still occupied the untouched white boards from the last day of class long ago," Stray Rescue wrote on YouTube. "Students, teachers and families left on that final day of school, not knowing that they would never return."
"Whistling and peering in each classroom, we eagerly searched for a lonely little dog who had been crying for help for at least three days," they continued to describe. "We found a lot of feces, leading us to believe he'd been in there a lot longer than three days."
As they wound their way through the dark hallways a "sweet little face peeked around the corner" at them. The emaciated dog was timid at first but his tail began wagging like crazy when they reached out to him. He was ready to leave and eager to come with them.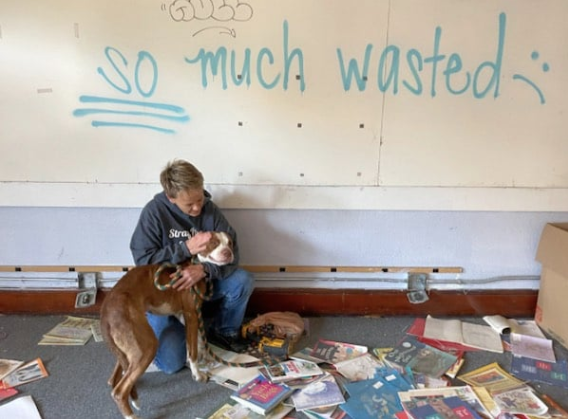 Before heading out, the team checked over the entire school to make sure there were no other dogs trapped inside.
To get the sweet pittie out would prove a bit challenging but they managed to get him out safely – he was such a brave boy!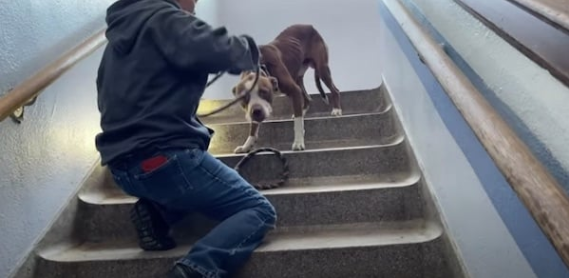 "After being through unimaginable circumstances that landed him a solitary existence in an abandoned school, we weren't anticipating this pup to be such a polite little gentleman," rescuer's wrote. "He was so brave and trusted us with his soul."
Once they got him securely to the ground the dog began his happy dance. The wagging tail continued all the way back to the rescue's shelter. They said, "During his Freedom Ride to Stray Rescue, he sprawled across our laps and had a huge, pittie smile across his face. He loved all the pets and kisses – he couldn't get enough!"
Watch the video below to see this pittie's rescue and just how happy he was to be found!
The joyous welcome continued back at the shelter as the Stray Rescue team greeted him and let him know he is on his way to a better life.
Visit Stray Rescue of St. Louis website to support their rescue efforts.