It was a tough start in life for one little girl from Louisville, Kentucky but a very special furry friend has made her life so much better.
Hadley Jo is five years old and has epilepsy, a neurological disorder which causes seizures.
"Hadley Jo had her first seizure on my lap at 17 months old," mom Heather Lange told Whas11 News. "It was a very scary time in our life."
When the Louisville youngster was 2 years old the family got a service dog, Ariel the Labradoodle and their new furry friend made a difference in their lives that they never could have imagined.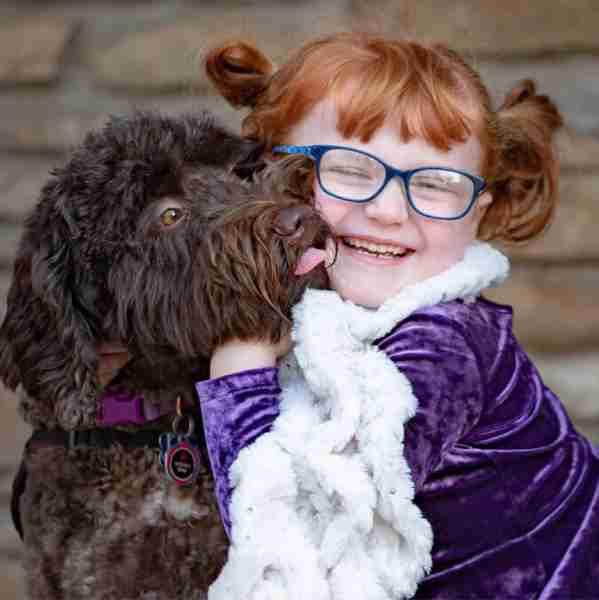 Ariel has been at the youngster's side every minute of the day.
"She has the ability to know when something's wrong. She's able to alert us before a seizure happens and we're able to administer rescue medication in less than 2 minutes in order to stop the seizure, so that's pretty life-changing for us," Heather said.
Mom Heather said it was vital that Ariel was by Hadley Jo's side at school.
"Most of our seizures are happening at school right now. Fine motor skills trigger seizures. Critical thinking, deep concentration, things like that. So, we're really lucky to have Ariel because she can go to school with us," she added.
Ariel is the only service dog in the Archdiocese of Louisville, where Hadley Jo goes to school, so it was only fitting that this devoted friend and classmate should get his picture in the school yearbook, next to Hadley Jo.
"That was pretty unique and pretty special to pick up our yearbook and see our service dog featured with our daughter. It's very heartwarming and touching, that you see this inclusiveness where not everybody looks the same," Heather said.
It's only right that this special dog should be recognized as an important part of Hadley Jo's school life.
Please share to honor Ariel and all the other service dogs who help save lives every day.