Dogs and mailmen are usually thought of as mortal enemies, but recently one mail carrier saved a dog's life in the most incredible way.
Kelsey Proctor, of Buchanan, Georgia, is the owner of a beagle named Ginger. Recently, when she wasn't home, a USPS worker rang her doorbell… and held up an urgent message from her phone:
"Little beagle bit by copperhead." 
That employee was Holle Prigmore, who was making her normal mail delivery rounds when she came across the snake-bitten dog.
Since the owners weren't home, Holle did the right thing and took Ginger to the vet herself. Since Halle was a stranger, and she couldn't make out her name tag, Kelsey Proctor shared the story on Facebook hoping to get her name. "I want to thank her from the bottom of my heart," she wrote on Facebook.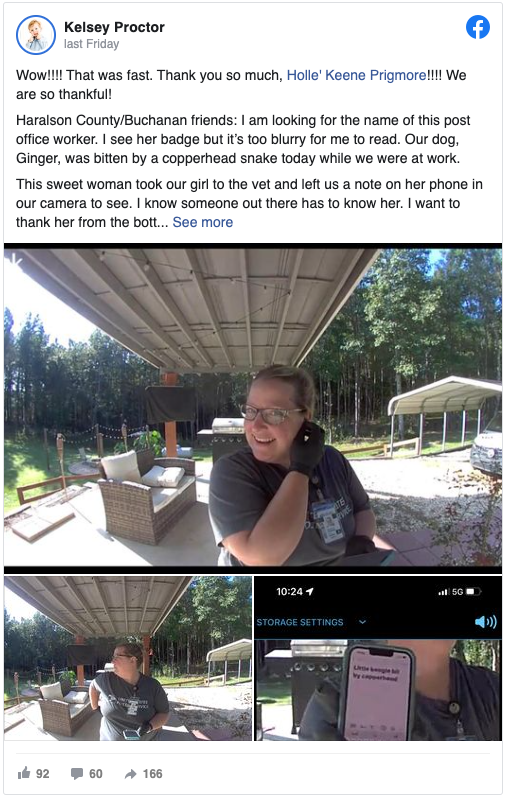 Kelsey was later able to track down Holle and express her gratitude. She also wrote that Ginger survived thanks to her intervention: she has a swollen leg/paw and is in pain, but is home and going to be okay.
"We are so thankful for the outpouring love for Ginger, and her sweet friend Holle, who was there for her in her time of need," Kelsey wrote on Facebook.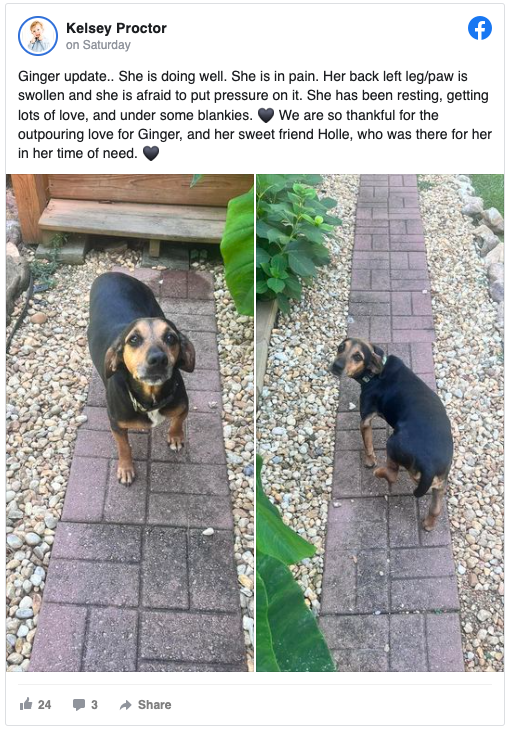 The USPS also praised their employees' quick thinking. "The Postal Service is part of the fabric of the nation with employees making a difference in every community across the country," they said in a statement to FOX TV stations. "We are very proud of Holle Prigmore and her quick action which saved the life of a customer's beloved pet."
Thank you to this heroic postal worker for saving this little dog's life! Please share this amazing news! ❤️🐾
READ MORE: