It's unbelievable how cruel some people can be towards animals, but thankfully there are also people in the world willing to stand up to them and save these animals' lives.
That was the case recently, when two police officers happened to be in the "right place, right time" to save six puppies from unimaginable cruelty.
According to a Facebook post from Durham Constabulary, in Durham, United Kingdom, two police constables were on the highway when they noticed a vehicle parked on the side of the road, with a man in his 50s standing beside the vehicle.
Stopping to check that everything was in order, the officers noticed the man "swinging a sealed carrier bag" on the edge of the bank.
Putting their lights on to get a better look, they saw the man "fling" the carrier bag onto the front seat. As the officers approached, they noticed a squealing noise coming from the same bag the man had just been swinging around.
The constables investigated, untied the sealed-up bag, and discovered that there were six Cocker Spaniel puppies inside — so young they hadn't even opened their eyes yet.
"The puppies were riddled with fleas and if we'd have passed just seconds before, we would have been none the wiser," said PC Liam Vernon, according to the department's Facebook post.
One officer questioned the driver and the other made arrangements for the puppies to be safely picked up and brought to a vet for treatment.
The driver was reportedly arrested on suspicion of animal cruelty, money laundering and trafficking in a controlled drug, and taken into custody. The man has since been released on bail while the investigation continues. Officers also carried out a warrant of his address, and in their search also rescued the puppies' mother and father.
The dogs were reunited with their puppies, and the whole family received treatment. Thankfully, the dogs are reportedly making full recoveries.
Even better, the department said that arrangements have been made for the entire litter to go to a loving new home.
It's a very happy ending for these puppies, who were clearly saved in the nick of time before something terrible might have happened to them.
"Both myself and Luke are huge dog lovers, so it has been one of those jobs which has really stuck with us," PC Liam Vernon said. "We've hardly stopped thinking about it but are just glad to have saved them – it really was right place, right time."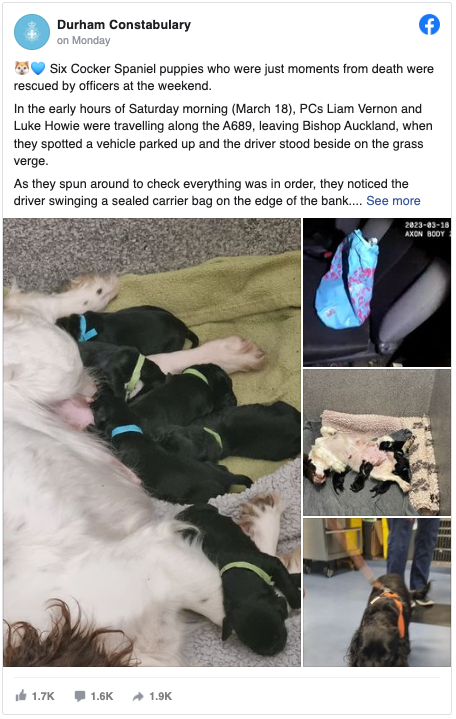 These six puppies were in such cruel, dangerous hands, but thankfully these officers saved them just in time!
Please share this story if you love animals! ❤️