Ozzy is a sweet Pit Bull that has had an obsession with cats for as long as his family has known him. When they adopted Ozzy three years ago, he was thrilled to meet his cat brother Norm.
But Norm wasn't as into Ozzy as Ozzy was into him. "The grumpy old man just tells him to fluff off," Jennifer Lajeniss, Ozzy's mom, tells The Dodo.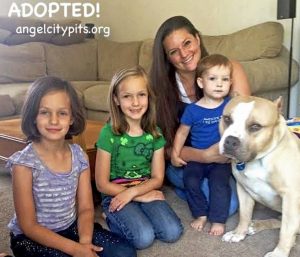 Regardless of Norm's shrug-offs, Ozzy never stopped trying. If Ozzy didn't have such an awesome life otherwise, you might feel a little sad for him.
But he has other wonderful things that make him so very happy, like his best friend, whom he adores, the family's 5-year-old son.
And Ozzy's other obsession that he does get to act on: his LOVE of feet! It's "a serious foot fetish," Lajeniss explains.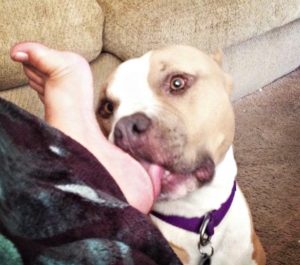 Ozzy is so sweet that Lajeniss jokes that if their house were ever broken into, "Ozzy would offer to hold their flashlight, ask them about their day and show them right to the TV set."
Ozzy can't get enough of babies either! Every stroller he sees, he insists on sticking his head in to say "hi" and give kisses.
And Ozzy is a true animal lover. For Ozzy, every animal he meets is a potential best friend. That is why Norm's rejections have been so frustrating over the years. All he wanted was a cat to call his very own!
Thanks to a family who loves him and who truly understands his frustrations, they decided to make his dreams come true!
Over the summer, Lajeniss took in a pregnant stray cat named Winnie, after she grew concerned about Winnie's wellbeing. A month ago, Winnie gave birth to five healthy kittens. Ozzy has been in his glory ever since!
It's been very busy kitten season this year- our shelters have been at max capacity and begging for fosters. So when we put out our plea, one ACPB Alum jumped at the opportunity. "Kittenz, bring me ALLLLLL the kittenz!" exclaimed Ozzy.These little ones are almost ready for adoption. If you live in LA and you are interested in a fuzzy little kitten of your own, feel free to email us at adopt@angelcitypits.org, and we'll pass your message along to Ozzy and his mom, who will be handling the applications. #angelcitypits #NKLA

Posted by Angel City Pit Bulls on Thursday, September 21, 2017
Ozzy is attentive, nurturing and extremely patient. When he hears the kittens cry, he races over, overwhelmed with concern. AND… when he gets to interact with the kittens, his tail never stops wagging!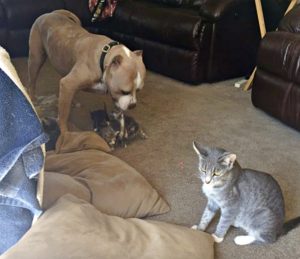 The kittens crawl all over Ozzy and he licks them like crazy, which for Ozzy is pure doggy-heaven! Their mama likes Ozzy too!
"She'll rub up on Ozzy almost to thank him for kitten sitting while she's out getting a break," Lajeniss says.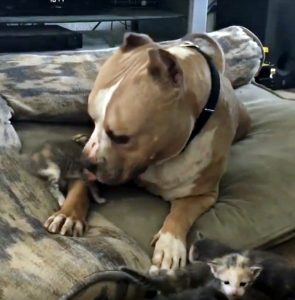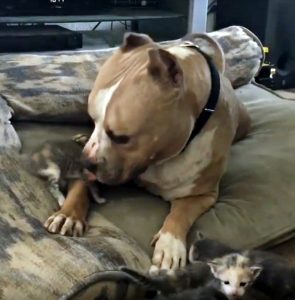 But what will happen once the kittens find new homes?
Four of the kittens will go up for adoption but Winnie and one of her babies will officially be adopted by the Lajeniss family. For a dog that never gave up on love, Ozzy finally has ALL the love he's ever wanted!
h/t The Dodo, Photos courtesy of Jennifer Lajeniss
Please 'SHARE' to pass on this story to a friend or family member