We're always searching for cool and awesome DIY (do-it-yourself) projects and ideas that are fun and simple to do, and are also something that our dogs and cats (and other pets) might really love.
There's always bonus points for those diy projects that are 'green' and eco-friendly.
Here's something we came across at Instructables.com that your dog will truly enjoy and appreciate. It's the Super Comfy DIY Dog Kennel Bed designed by jwilliamsen!
If you have your dog sleeping in a dog kennel, this could make the kennel a comfortable place for him/her. It's pretty easy to do, and it's inexpensive too! (good combination 🙂 )
Check it out!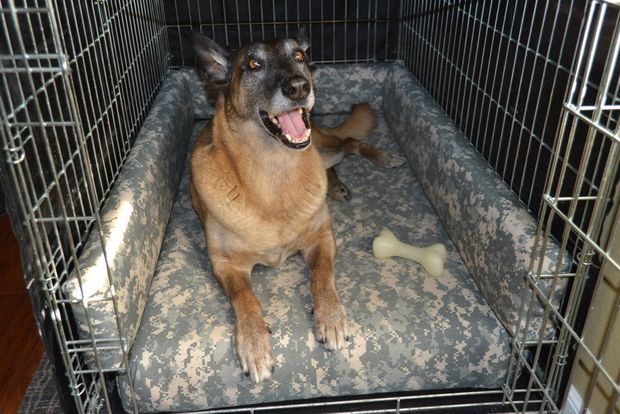 My dog, Mac, spends about 10-12 hours at night in his kennel (it's OK – he likes it) – so I want it to be a comfortable place for him to be. Mac's old dog bed was getting a bit frazzled, and instead of dumping a bunch of money into another one that would have a limited life span due to questionable design and materials, I decided to build him one structured more like a piece of furniture – one with a durable, washable, replaceable cover that could handle the occasional sickness and accidents without showing much wear and tear.  I never have understood why pet beds are made of fuzzy or soft fabrics – most pets (that you'd be building a bed for) are likely covered in fuzzy, soft, material already and probably can't tell the difference.

I also wanted to build the bed out of scraps and found materials – along with some supplies I had lying around – i.e. I didn't want to have to buy anything to make it.  Now, I realize that very few people are going to have most of these supplies "lying around" (what can I say?  I'm a pack-rat)  – but they would be readily available from most upholstery supply shops.  I buy a lot of my supplies from here: http://www.rochfordsupply.com as well as from local suppliers.

Total cost, if you were to buy everything, would probably be around $100 – which is half what I've spent in the past on beds that didn't last much more than a couple of years.  In addition, this bed can be easily cleaned (most can't) – and if the need should arise it can be recovered for about what a cheap dog bed would cost.

Supplies:

1000-Denier, urethane-backed Cordura – I picked up some on clearance a few years ago (hence the cammo pattern).  It's waterproof, abrasive resistant, and tough – and was pretty inexpensive.
1/2″ Dacron batting
Scrap 2″x4″ lumber for the frame
Scrap 1/2″ or 3/4″ plywood for the bolsters
Elasbelt Webbing – like very strong elastic – used as a replacement for springs in furniture
Urethane Foam – good furniture-grade foam will last a lot longer and be more comfortable
1″ Hook and Loop fastener – about 6 feet should do it
Staples, Foam Adhesive, Screws
To view the rest of the original article, visit instructables.com
Source: instructables.com