There is no better pair of friends than a boy and his dog. Your first pet is your best friend and loyal companion… so it's truly heartbreaking when they go missing.
It's a painful experience to think your pal is suddenly gone for good. But one family got a miracle, leading to an unforgettable surprise reunion.
April Elizabeth Licata got her son Carter a very special gift for his 12th birthday: a pug named Piper. Carter had always wanted a dog since the family had another pug when he was a baby, so getting Piper was a longtime dream come true.
The two became inseparable friends… until one day, Piper went missing.
On November 18, April let the dogs out of the house to use the bathroom. But when she let them back in, only one was there—Piper was nowhere to be found.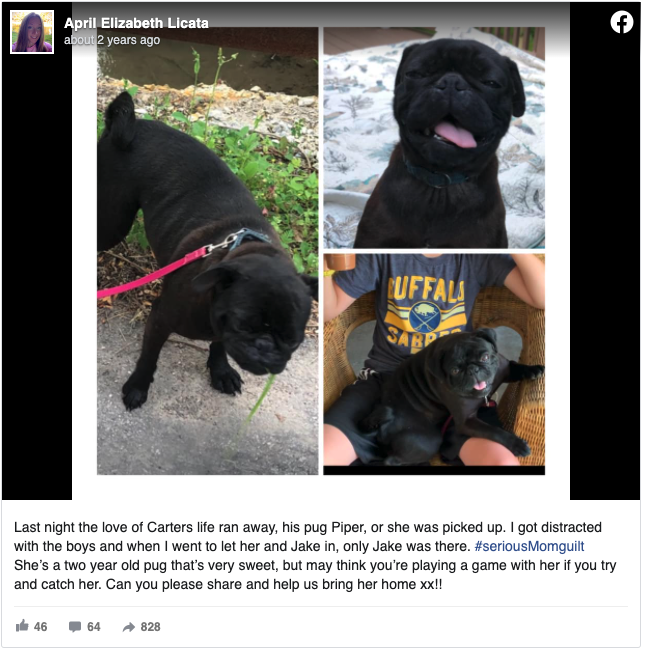 The family looked everywhere for the 2-year-old pug, but over two weeks passed and Piper was nowhere to be found.
"We posted and shared and talked to neighbors, news venues, and community groups but as the days passed, our hope waned," April wrote on Facebook.
The mom felt terrible over the whole situation… mostly for her son, who she knew lost his best friend: "The love of Carter's life ran away," she wrote.
But then, a miracle happened.
April got a message that a dog matching Piper's description was brought to Genesee County Animal Shelter.
"I was truly shocked," April wrote. "We had all resigned ourselves to the reality that she prolly wouldn't come back. Lo and behold, it was her!"
Carter and his sister Natalie were out of town when all this happened, so April decided to make the news extra special by surprising them.
Dressing Piper up in bows, April took the dog to school to pick up Carter. Seeing her old friend through the car window, Piper perked up in excitement:
And Carter was shocked to see his dog back again, and broke down in tears as they reunited in the car.
He held his beloved dog in his arms, and probably won't let go anytime soon.
Watch the video below:
The heartwarming video has been viewed nearly 500,000 times on Facebook.
"It's so amazing to see the love, and honestly the video says more than any words I could write," April wrote. "My son loves his dog so much, was sick while she was gone, and [tonight] she's sleeping next to him again."
"What a Christmas miracle for our family and thank you to everyone who helped bring Piper home."
It's a reminder to not lose hope when a pet goes missing. Miracles can happen, and we're so glad this boy got to reunite with his dog.
Share this heartwarming story!