Legendary TV star Betty White died on December 31. From her early days as a pioneer in the industry to her iconic roles on The Mary Tyler Moore Show and The Golden Girls, Betty left a decades-long legacy of laughter.
But while best known for her TV work, Betty White was long a champion of a cause even closer to her heart: helping animals.
Throughout her career, Betty White used her fame to better the lives of animals, supporting and advocating for various animal causes.
Now, as tributes pour in for the late legend, many animal groups are remembering the actress' legacy as an animal rights icon.
White's love for animals began at an early age. According to Today, White wrote in her book Betty & Friends: My Life at the Zoo that her parents were "genuine animal nuts."
"I am eternally grateful that they have passed much of that passion on to me," White wrote.
As her career took off, White found ways to combine her love for animals with her skills as a television entertainer: In the 1970s, she hosted a talk show all about celebrities and their pets.
The show, called The Pet Set, featured guests like Mary Tyler Moore, Doris Day and James Stewart.
In 1971, White became a trustee of the Morris Animal Foundation, a veterinary charity foundation. She later served as Trustee Emeritus and Board President, and was a longtime donor and spokesperson.
After her passing, the Foundation shared a tribute to their longtime celebrity advocate, praising her tireless championing of their research.
"It is hard to imagine a world without Betty in it," said Tiffany Grunert, President/CEO of Morris Animal Foundation. "She was a tremendous animal advocate who tirelessly supported the work of Morris Animal Foundation to improve the health of animals globally. All of us at the Foundation are mourning the loss of this amazing woman."
"We will miss her wit, her intelligence and, most of all, her love of animals and commitment to advancing their health. She was a true inspiration to our staff, her fellow trustees and all of our supporters."
White's legacy with the Morris Animal Foundation will endure for decades to come: she established the Betty White Wildlife Fund, a fund she established in response to the Deep Water Horizon oil spill, which helps wildlife in emergencies.
In addition to her work with the Morris Animal Foundation, Betty White worked closely with many zoos. During her long lifetime, White saw the conditions and reputations of zoos increase drastically, and she was happy to support accredited zoos do important work.
"Modern zoos of today are not like the old, old, old zoos," White told People in 2011. "Lot of people have the impression they don't like zoos because animals shouldn't be kept in captivity; they should be in their natural habitat. But what they don't realize is that the zoos not only exhibit animals, but they work in that natural habitat to save small populations of endangered species. They save many animals from going extinct."
White, who said she wanted to become a zookeeper from a young age, became involved with the Los Angeles Zoo from its opening in 1966 and joined the Greater Los Angeles Zoo Association's Board of Trustees in 1974. She became chair of the GLAZA board in 2010.
In 2013, she fulfilled her lifelong dream by being named an "honorary zookeeper" by the Los Angeles Chapter of the American Association of Zoo Keepers.
After her death, the LA Zoo shared a tribute to Betty White, honoring her decades of work with them.
"We are incredibly saddened by Betty's passing and offer our deepest condolences to her family and friends as we collectively mourn the loss of a true legend, on and off the screen," GLAZA president Tom Jacobson said in a statement.
"Her work with the Greater Los Angeles Zoo Association spans more than five decades, and we are grateful for her enduring friendship, lifelong advocacy for animals, and tireless dedication to supporting our mission."
Other zoo organizations paid their own tributes to Betty White. The Columbus Zoo remembered the actress' visit as the guest of honor at the 2014 opening of their Heart of Africa region, alongside the zoo's famous director Jack Hanna.
"Betty was a wonderful person, a supporter of the Columbus Zoo, and a true champion for all animals. She will be greatly missed," the zoo said in a statement.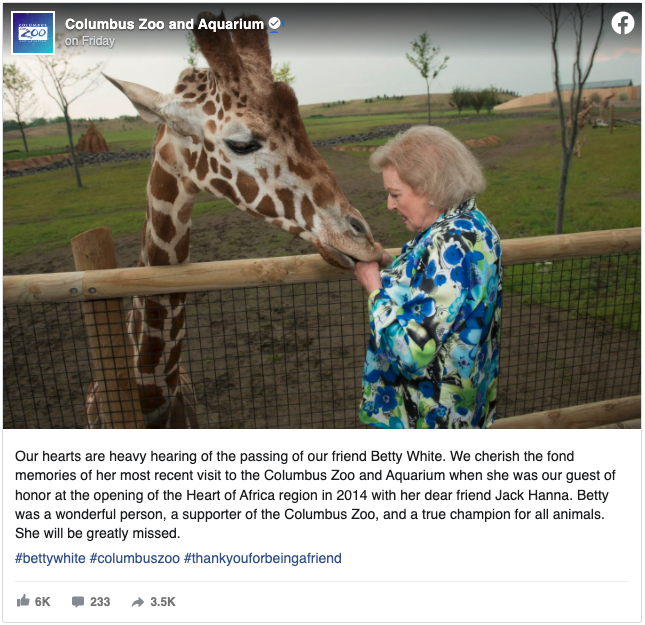 In 2012, the American Humane Society honored Betty White's decades of service to animals by giving her their highest honor, the National Humanitarian Medal.
The humane organization released a statement thanking her for her decades of service.
"For nearly a century, Betty White has been a tireless and devoted animal welfare advocate and we are proud to have known her for 70 years — longer than any other supporter in our history," said Dr. Robin Ganzert, American Humane president and CEO.
"Betty dedicated herself to protecting and improving the quality of life for animals worldwide. She has always been a one-of-a-kind phenomenon, and we are honored to have known and worked with her during so much of her truly remarkable life. On behalf of the millions of animals whose lives you have touched, thank you, Betty!"
Rest in peace to the legendary Betty White. Thank you for your decades of tireless work to help animals.
Share this story to pay tribute to this amazing woman.