Your dog is family. So why wouldn't your precious pup be included in your Halloween costume? If you're looking for a Halloween costume with your dog, then look no further because we've got all the best ideas right here.
You can't go wrong with a funny family costume that involves Fido. We've included more than one here.
Looking for something a little more classic? We would never dream of leaving off our go-to witches costume of this round up.
Even if your pup hates wearing outfits, we've found a few costumes that we're pretty positive you can convince them to wear, with a few treats as a bargaining chip, of course.
Just be sure the costume doesn't interfere with your pet's sight, hearing, breathing, or mouth and you're good to go, per the American Veterinary Medical Association.
And, of course, never leave your dog unattended while they are in costume or there's candy accessible to them.
1) Teddy Bear Costume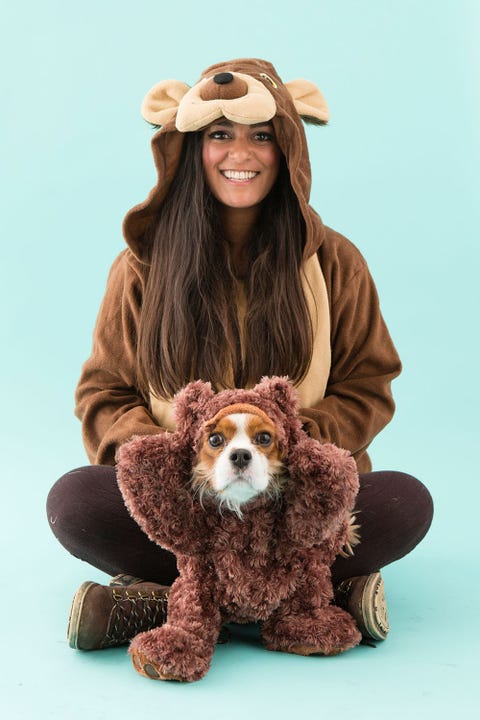 Keep it simple with matching teddy bear outfits! We're just going to hope you've seen Munchkin the Teddy Bear's videos, because they make this costume idea even better—and they're just a delight in and of themselves.
Get the tutorial at Brit + Co.
2) Dog and Owner Cleopatra Halloween Costumes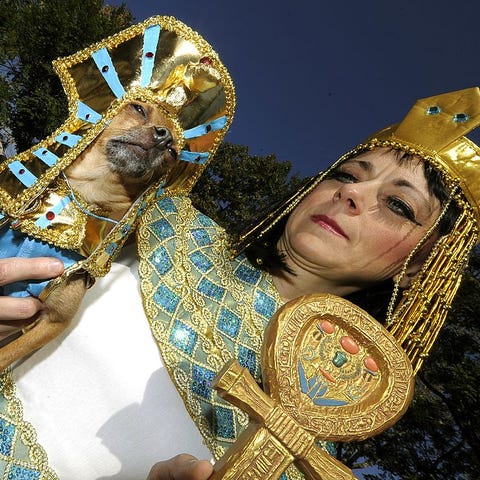 Get ready to walk like an Egyptian with these ancient getups.
3) Dog and Owner Witch Costumes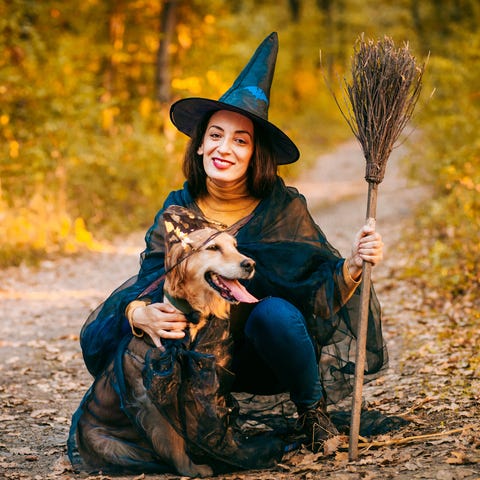 A cloak and witch hat are all you and your canine companion need to get in the Halloween spirit.
4) "Mary Poppins" Costumes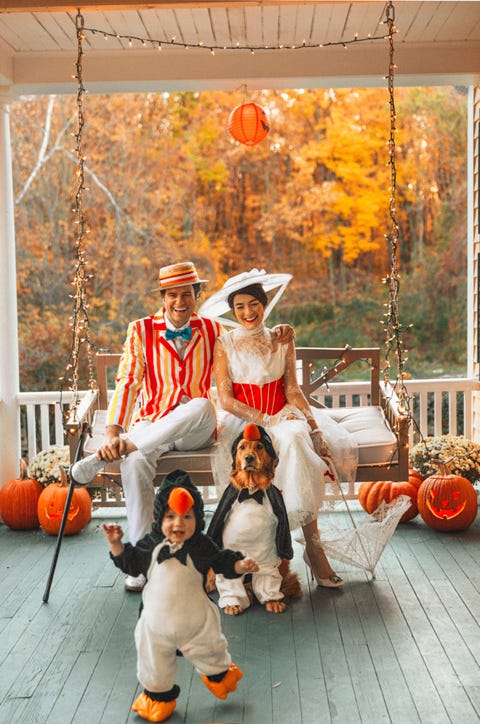 This family costume is practically perfect in every way.
Get the tutorial at Classy Girls Wear Pearls.
5) 'Cat in the Hat' and Thing One and Thing Two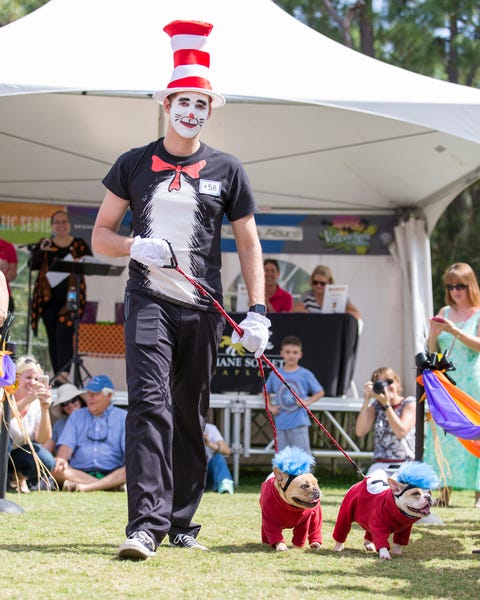 Two-dog family? This clever costume pays homage to Dr. Seuss with Thing One and Two as your sidekicks!
6) Dog and Owner Game of Thrones Costume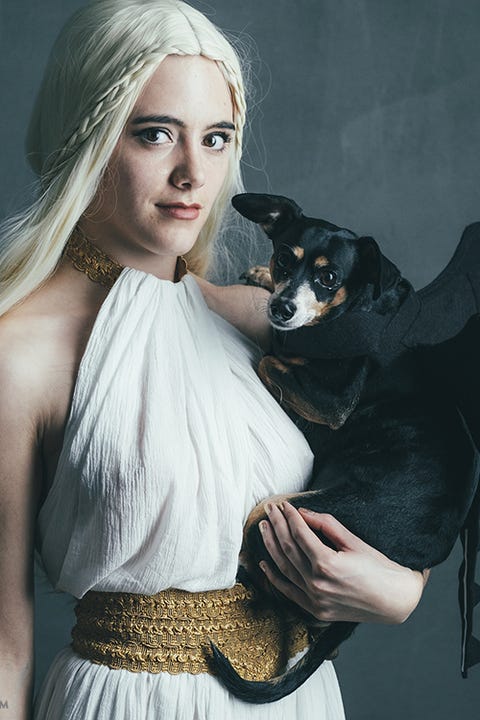 Are you a Game of Thrones fan? Then you'll flip for this costume idea: Dress yourself up as white-haired Daenerys, then add a pup with "dragon wings" to complete the look.
Get the tutorial at Lia Griffith.
7) Batman and Robin Halloween Costumes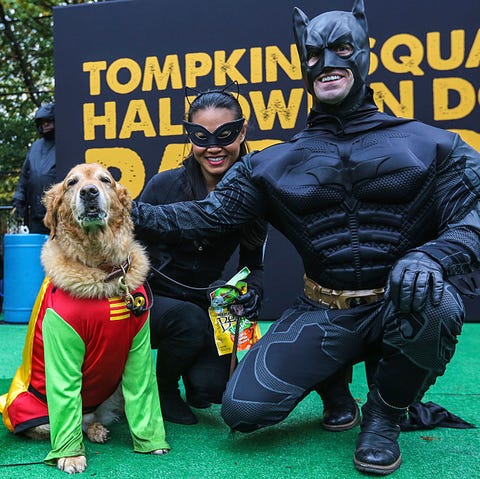 Your cute sidekick will help you protect the streets from bad guys.
8) Dog and Owner Bumblebee Costumes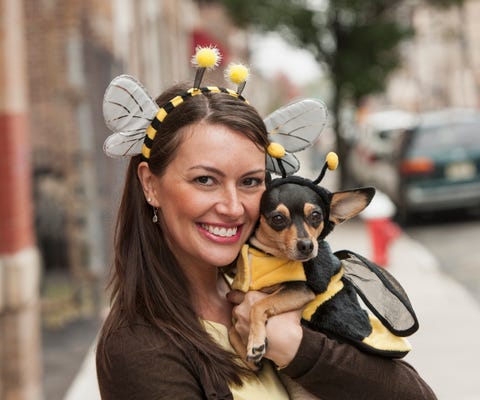 If your dog is always busy as a bee, dress up in matching bumble bee costumes!
9) Dog and Owner Barista Costumes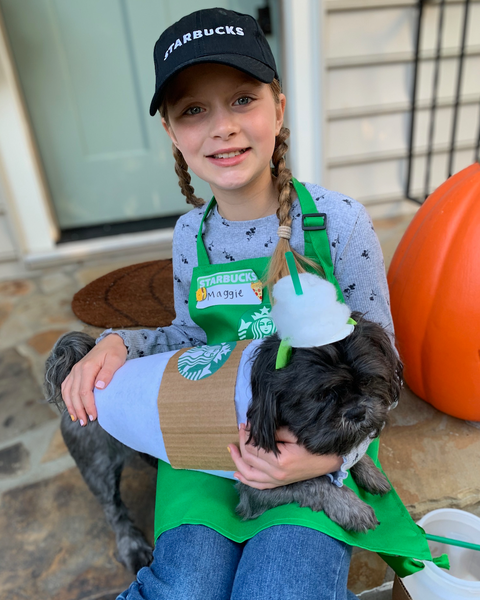 This super-cute idea is easy to pull off. Simply pair a green apron (complete with nametag!) and black baseball cap for the owner's barista costume. Then dress up your (very patient!) dog in a Puppuccino costume made from cardboard and white felt. Top off the look with a whipped cream headband made from ribbon, poster board, Poly-Fil, and a green straw.
10) Dog and Owner Trading Places Costume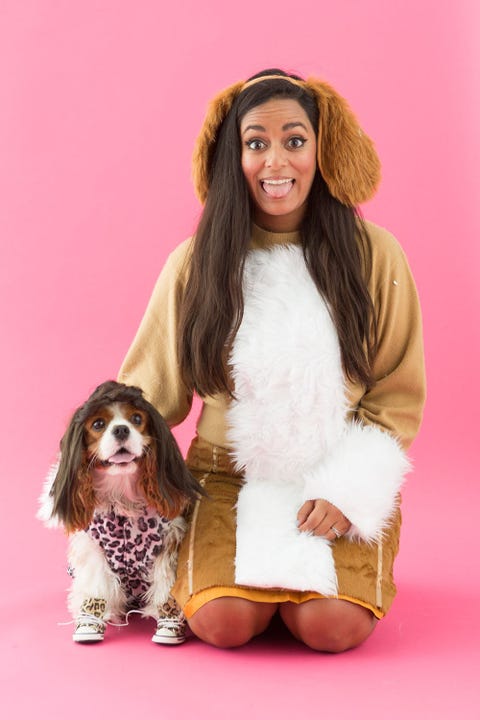 Here's an easy idea for a dog-owner costume: Simply trade places! Your dog gets to dress up as you, and you get to wear a pair of furry ears for the night. What's funnier than that? Yes, dog wigs exist—and yes, we plan on using them every Halloween from here on out.
Get the tutorial at Brit + Co.
11) Surfer and Shark Costumes for Dog and Owner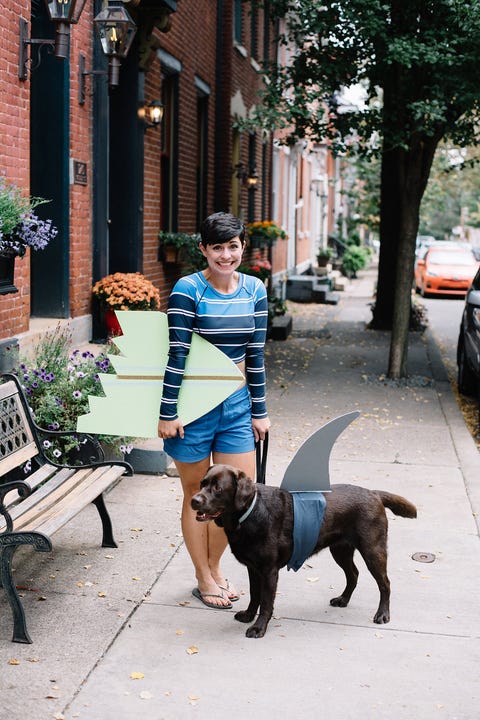 This cute costume is a cinch! You dress as the surfer, while your dog is a great white shark!
Get the tutorial at Wag Wear Repeat.
12) Bubble Bath Dog and Owner Costume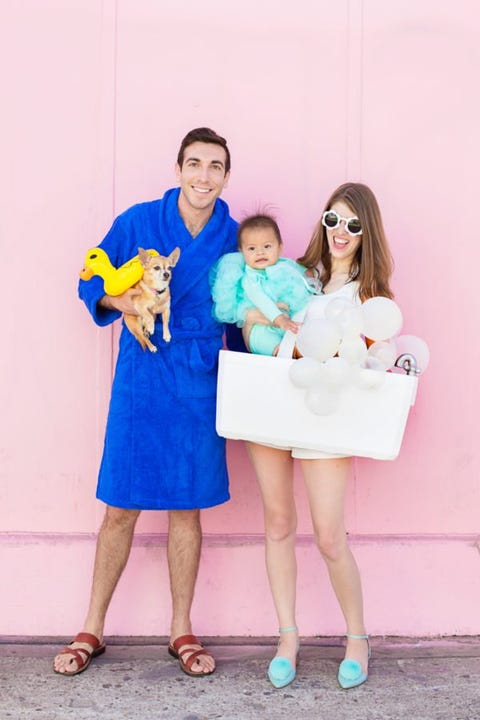 You can go as a bather, your partner can go as the bath itself, and your pup can go as a rubber ducky!
Get the tutorial at Studio DIY.
13) Superman and Supergirl Costumes for Dog and Owner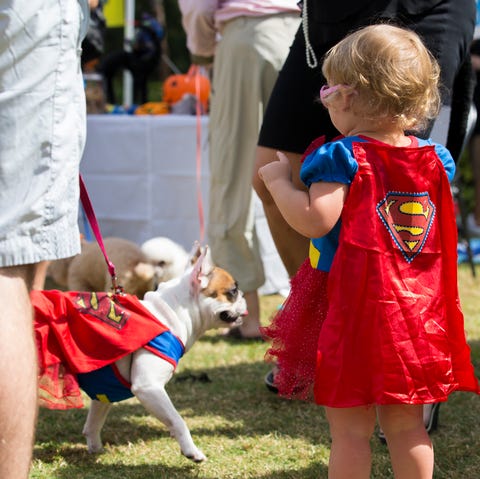 Channel your super-powers in these costumes that feature caped crusaders!
14) Garden Gnome, Flower, and Bee Costumes for Dog and Owners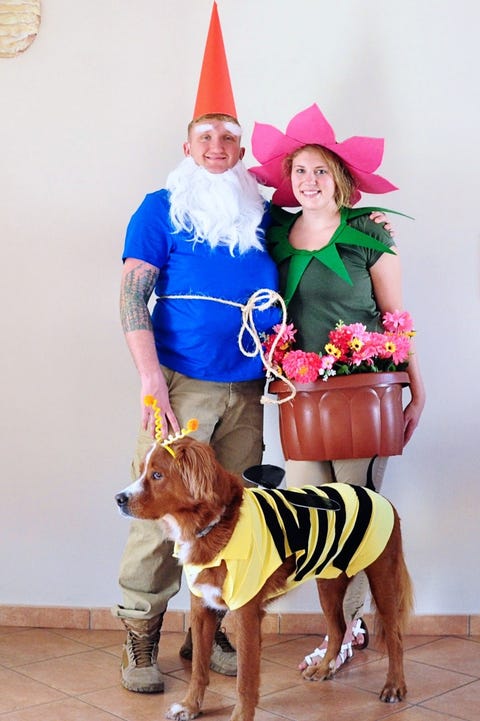 These garden-themed DIY outfits have got to be the most creative coordinating dog-owner costumes we've ever seen.
Get the tutorial at Little Sloth.
15) Vendor and Hotdog Costumes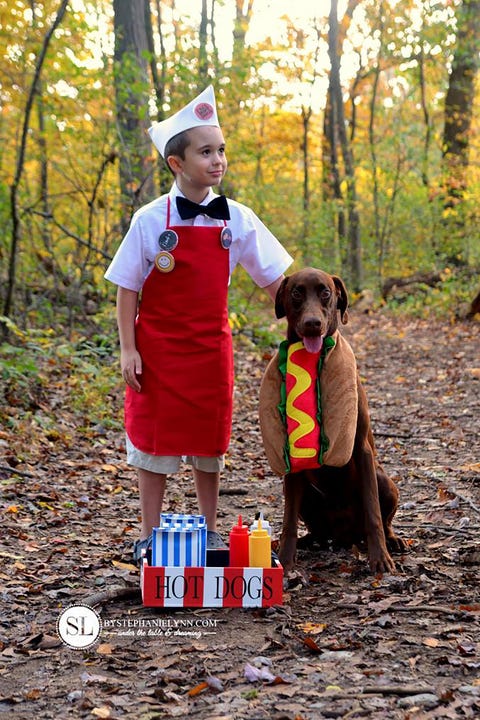 Hot diggity dog! This homemade costume for kids and pets features our two favorite kind of dogs.
16) Krispy Kreme Donuts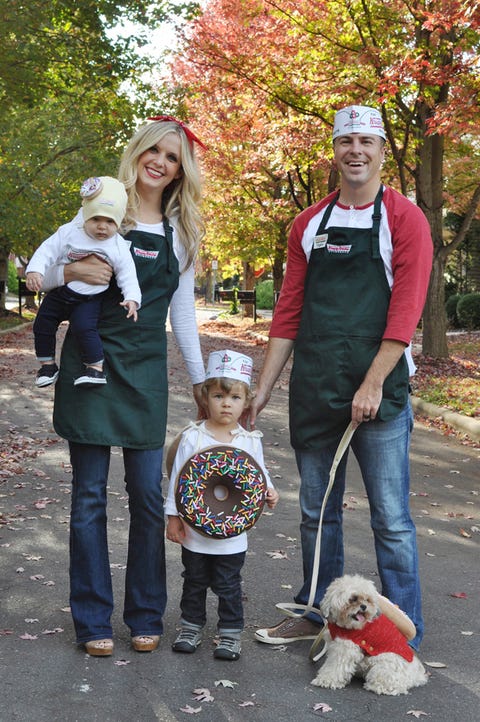 This costume might just be too sweet to recreate! Grab a few green aprons and a donut costume for your pup to get this adorable look.
Get the tutorial at Pink Pistachio.
17) S'mores Family Costumes With Dog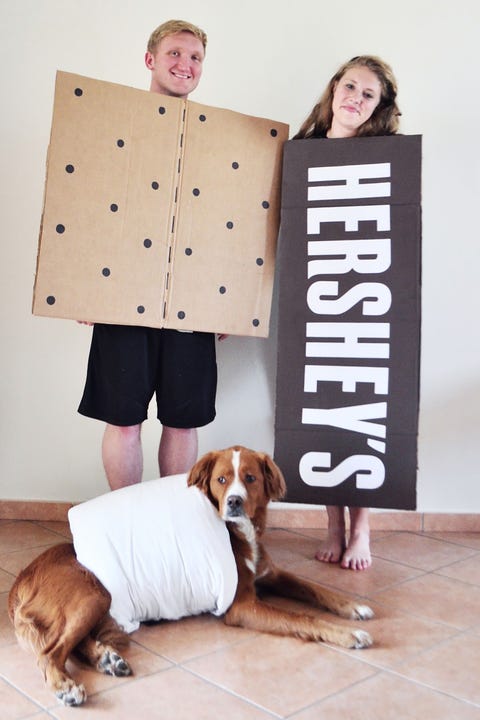 Group costumes become way s'more fun with your favorite pooch dressed as the cutest marshmallow.
Get the tutorial at Little Sloth.
18) Sebastian and Ariel Dog and Owner Costumes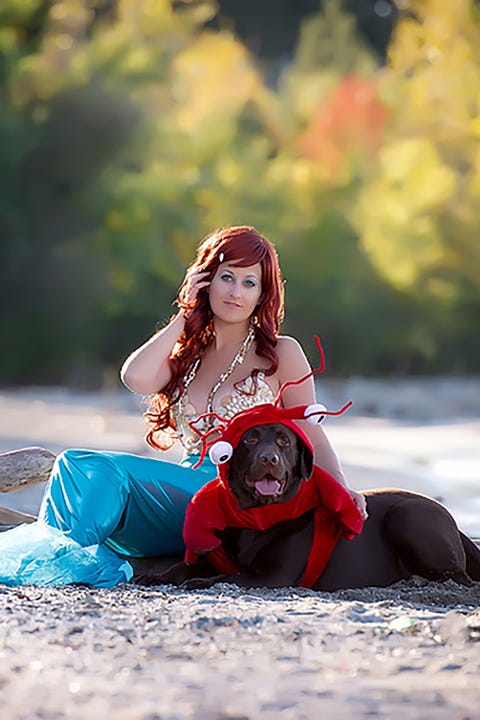 Be a part of your pet's world in perfectly paired lobster and mermaid get-ups.
See more at Black Box Photography.
19) K-9 Unit Costumes for Dogs and Kids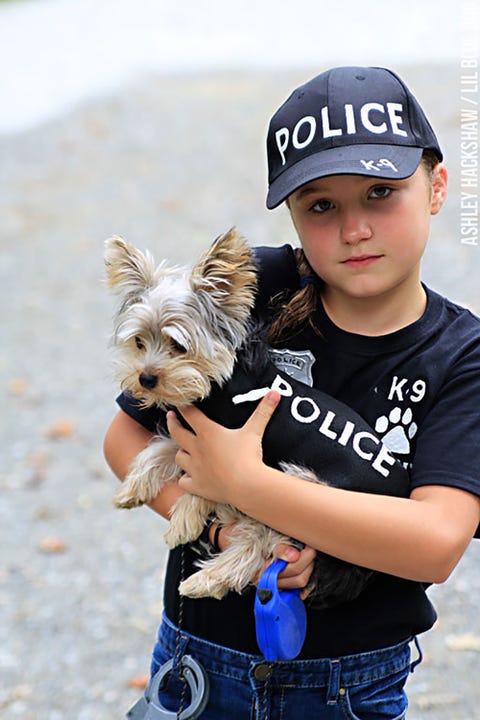 This power duo will be sniffing out crime (and candy thieves!) on Halloween.
Get the tutorial at Lil Blue Boo.
20) Happy Meal Family Costume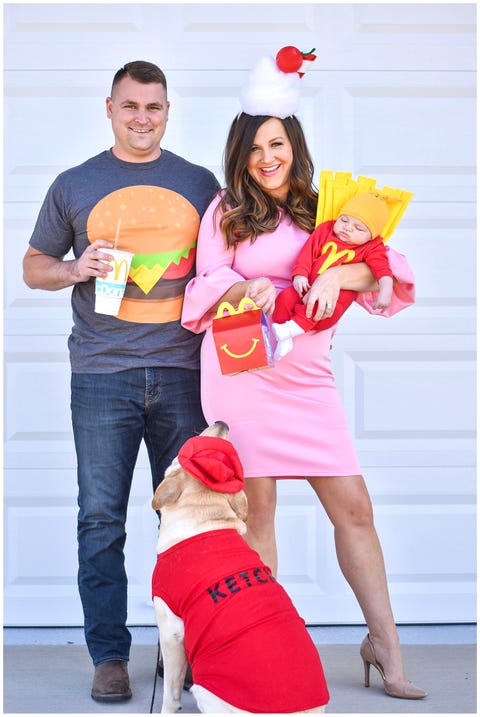 The options are endless with this family costume. Choose whatever element of the happy meal you want to be and let your dog takeover as ketchup!
Get the tutorial at Type A Style.
21) Farmers Costume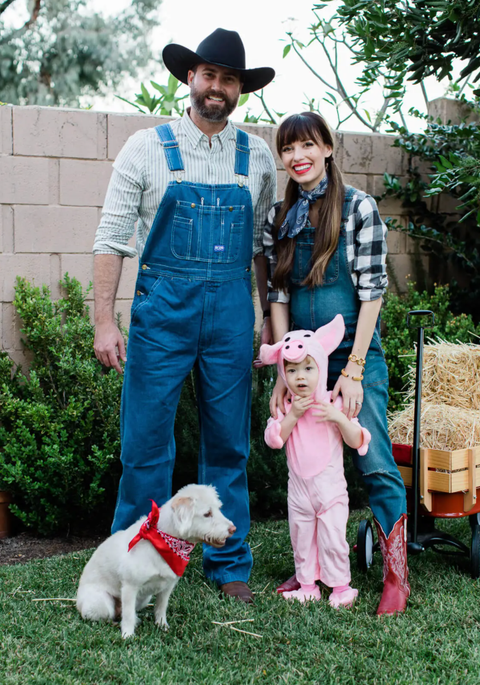 If your dog refuses to wear any sort of costume, then this outfit will be right up Fido's aisle! Just put a red bandana on your pup and dress in overalls and a plaid shirt for a family farmer costume.
Get the tutorial at M Loves M.
22) Airplane and Flight Attendant Costume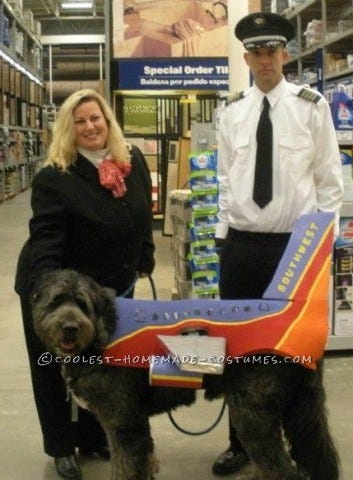 This costume would be incredibly easy to DIY with items you probably have on hand. A white button down paired with slacks or a pencil skirt would work for an airline attendant and a white button down with a pilot hat would be perfect for the pilot. Snag your dog an airplane costume and take off!
Get the tutorial at Coolest Homemade Costumes.
23) Little Red Riding Hood and The Wolf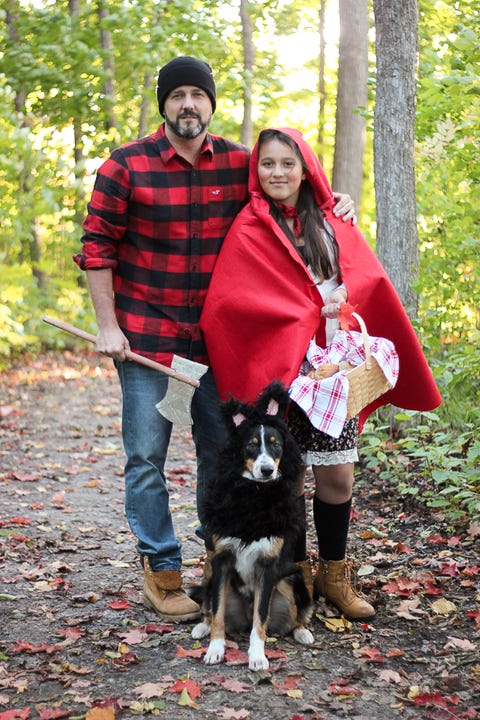 Throw on a red cape and grab your pooch before you head into the woods.
Get the tutorial at Craftberry Bush.
24) "Wizard of Oz" Costume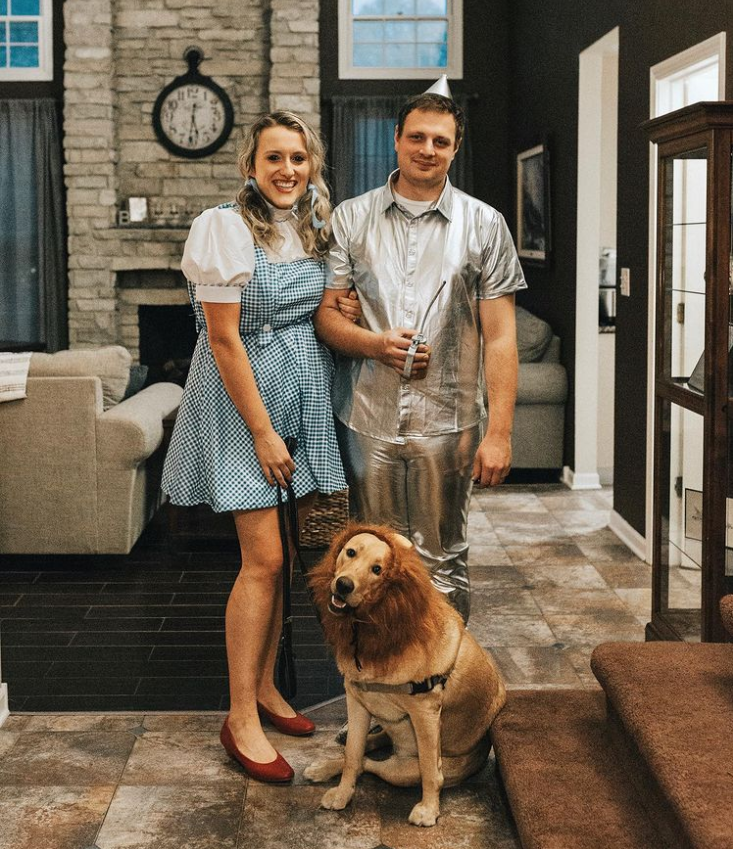 If your dog is really against costumes, you could always leave them as Toto, but how fun is this lion costume for you pup?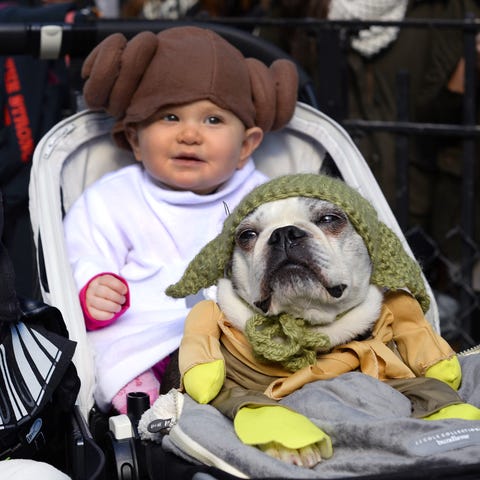 The Force is strong with this trio.
26) Dog and Owner Yacht Captain Costumes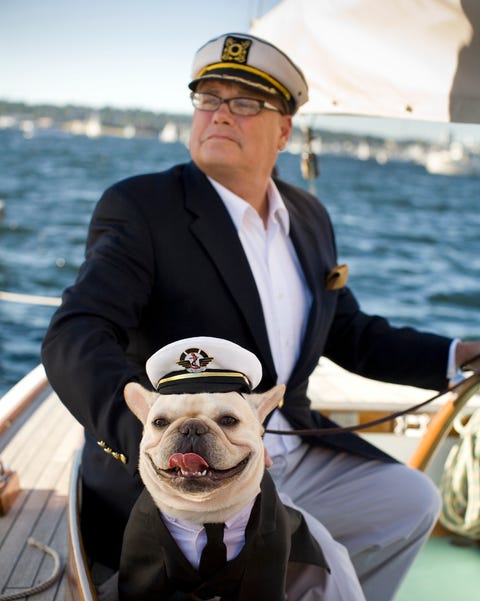 Channel your inner billionaire with these matching yacht captain costumes.
27) Dog and Owner Vampire Costumes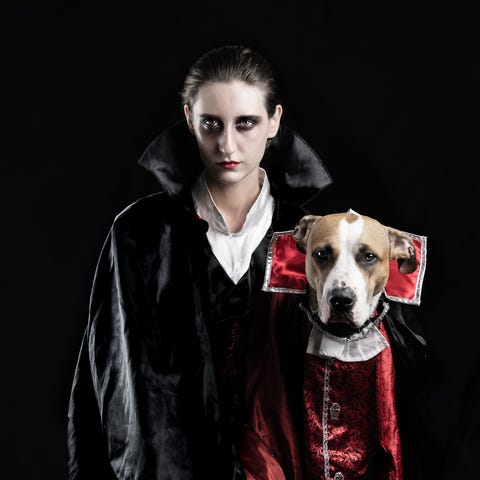 Nothing's more classic than a vampire costume! You can dress as elaborately as you like, but a simple cape is a good choice if your dog is iffy about wearing costumes.
28) Seymour Krelborn and Audrey II Matching Costumes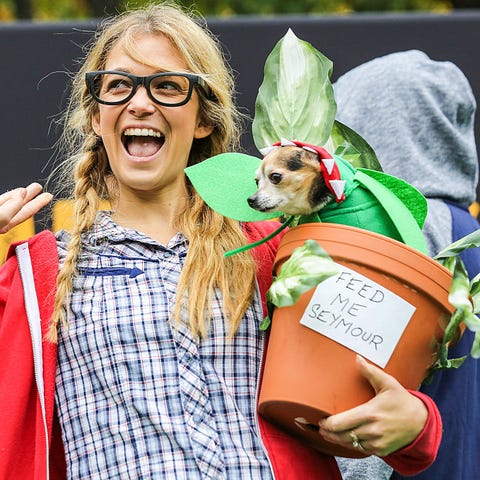 Find yourself a red hoodie and some nerdy glasses, then put your pooch in a pot, and suddenly you're Seymour and Audrey II from Little Shop of Horrors.
29) Dog and Owner Fairy or Butterfly Costumes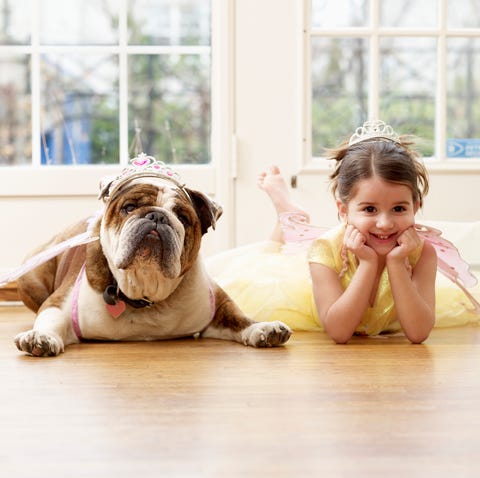 Wear tiaras and add a tutu or butterfly wings, and you're transported to the world of make-believe together!
30) King Kong, Ann Darrow, and the Empire State Building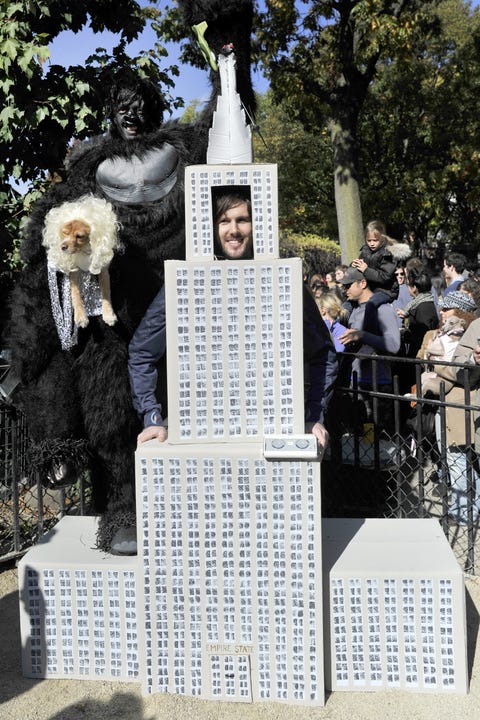 Reenact Fay Wray's famous scene from 1933's King Kong with this elaborate get-up for the whole family.
31) Cinderella and Carriage Costumes for Dog and Owner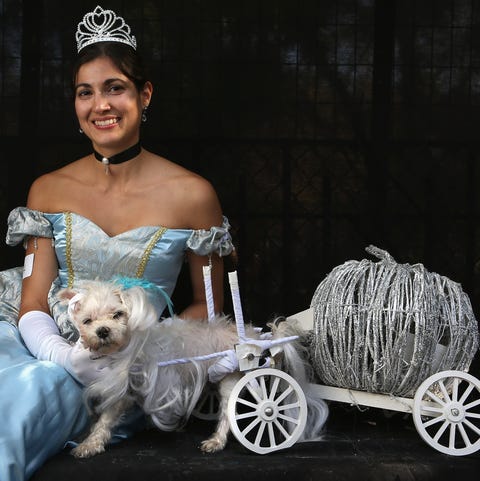 You and your pet will be the belles of the ball in this storybook-inspired look.