If you're looking to fix your dog a quick treat, look no further than your fridge or freezer for all the ingredients you need for healthy and delicious goodies. If you make your own smoothies, chances are you've probably got everything pictured here (or something similar that will do in a pinch!)
These 3 recipes will fill one row each of five bones in this silicone baking sheet (each well is 2 ounces). However, you can adjust as needed. Let's be honest, these ingredients are very forgiving, so don't worry about measuring perfection here.
Plus, your dog will happily lap up any leftover yogurt mix. Even better, you can use it as the base for a frozen KONG treat.
Everything You Need For Easy Frozen Dog Treats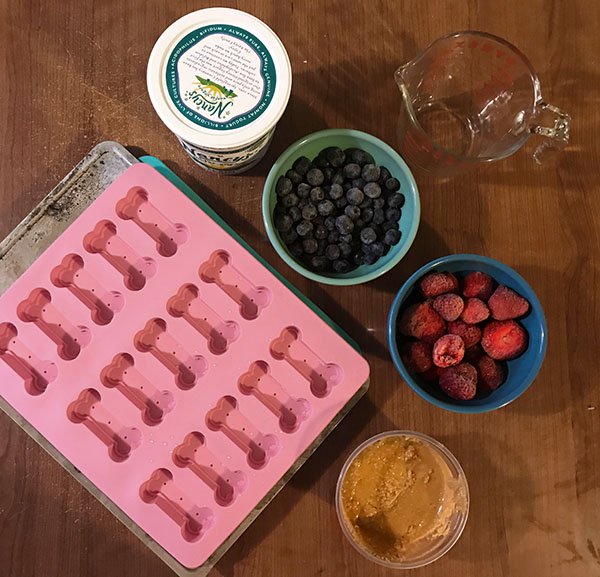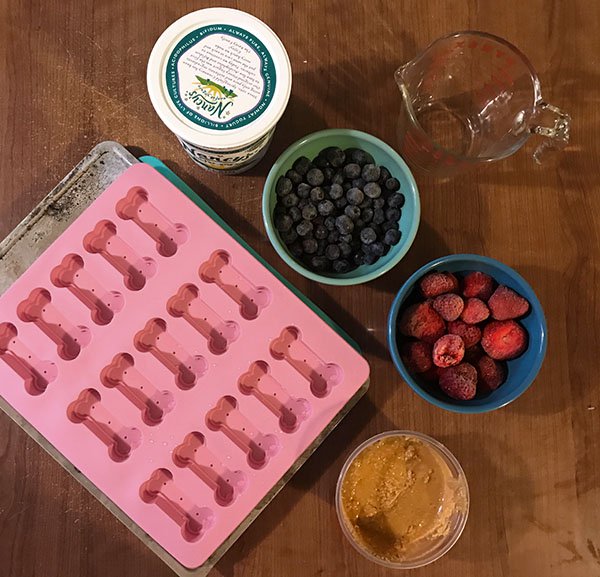 Supplies and ingredients
A baking mold or ice cube trays. We used the Paw & Dog Bone Molds from Baking Missy.
A 2-cup glass measuring cup or similar
A blender or food processor
Unsweetened frozen blueberries
Unsweetened frozen strawberries
Plain yogurt (we used non-fat)
Peanut butter (check ingredients on the label. Look for no sugar and definitely no xylitol, an artificial sweetener that's poisonous for dogs).
Water
Before you start
Measure the depth of the wells in your mold if you want to make multiple flavors at one go with the least amount of leftover product.
Clear some flat space in your freezer for your pupsicle to set up in peace.
Use a baking sheet or similar under your silicone mold because you will have the devil of a time moving it when full without some form of support.
1. Blueberry and Yogurt Frozen Dog Treats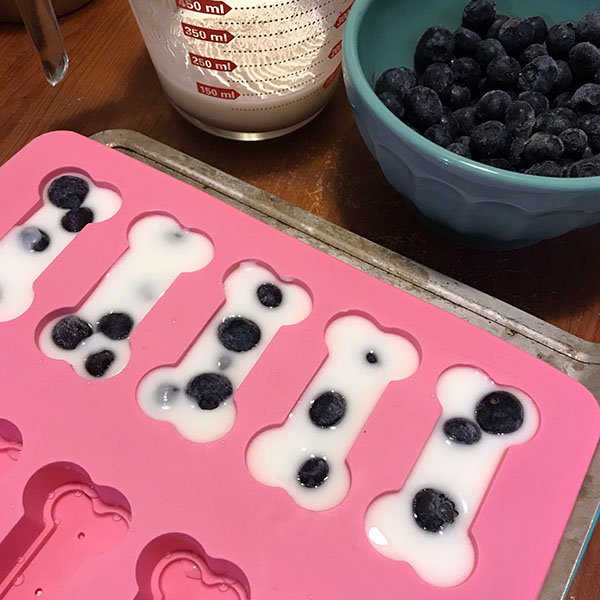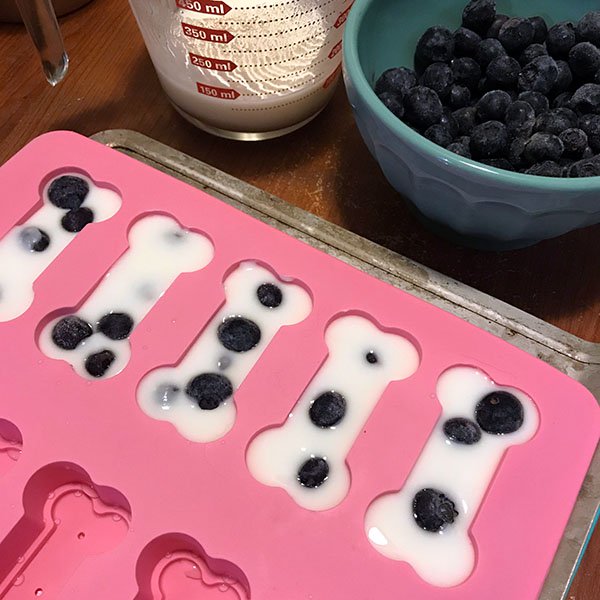 For the first row, let's start with the plainest mix, so we can use any leftover yogurt mix for the fancier rows.
Whisk together 4 ounces of yogurt and 4 ounces of water for the base. Add more yogurt and reduce the water if you want a creamier treat with more calories.
Pour into one row of 5 wells, leaving a generous amount of room for the blueberries.
Add blueberries to each well until the mold is almost filled (the pupsicle will expand as it freezes, plus it's nice to have a little extra space to protect from spills).
2. Frosty Peanut Butter Pupsicles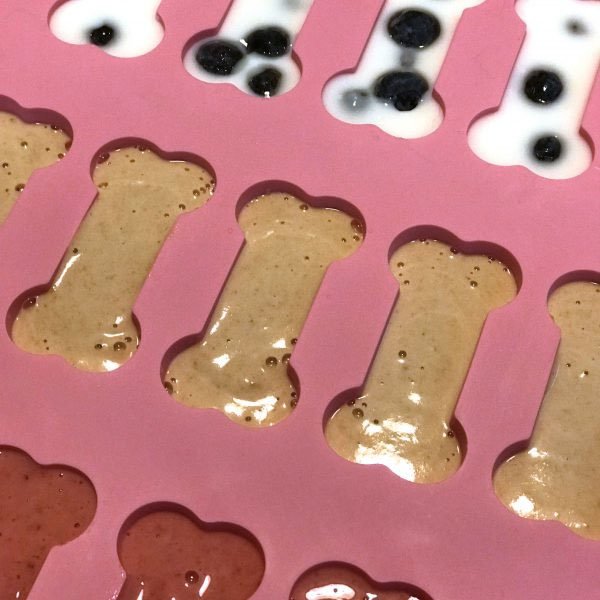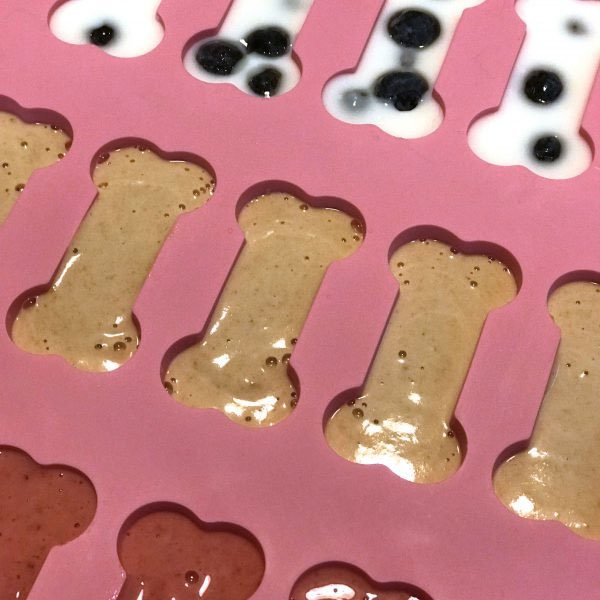 Put 4 ounces of peanut butter in your liquid measuring cup (eyeballing a big glob is fine).
Add 3 ounces of water and 2 ounces of yogurt to reach 9 ounces.
If you have leftover yogurt and water mixture, add that and adjust accordingly.
Will it blend? Great. If not, add a little more water until you reach a pourable consistency.
Pour into your second row of wells. If the batter is a little sloppy, you can use a spoon, add more water and blend more, or just clean up the tray afterwards. We won't tell.
3. Frozen Strawberry Yogurt Dog Treats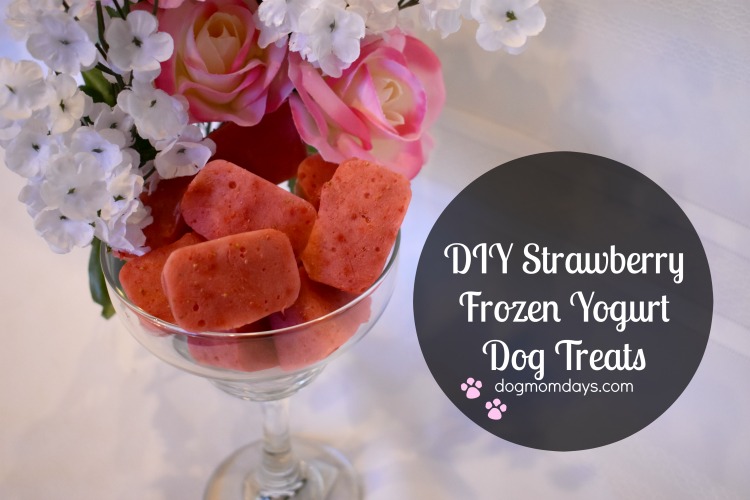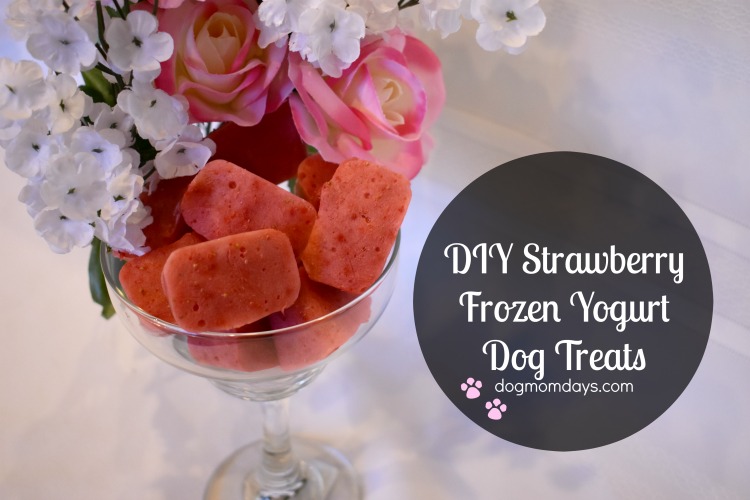 Source: DogMomDays.com
Paws down, my dog's favorite!
Prep time: 10 minutes
Freeze time: 3 hours
Makes: 16 treats
Ingredients:
1 package of fresh strawberries (1lb)
1/4 cup skim or low-fat milk
1 cup plain low-fat or non-fat yogurt
For more details and instructions, visit DogMomDays.com.
Frozen homemade dog treats couldn't be easier
And that's it! If you've got different dog-safe fruits or veggies on hand, substitute whatever you've got. Dogs won't mind if you substitute green beans for blueberries, or pumpkin for peanut butter.
Happy experimenting!
Please 'SHARE' to pass on this story to a friend or family member