One Los Angeles shelter dog has recently become the envy of women everywhere. She will be getting love, lots of cuddles and living in the home of the very handsome Zac Efron.
The Greatest Show actor agreed to foster the dog who was named Tilly after learning that she was about to be euthanized.
But Efron fell in love and decided that Tilly, who he renamed MACA, would be his forever girl. And we… are… jealous! Just kidding we are so happy she has a forever home.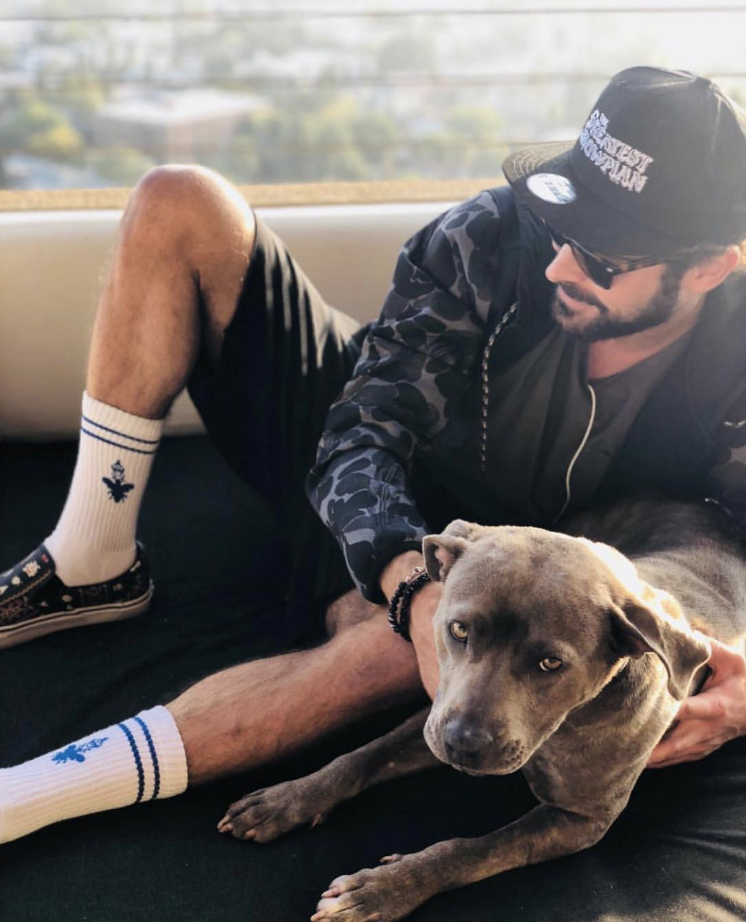 Source: barknbitches
Efron found his new love at Bark N' Bitches Dog Boutique in Los Angeles. Bark N' Bitches Dog Boutique sells the most adorable thing for your dogs.
But they also run Jimi's Angels which rescues dogs from high kill shelters in Los Angeles and Kern counties.
The euthanasia rate for these dogs can be as high as 85 percent. Lots of the dogs were picked up as strays by animal control. You can check out their adoptable dogs here.
"Tilly now MACA was being led to the kill room when we stepped in and said we would take her. She was turned around and brought to us!" This guy named Zac Efron came in (we hear he is an actor, but we think he actually waits tables) came in and fell in love. He went through our application process and fostered MACA and just could not give her back. So MACA now lives with Zac! This is her happily ever after! Happy life MACA! Happy Life," Bark N' Bitches Dog Boutique wrote on Instagram.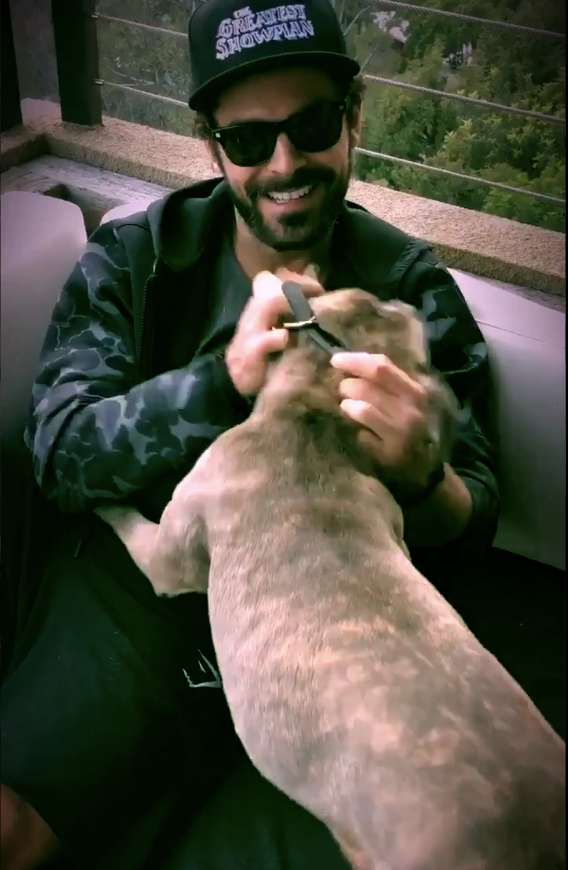 Source: barknbitches
Efron introduced his new girl to the internet on Instagram.
"Hey planet Earth, this is MACA #adoptdontshop," he wrote in the caption of a photo with his new pup.
He also shared some other photos and Instagram stories of him teaching MACA to sit. It's particularly nice to see Efron happy with a four-legged friend again after his loss in 2016.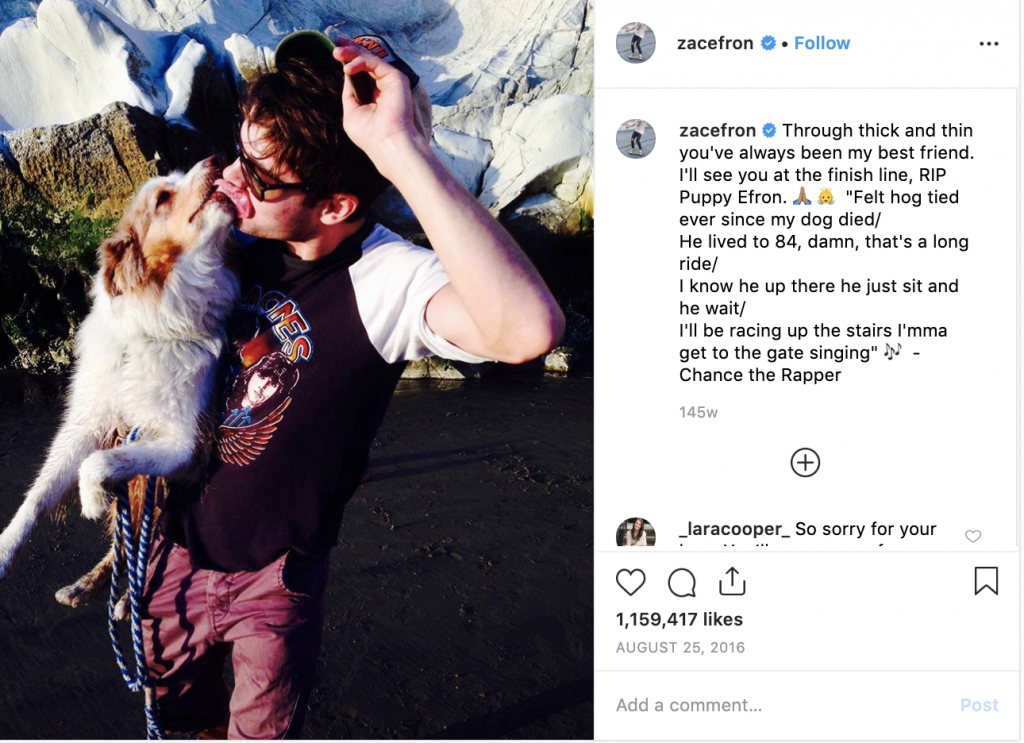 That's when he lost his beloved dog who was named Puppy Efron.
"Through thick and thin you've always been my best friend. I'll see you at the finish line, RIP Puppy Efron," he wrote in a tribute post to the pup.
Efron is known for his love of dogs. He's been reported to have two other dogs named Chappelle and Dreamer. He even ran out into the middle of the street in his underwear to save a dog.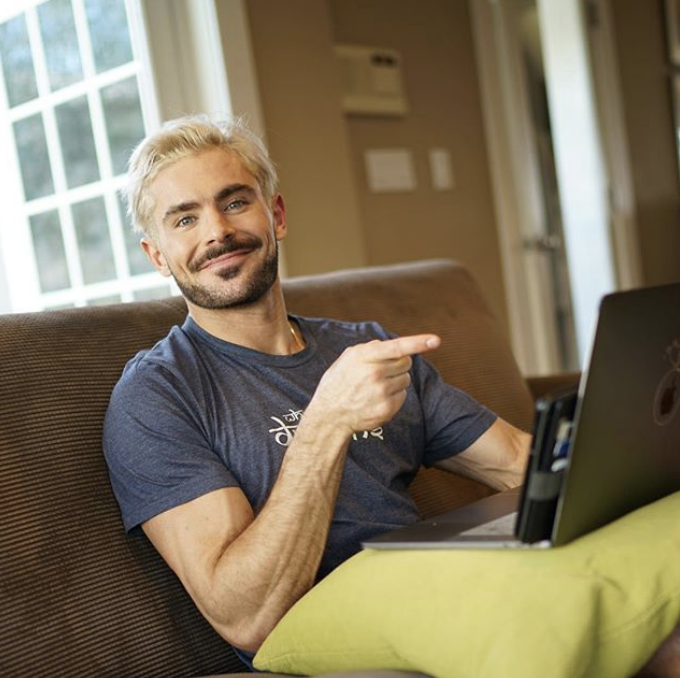 "I rescued a dog,"Efron told BuzzFeed. "He was a puppy and he got away. I just ran out in the yard to go save him, like in the street, in my underwear — I just woke up — and snagged him and was like, 'No, don't run away.' And I looked up and my neighbor and his whole family were like, 'Morning!' I was like, 'Hey! This is awkward. You have a lot of kids.'"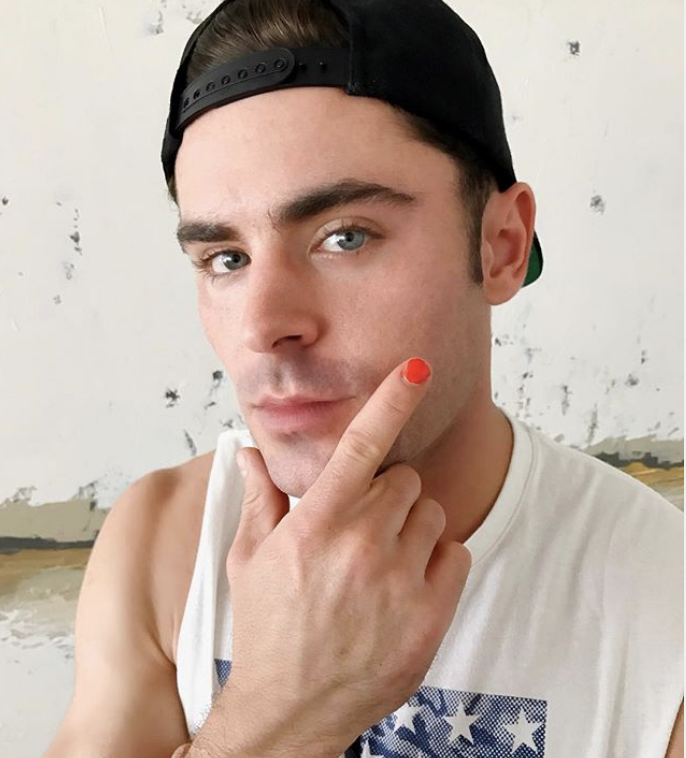 It seems like his neighbors have it just as good as MACA does. Many people on Instagram thanked Efron for taking in MACA.
"Thank you Zac for saving a precious life. This beauty will be your best friend for life," wrote one person.

"Thank you Zac. Mac's is do beautiful!!! God bless you and her. Happy life for both of you," said another.

"He opened his house and heart and gave this poor dog a home. Where she's probably gonna have a better life than I do. I'm so happy for both of them. What a kindhearted thing for him to do. He didn't need to adopt but he did. Wow. That makes me happy," and another.
Congratulations on your new baby Zac and your new forever home MACA!
Please SHARE this with your friends and family.