When wildfires raged through Laura Ringenberger's Napa neighborhood in October 2017, she was forced to flee her house with her family. Before they left, she went into her backyard to get her primarily outdoors cat, Kitty Kitty Star. She looked all around, but she couldn't find the cat anywhere.
"I called for her for about 20 minutes but couldn't find her. I worried that we would never see her again," Ringenberger told Love Meow.
As the fires got closer to Ringenberger's neighborhood, she and her family had to leave before the situation got deadly. Devastated, Ringenberger and her family evacuated, hoping that they would see their cat again.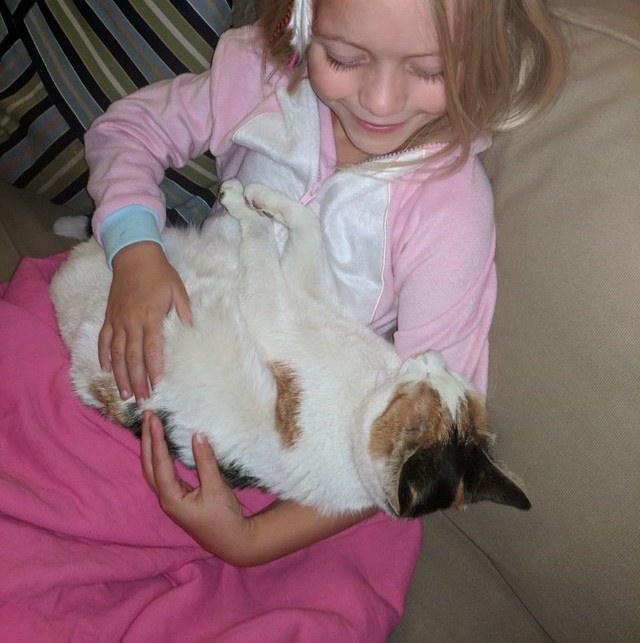 Source: Laura Ringenberger via Love Meow
Unfortunately, Ringenberger's house was destroyed in the fire. Ringenberger also worried that her beloved cat didn't survive the fire. Ringenberger desperately wanted to know if her cat was alive. So as soon as it was safe to return her neighborhood, she flagged down an ABC 10 News reporter who was covering the Napa fire. She asked him to take her to her house.
When they got to Ringenberger's property, she started calling for the cat. She walked over the charred ground, calling, "Here, kitty kitty!"
And then, a miracle happened. Kitty Kitty Star walked up to Ringenberger. She was covered in soot, but she was unhurt.
"She came out about 20 minutes after we got there. I called for her for a while. Eventually I heard her off in the distance, crying. It was really surreal," Ringenberger told Love Meow. "The fact that she was OK, and she was right there. It was a crazy moment."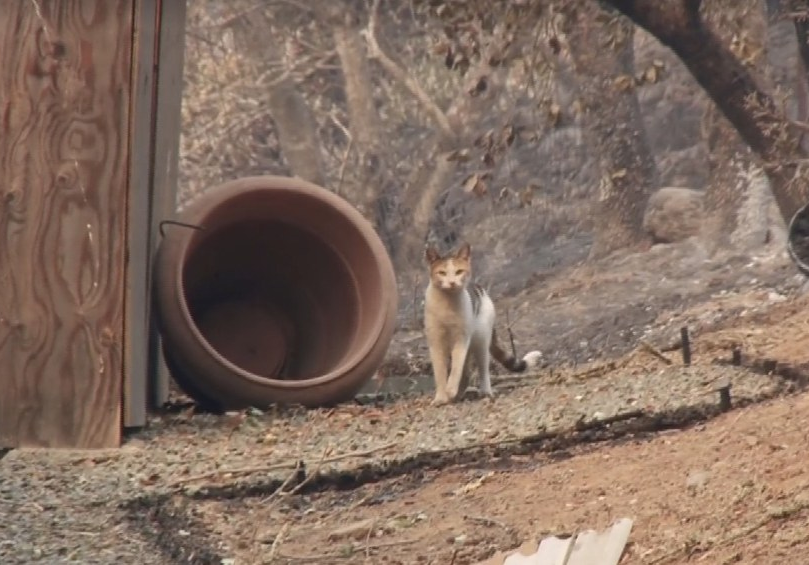 Source: ABC 10 News
Ringenberger kissed the cat and hugged her tightly. The cat curled up in Ringenberger's arms, clearly thrilled to be reunited with her favorite person.
"I have never heard her so vocal," Ringenberger said. "I felt relieved because I would've had the guilt for the rest of my time, had I not found her."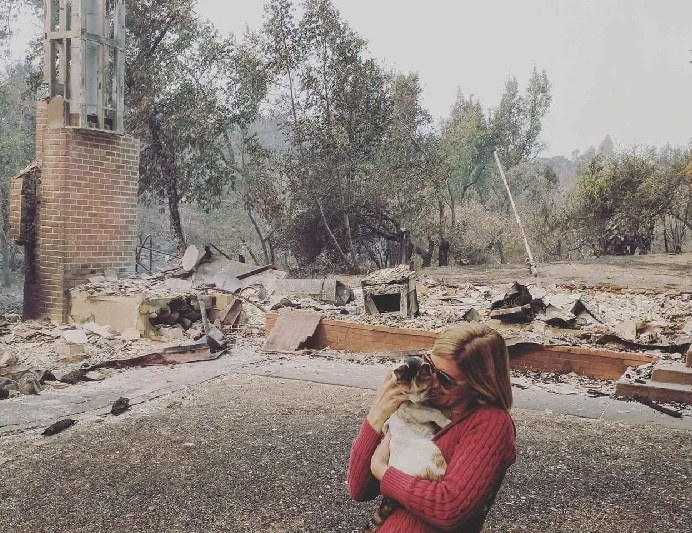 Source: Laura Ringenberger via Love Meow
Ringenberger, Kitty Kitty Star, and her family are staying in a friend's condo in Lake Tahoe. For now, Kitty Kitty Star has become an indoor cat, but she doesn't seem to mind.
"This place where we're staying has two flights of stairs, and she's been bouncing up and down the stairs," Ringenberger told The Dodo. "She's a very happy kitty. We woke up this morning, and she was curled up in bed with us, which was a sweet thing."
The future may be a bit uncertain, but thankfully, Ringenberger's family is healthy and whole. Check out the heartwarming reunion in the video below.
Please SHARE this with your friends and family.
Laura Ringenberger and her neighbors lost their homes on Soda Canyon Road. Wednesday was the first time Laura was able to look for the family's missing cat and something special happened. >>> http://ow.ly/HJLB30fRRus

Posted by ABC10 on Friday, October 13, 2017