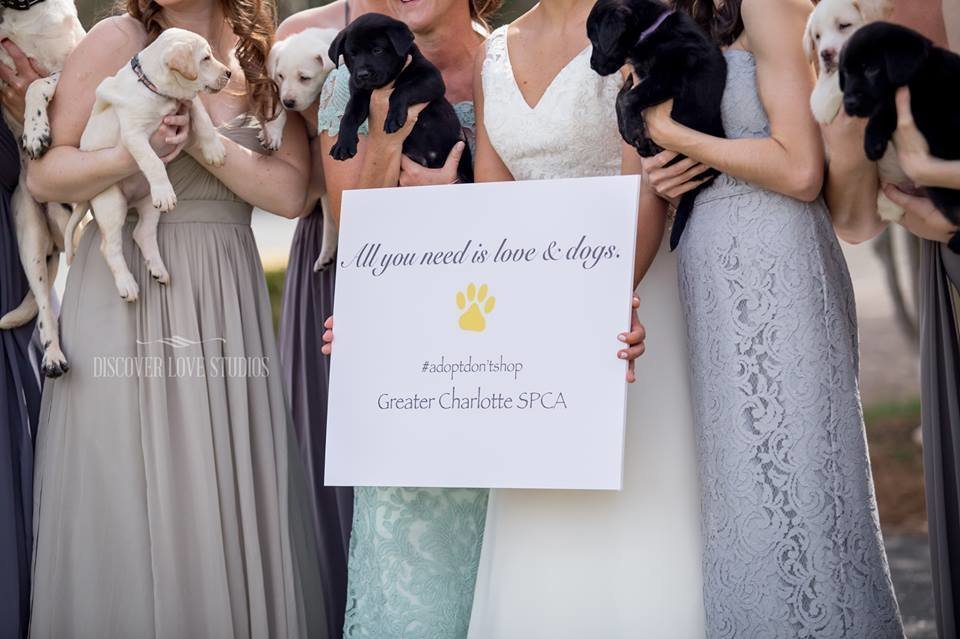 Discover Love Studios
Weddings are already filled with an overflow of joy for the celebration of love between two people and their families. Amidst the chaotic military timeline, all is well on the day of the ceremony.
There's not much more that can make a tie-the-knot ceremonial occasion happier– delicious prepped food, gorgeous decorations, alcohol favors, time well spent in good company with family and friends.
But imagine if we replaced the entire bridal party's flower bouquets with PUPPIES? You read that right– Puppies. To top that off, not just any puppies, but adorable adoptable puppies.
So you could potentially go to a wedding to celebrate love and end up bringing home a furry ball of pure love to call your own.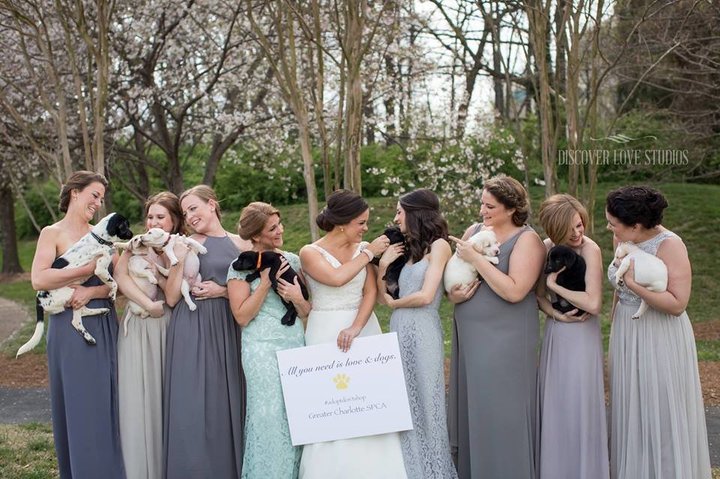 Discover Love Studios
Bride Meghan Butler and her bridesmaids decided to make dreams come true for her dog-loving wedding attendees. For Meghan's March wedding in Charlotte, North Carolina, the bride and her bridesmaids decided to ditch the traditional floral bouquets for puppies in need of a happy home.
Butler was inspired by the puppy love themed idea when she saw another bride pose with puppies instead of traditional flower bouquets. From there, she instantly knew she wanted to do the same.
The bride shared with Huffington Post, "I almost forgot I was getting married that day for part of the time because I was surrounded by my mom, best friends, and rescue pups!"
The heartbreaking issues of puppy mills and homeless pets strike an unsettling chord in the hearts of both Butler and her husband Brett. Their happy household is made up of two dogs and two cats.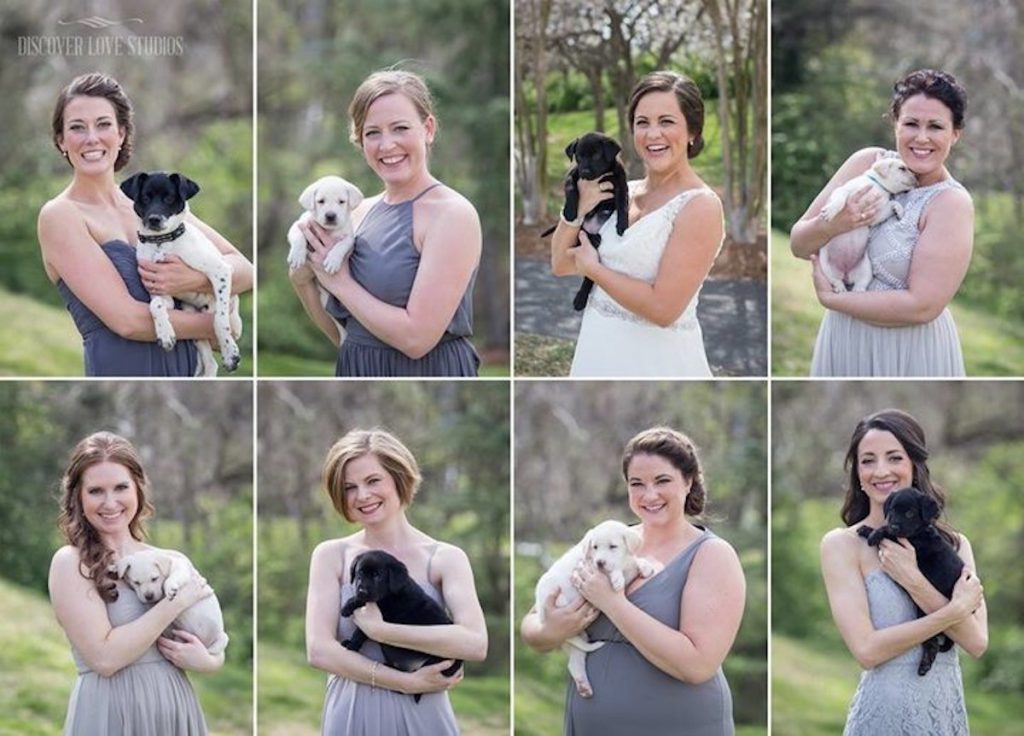 Discover Love Studios
The "meet cute" gathering of the bridal party and rescue puppies were documented by the bride's friend Brittany Boland of Discover Love Studios in Symphony Park. Boland told People that the photoshoot was filled with a lot of "squeaking and squealing and smiling" as they gushed over the adorable puppies.
Meghan and Brett's tie-the-knot ceremony was a huge success and according to Huffington Post, each and every "puppy bouquet" was adopted into a forever home. In addition to helping eight puppies find a family, instead of wedding favors for guests, the animal-loving couple made donations to the Greater Charlotte SPCA, the animal shelter that provided the adorable rescue puppies.
"Our hope was that the photos would help bring an end to the puppy mill by raising awareness for the many animals in shelters and foster homes that need forever homes," share Meghan.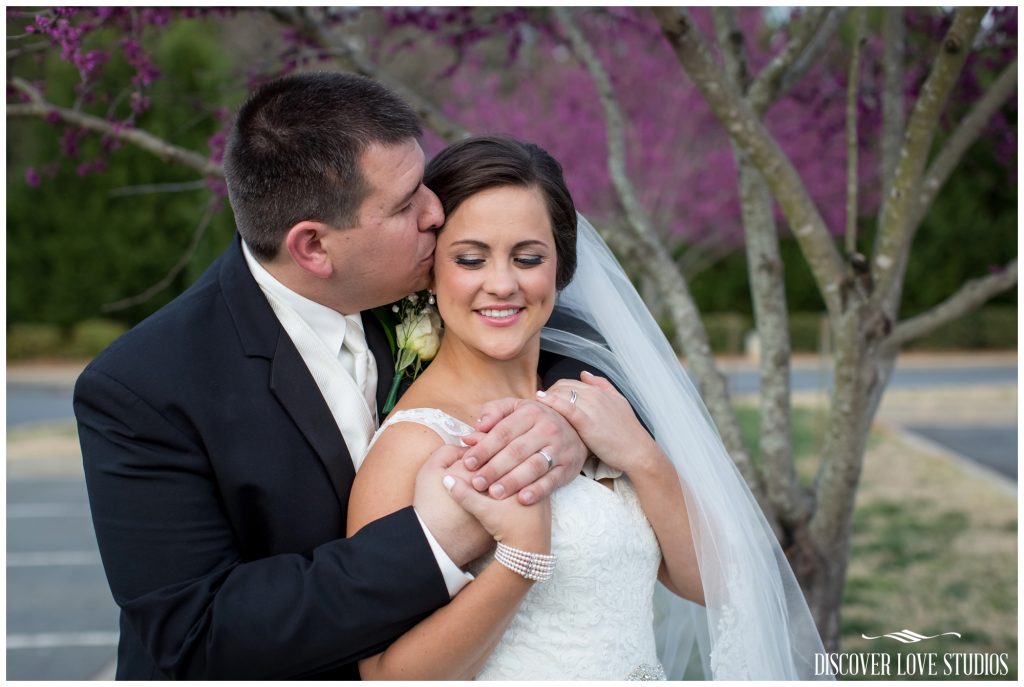 Discover Love Studios
All you need in life is love and dogs. Congrats to the beautiful couple Meghan and Brett for finding they are happily ever after!
Please SHARE this with your friends and family.