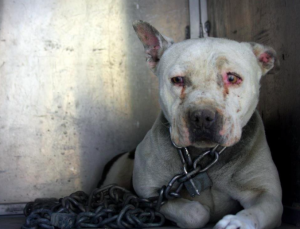 Source: NMDOG
Animal cruelty should never be tolerated. Angela Stell, founder and director of NMDOG, works hard to make sure no animal has to suffer inhumane treatment.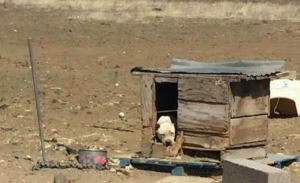 Source: NMDOG
NMDOG is an organization that rescues chained dogs. They are constantly searching for dogs who need help. One day Stell found 5 chained dogs on a property in Miguel County, New Mexico, where it is illegal to keep dogs chained when the owner is not present.
Stell got in touch with the Animal Welfare Coalition of Northeastern New Mexico to give these dogs their freedom. The county sheriff department eventually took the dogs into custody.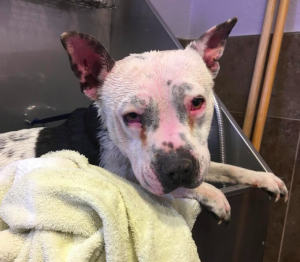 Source: NMDOG
Stell helped the dogs escape extremely cruel circumstances. It was obvious from the black marks in their fur that the dogs had been chained for a long time. One dog, who would be named Violet, was only two years old, and she had possibly been chained her entire life.
Stell told The Dodo that the police department "found that the guardian of the dogs was in jail on unrelated charges, and he was not on the property able to provide daily care that these dogs needed." Without her help these dogs might not have escaped their tragic situation.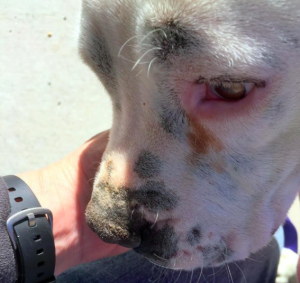 Source: NMDOG
Rescuers with NMDOG brought the dogs to the vet, where they are currently staying in medical boarding. The dogs needed extensive care. Violet's skin had been badly sunburnt, and she had suffered from a condition called flystrike, in which maggots gnaw at an animal's flesh.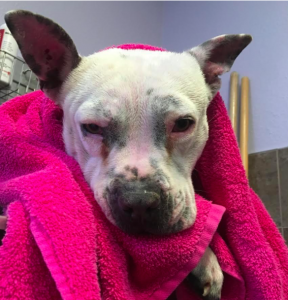 Source: NMDOG
Despite all this, there is hope that the dogs can have normal, happy lives. Stell has shared that Violet is relatively healthy, "although she still has a lot of fear issues to work through."
Violet still cowers when a human raises a hand or moves too quickly, "but she is coming around with nice words and good, positive interactions."
She even has her own squeaky toy! The raccoon is her favorite of her stuffed animals, and Violet is getting more and more comfortable curling up in a soft blanket. She is well on her way to having a normal puppy life.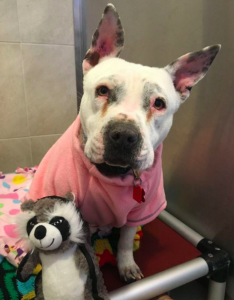 Source: NMDOG
The dogs need more care before they are ready to leave the vet, but soon they will be up for adoption. These sweet animals deserve a nice, compassionate home.
Soon each of them will be a part of a loving family. It is heartwarming to see these dogs undergo such a drastic transformation.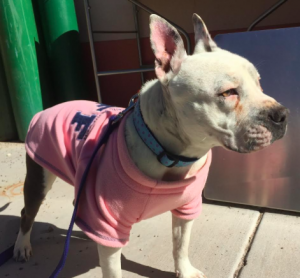 Source: NMDOG
Please SHARE this with your friends and family.