Maybe this list should be called Best Gifts for Anyone, because who doesn't love golden retrievers? But these items will leave no doubt. Check out these adorable Golden Retriever Gifts for the home or surprise a Golden Retriever lover with these must-have items!
1. Umbrella
This umbrella makes a great accessory when walking your dog or just when you have to run out to the store for more tennis balls.
Montana artist Phyllis Driscoll has a special way with clay, bringing characters to life with her artistic vision and talented hands. This salt & pepper sets will put a smile on the face of golden retriever lovers everywhere.
3. "What Goldens Teach Us: Life's Lessons Learned From Golden Retrievers" Book
All dogs teach us a lot about life, but Goldens just might teach us the most about love AND life. This book points out all the funny, sweet and serious traits of owning a Golden Retriever.
4. Box sign
Like the Beatles sang, "All you need is love, love. Love is all you need." Guess they didn't have a Golden Retriever, because a Golden might be all you need.
5. Music Box
The music box plays "Wonderful World," and you can keep the original picture in the frame or replace it with one of your own Lab.
Environmentally friendly and in the shape of a Golden Retriever, that's everything to love about this solar garden light.
A fun gift for the Golden Retriever mom in your life. Perfect for birthdays, Christmas or just because!
Another must have for golden retriever lovers. This is sure to be a great addition to the kitchen! A definite conversation starter!
9. Magnet sets
Golden Retriever refrigerator magnet gift set includes four different, funny Golden Retriever designs: Okay I'm ready, retriever's conundrum, obsessed and I'm Golden. Show off your Golden Retriever pride or give as a great gift for Golden Retriever lovers.
This Golden Retriever dishwasher magnet takes away the age-old quandary, "are the dishes clean or dirty?"
11. Monopoly + Golden Retriever = Golden-Opoly!
Another must have for Golden lovers. Great family fun!
12. Wine Glass
This super cute high quality wine glass etched with a beautiful Golden Retriever is a great addition to any Golden-friendly home.
13. Super Soft Golden Retriever Body Pillow
Curl up with this super soft Golden Retriever body pillow anywhere in the home to read a book, take a nap, or to just enjoy its charming presence!
14. Window Decal
Cute Window Sticker! Shopping for your Dad? Go HERE!
15. Book
Maybe you'll need this book when dealing with your own Golden, maybe not, either way 'Golden Retrievers for Dummies' is a great addition to any home library.
16. "Life is Better with a Golden Retriever" Tee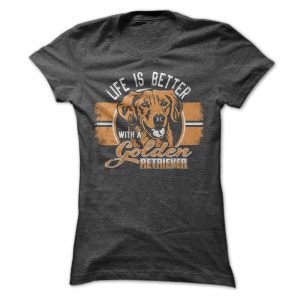 Is your life better with a golden retriever? Then this shirt is for you! Shopping for a dude? Try this model.
17. Mug
This sarcastic coffee mug is a funny addition to your office. Everyone can empathize with this passive aggressive mug!
Bring a little playfulness to your home this year and for years to come with these adorable Golden Retriever Dangling Leg Ornaments!
19. Porch Doormat
Another must-have item for any Golden lover!
20. Socks
These cute socks make a nice gift for any Golden Retriever Lover!