Goliath, Gunther and Gasket are giant dogs with the most adorable personality. They are as big-hearted as their physical size which makes around 300 pounds when combined.
When these Saint Bernard brothers were placed at an animal shelter they caught the eye of everyone who got to meet them. Jamey Blair, the shelter manager said that the dogs are so big that the staff from the facility had to rearrange one of the wards in order to place all the three together.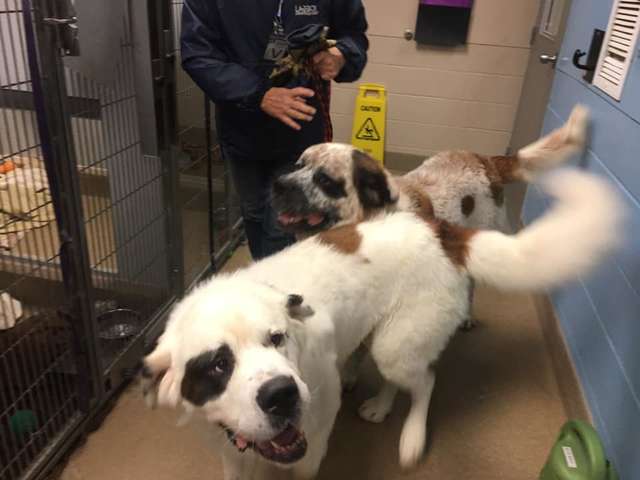 Facebook/SONiC 102.9
It was obvious that the puppies enjoyed each other's company very much. They would curl up next to each other and have a nap together. Blair told the Dodo how the employee who noticed the puppies hugging like this "thought it was adorable and she wanted to just go and crawl into the giant pile of fluff."
The shelter workers could see the special bond that these 5-year-old brothers had and they conducted a specialized behavior assessment in order to see the dogs' reaction when they separated them from one another. Knowing how these litermates did everything together from the moment they were born, the staff assumed their reaction would be negative.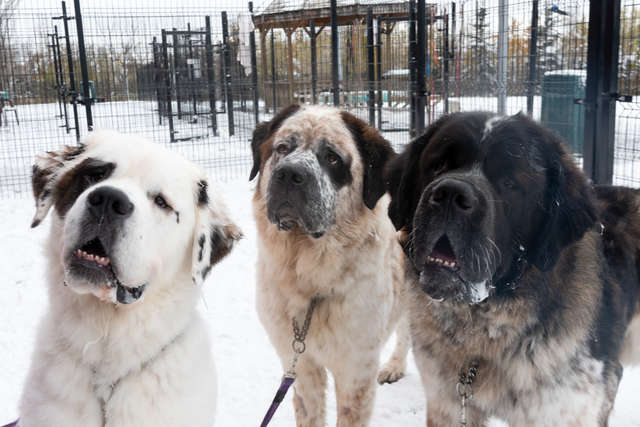 Edmonton Humane Society
"When we did this assessment, we saw behaviors that indicated that they were stressed," Blair said. "They were panting, trying to escape, looking for each other and not necessarily eating. These things definitely improved once the dogs were put back together."
Being separated made the dogs anxious and unhappy and that could mean only one thing, that they had to be adopted together, by one owner, and the staff knew that wasn't going to be easy.
"The dogs are lovely, they're absolutely delightful to be around," Blair said. "They're very social, loving and full of cuddles. They love playing, and seem to be good with other dogs as well from what we see in the shelter. So overall, they're just phenomenal dogs."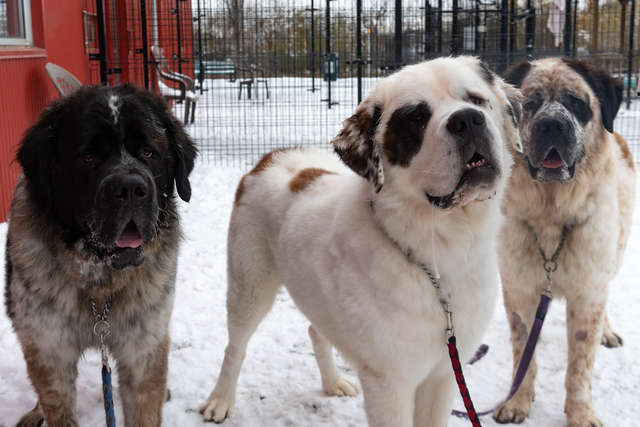 Edmonton Humane Society
The shelter's employees came up with the idea of sharing these dogs' story on their Facebook account, and what they didn't expect was for the number of people interested in adopting the Saint Bernards to be as huge as the dogs.
"It's been overwhelming the amount of people who have reached out," Blair said. "At this point we've received over 200 emails from interested adopters from outside the province and even outside the country, so we're very confident we'll be able to find a great home for them."
The shelter is currently going through the adoption applications in hopes of finding the best forever home for Goliath, Gunther and Gasket.
Blare notes that with the big dogs come big responsibilities. "They should definitely take into consideration the costs that go into caring for these dogs," she said. "You're looking at over 300 pounds of dog that you have to feed each month, as well as the vet care, their life span and the grooming that they will all need to have."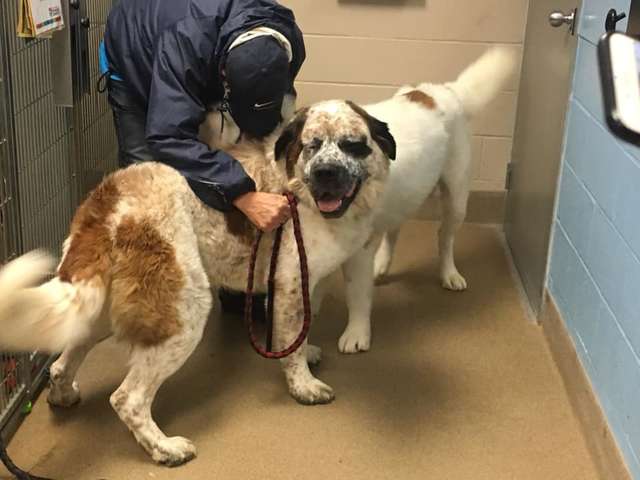 Facebook/SONiC 102.9
Whoever gets the chance to have these adorable creatures in their life should be ready to give triple effort in taking care of them, but also expect triple love and cuteness.
"They're definitely well-adored and they will be missed by all the staff and team here," Blair added, "but we'll be excited to watch them go home."
We hope that wherever they go, the three of them will never be separated and that they will have amazing life.
Think your friends would be interested? Share this story!