Josh Atchley (@nynex) tweeted Elon Musk, co-founder and CEO of Tesla, and asked him if the Tesla Model 3 could come with a 'dog mode,' where "the music plays and the ac is on, with a display on screen saying 'I'm fine my owner will be right back.'"
Musk tweeted Atchley back with a simple "yes," and just four months later, Musk has made Dog Mode come to fruition!
With the new Dog Mode, you can set a cabin temperature in your Tesla to keep your dog comfortable, with a display screen that lets passersby know that your pup is okay and that you'll be right back.
Introducing Dog Mode: set a cabin temperature to keep your dog comfortable while letting passersby know they don't need to worry pic.twitter.com/xFU6MGZT53

— Tesla (@Tesla) February 14, 2019
Dog Mode can be installed in all Tesla vehicles through a software update and Tesla explained how to enable it in their release notes:
To enable Dog Mode, tap the fan icon at the bottom of the touchscreen when your car is parked. Set Keep Climate On to DOG, make adjustments within temperature limits, then leave knowing your pet will stay comfortable.
Dog Mode will stay on after you leave your car. If you your battery reaches less than 20% charge, you will receive a notification on your mobile app.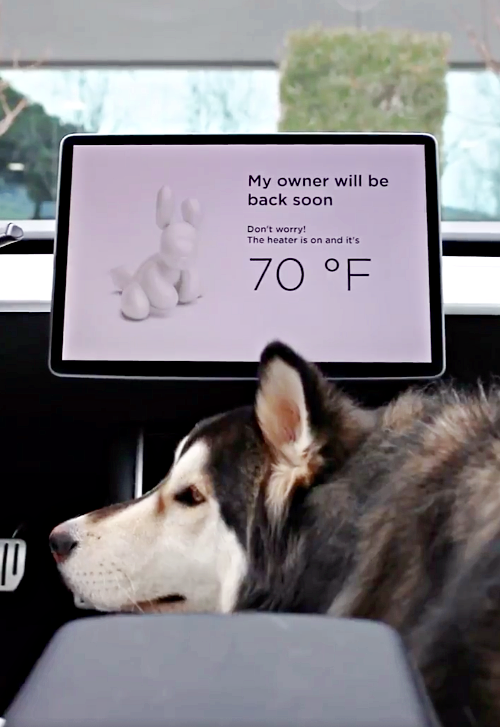 Twitter/Tesla
Of course they also made sure to remind people to check local laws for any restrictions on leaving pets unattended in the car.
Dog Mode is a genius idea and hopefully other cars will follow suit!
Atchley has since tweeted thanking Musk for bringing his idea to life.
"Thank you @elonmusk and @Tesla for taking my idea of #dogmode and implementing it to your amazing cars. Hope all cars will adopt this and animals everywhere," he wrote.
Please 'SHARE' to pass on this story to a friend or family member