Everyone has heard the old cliché that cats and dogs don't get along. But a rescue pitbull named Hema is singlehandedly proving that this cliché isn't true. The pup absolutely adores all of the foster kittens that her owner brings home!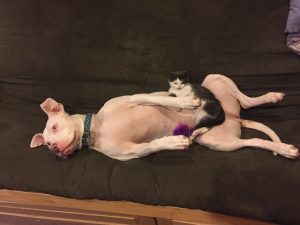 For the past three years, Hema's owner Marissa Clingen has been fostering kittens and adult cats. Hema loves cuddling with the cats, and she doesn't even mind when they nibble on her floppy ears and use them as cat toys.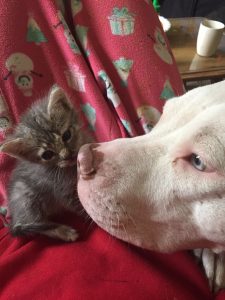 Marissa doesn't know all the details of Hema's past, but it's clear that her life wasn't easy. The pitbull was found wandering the streets of Washington DC, and she had scars on her face and bad bite wounds. Even though this pup had a rough past, she has never let that stop her from being a complete sweetheart both to her mom and to all the cats in her home.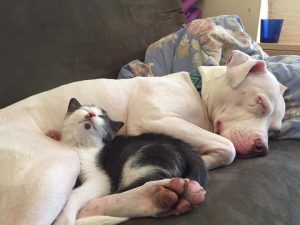 Hema's affection has helped the kittens learn how to socialize and live in a home, so they'll be all ready once they move to their forever homes.
Hema has also helped nurse some of the sicker kittens that Marissa has fostered. Hema got particularly close to one little cat named Muffin who looked like he may not survive. Marissa and Hema both looked after the little one, giving him twenty-four-hour care.
"Hema would lick his pathetic, crusty face and they would snuggle in her bed," says Marissa.
Thanks to Hema and Marissa's nursing and care, the little cat made it and was able to go to his forever home.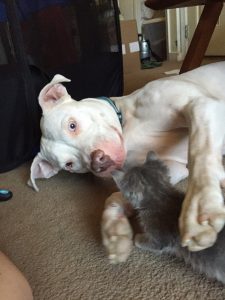 When Marissa finds homes for her foster cats, it's sometimes hard for her and Hema to give up their new friend. "It can be really sad to say goodbye," says Marissa. "I just try to remember where they would be if I hadn't fostered them."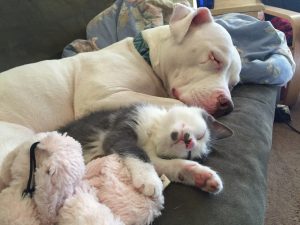 But luckily for Hema, spring is kitten season—the time when many cats give birth and shelters are inundated with kittens. Soon, Hema will have some new friends to play with and cuddle.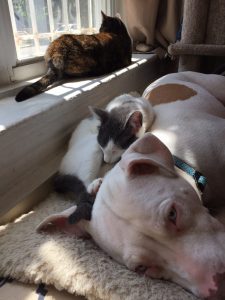 Hema is truly a wonderful mentor for these little kittens, and she shows that no matter what happened in a dog's past, they still have an amazing capacity to love.
Please SHARE this with your friends and family.
Source: The Dodo