A couple witnessed a military vet allegedly toss a dead dog out of his truck window with his trash in a California Walmart parking lot.
They then confronted the man and began recording it on their phone.
The video shows the deceased dog lying on the ground beside his pick up truck, which was park in a no parking area.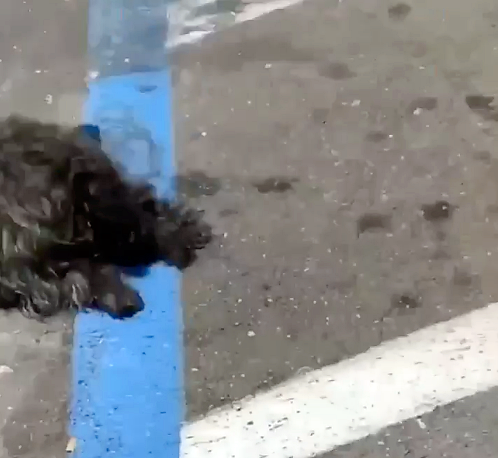 GrindFace TV/Facebook
Ricky Montes, who is a U.S. Marine, couldn't believe his eyes and was disturbed to find out that the man who tossed the dog was also a fellow veteran.
"What are you doing sir?" Montes says in the video. "You just leave a f–cking dog on the ground right here? I saw you the whole time, I was sitting right there with my wife in the car! Are you kidding me? That is f–king disgusting!"
He tells the man to get out of his truck, but he doesn't oblige. Walmart employees then called police to the scene.
The Glenn County police issued a citation for the court for cruelty to an animal and improperly disposing of an animal, but Montes says a ticket isn't enough.
GrindFace TV/Facebook
Glenn County Sheriff Richard Warren told Action News Now that the man hasn't been arrested, despite the crime being a potential misdemeanor and a felony. He admitted that the coronavirus played a role in not booking him to jail.
Some say that the dog had died after being left in the hot truck, but police believe that the dog had been dead for "quite some time."
Watch the confrontation in the video here.
H/T to Action News Now.
Please 'SHARE' to pass on this story to a friend or family member