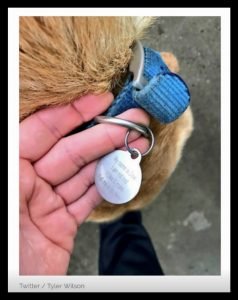 Twitter/Tyler Wilson
It read: My name is Dew. I am not lost. I like to roam. Tell me to go home.
Wilson decided NOT to tell Dew to go home right away. Instead, since Dew was obviously in the mood to say "hi", he spent some time with him giving him pets and some much-wanted attention.
As it turned out, Dew is actually a local celebrity. Most of the people around town know Dew. He spends much of his days strolling about, greeting people.
He then, when ready of course, goes back home to his 70-acre farm where he lives with his loving family.
Dew has always had an adventurous spirit. No matter how hard the family tried to contain their dog, he would find a way to escape. However, when he ran away, Dew always returned home.
His family adapted to Dew's personality, knowing he is very smart, he's always aware of his surroundings and he always (safely) returns home.
"Dew loves to make new friends," his family tells The Dodo. "Fortunately, Dew is chipped and wears a GPS tracker so when his sneaky little self gets out and about, we always know where he is! He just likes to spread the love."
From Dew Thank you everyone!Muchas Gracias A Todos!Shukran Jazeelan !Maraming Salamat!Grazie!Xièxiè dàjiā!Min'na arigatō!Obrigado a todos !Bedankt allemal #Dewsadventures

Posted by Dew's Adventures on Saturday, January 28, 2017
Dew's family admits that his journeys aren't the safest, but they have accepted their dog's habit of roaming.
They're so grateful that Dew meets people who make sure he's okay, even giving him a drink of water and a loving pat on the head.
Came up to me while I was pumping gas. Dew just likes to adventure pic.twitter.com/9C13t8WR4X

— Nolyn Wilson (@502_Wilson) January 14, 2017
Please 'SHARE' to pass on this story to a friend or family member