Niccolò Bonifazio rides bikes for a living in Italy. The professional cyclist who currently rides for UCI Professional Continental Team Total Direct Énergie started his professional career in 2013 when he rode as a stagiaire for UCI WorldTeam Lampre-Merida.
Bonifazio then joined the Lampre-Merida team in 2014 as a regular rider and took the biggest victory in his career by winning the Coppa Agostoni in a bunch sprint.
He also won a stage of the Tour of Japan and three stages and second place of the Tour of Haninan. He won the sprint at the Gran Premio di Lugano in 2015 and placed third at the Coppa Ugo Agostoni He also placed fifth in Milan-San Remo.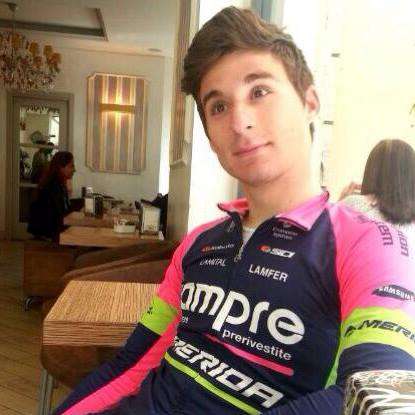 Source: Niccolò Bonifazio
Bonifazio joined the Trek-Segafredo for their 2016 season. He took multiple top 10 finishes that year, including fifth place in the Scheldeprijs, third in the Cadel Evans Great Ocean Road Race and sixth in the Kuurne-Brussels-Kuurne.
He also made the start list for the Vuelta a Espana but abandoned on stage 7. He was named for the start list for the Giro D'Italia in May 2019
But Bonifazio said the best prize he's ever gotten was won he earned through an act of love. He received this gift when he was on a 20-kilometer training ride with some buddies in a remote region of Italy. He stopped to fill up his water bottle when he heard some faint cries.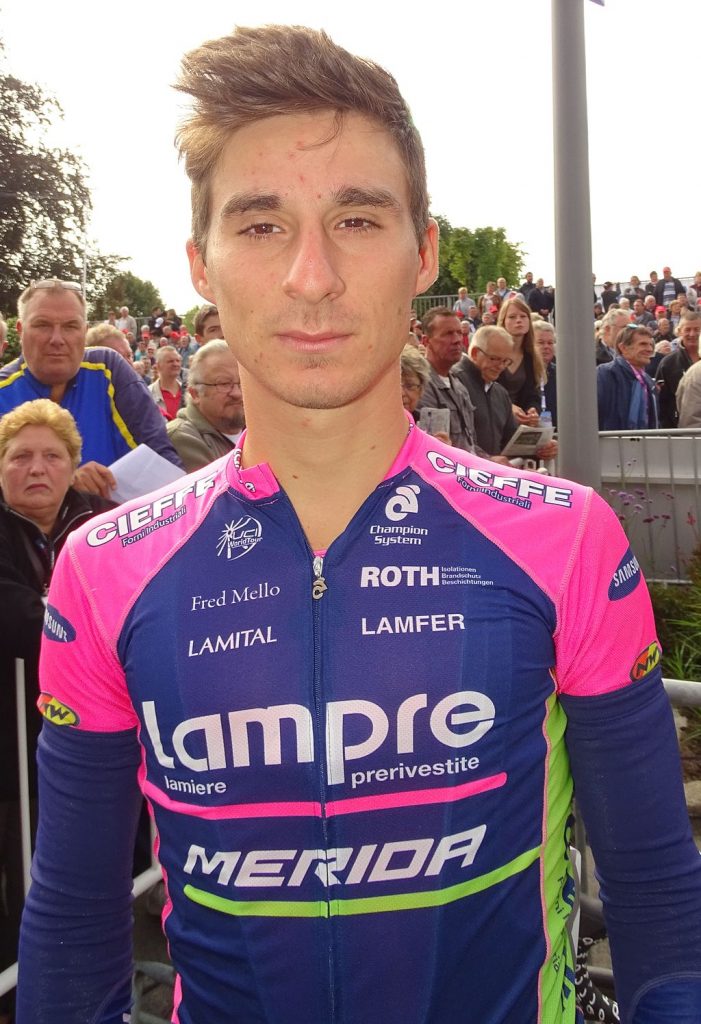 Source: Wikipedia
The sound was small and coming from somewhere off the road where there were no homes or buildings around. He listened harder and heard the sound of a cat crying.
"I heard meowing in the distance," Bonifazio told The Dodo. "It was a disturbed noise. So, I went into the woods to search."
Bonifazio decided to figure out what the sound was coming from. That's when he found a teeny tiny kitten on the brink of death in a garbage bag. It was thrown out and left to die.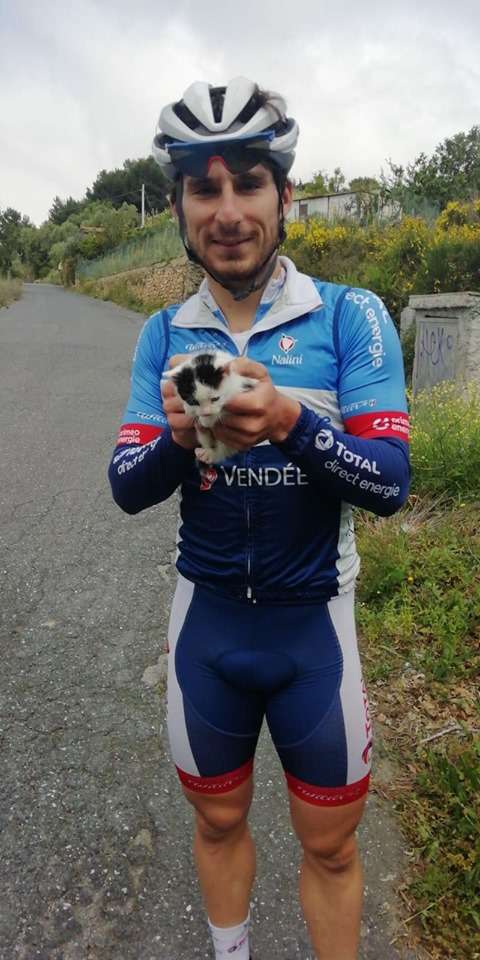 Source: Niccolò Bonifazio
Bonifazio found the kitten just it time as it wouldn't have survived much longer on its own.
"The kitten wasn't doing very well," he said.
Bonifazio knew that he had to act quickly to save the cat. So, he held the kitten with one hand and quickly cycled for the next hour until he could take the cat somewhere safe where it could get the care it needed.
when people abandon animals but you take them to your home ! 😍 🐱 Oggi mentre ero alla fontana che riempivo la borraccia ho sentito in lontananza miagolare, mi sono avvicinato e vicino sacco nero della spazzatura ho trovato questo simpatico micetto, probabilmente abbandonato da qualcuno ! 🐱#rescuecats #cats

Posted by Niccolò Bonifazio on Thursday, May 23, 2019
During that ride, Bonifazio fell in love with the sweet little kitty cat. Eventually, they arrived at a veterinarian where the kitten was looked over.
The cat was treated and the vets were able to save its life.
"We immediately brought him to the vet and he is now very well," Bonifazio said. "I decided to take him home with me."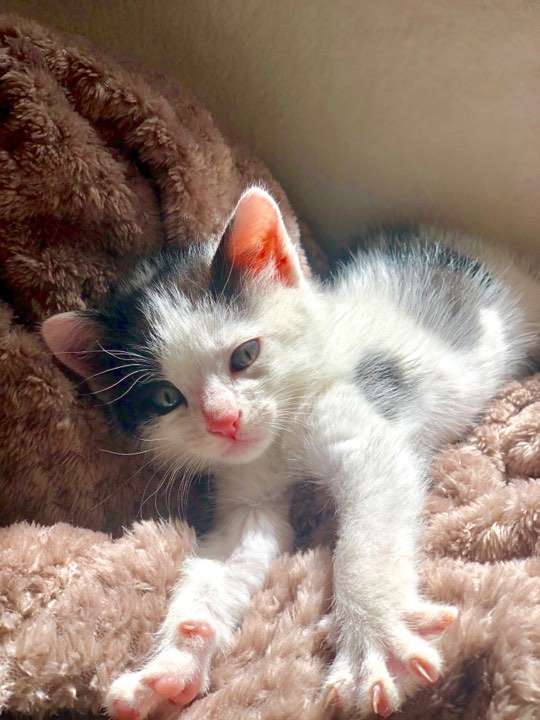 Source: Niccolò Bonifazio
Now, the kitten has a loving forever home with Bonifazio and his partner.
"He's very nice and full of energy," Bonifazio said. "His name is Bisous; in French that means 'kiss.'"
We're not sure how someone could cruelly discard such a cute creature the way Bisous was, but because of Bonifazio's kindness the kitten's life was spared.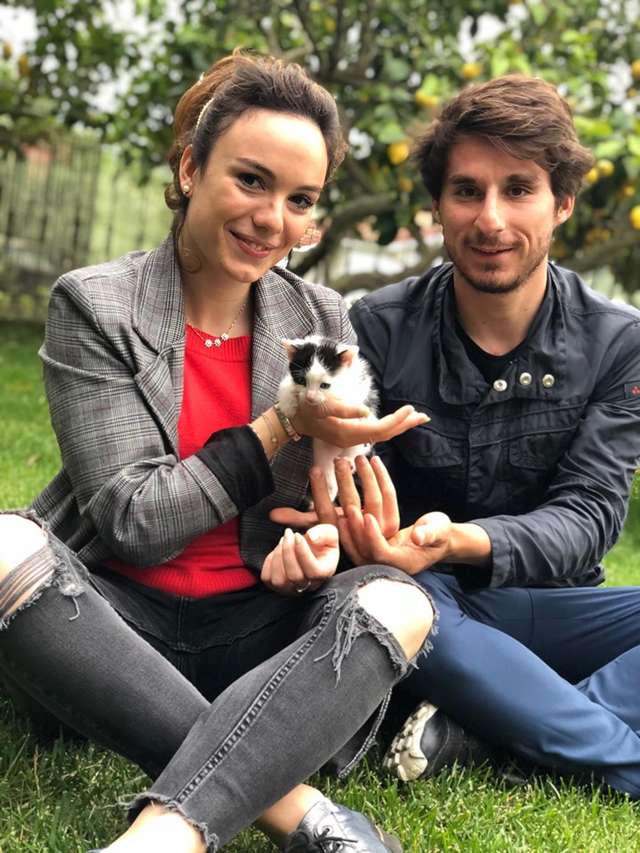 Source: Niccolò Bonifazio
Not only did Bonifazio change the Bisous' life but Bisous' has also brought much love and joy to Bonifazio's life.
"It was meant for you to be there that day… bless your heart for saving that adorable kitten," wrote one person on Facebook.

"I love💜 it when men become kitten owners. You'll never regret the decision you made to rescue that baby. Enjoy!" said another.
Please SHARE this with your friends and family.