Alec Karcher was heartbroken when he learned that his 10-year-old dog, Cody, had cancer. The vet said the senior pup only had a few months to live, so Alec wanted to make sure his final days were filled with love, treats, and happiness.
As part of the plan to make the dog's last days as positive as possible, the Karcher family decided to give Cody a plain cheeseburger every day along with his medication.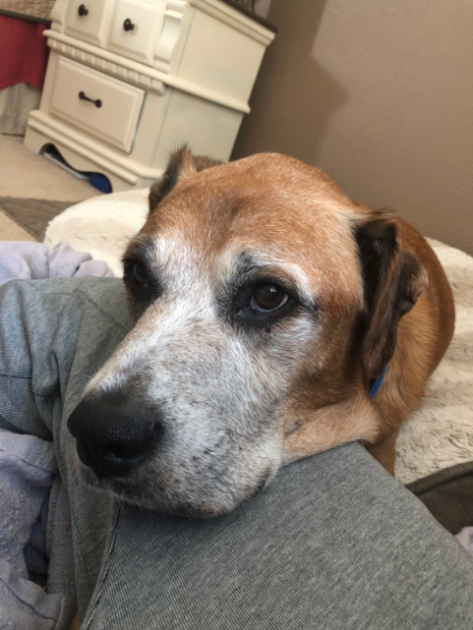 Source: AKarchh / Twitter
Some days, Cody's loving family would make his daily burger at home, just the way he likes it.
But, on others, they gave him an extra special treat by picking up a fast food burger for their four-legged best friend.
On July 15, Alec stopped at a Burger King to pick up Cody's burger, but what happened there touched him deep in his heart: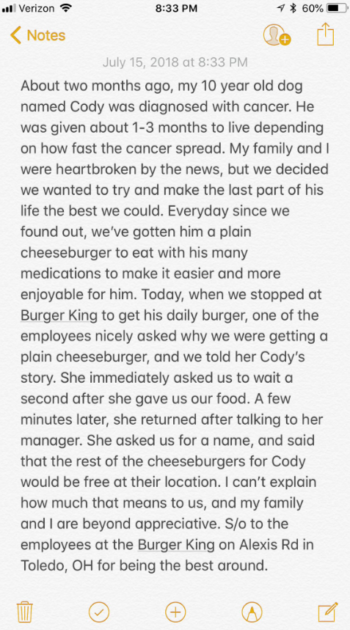 Source: AKarchh / Twitter
When Alec ordered Cody's plain cheeseburger, one of the Burger King employees asked why he didn't want any condiments on it. After hearing the sad story, the employee went to find her manager.
When the kind employee came back, she told Alec that the manager and the rest of the staff at the Burger King want to give Cody free cheeseburgers for the rest of his life.
"I can't explain how much that means to us, and my family and I are beyond appreciative. S/o to the employees at the Burger King on Alexis Rd in Toledo, OH for being the best around," Alec posted in a Tweet.
Thanks to @BurgerKing for showing so much love and kindness towards my family and our dog, Cody. It's appreciated more than words can describe. pic.twitter.com/KsKnfXtv0S

— Karch (@AKarchh) July 16, 2018
The internet has fallen in love with Cody, the Karchers, and the very special fast food restaurant that wanted to make a dying dog just a little bit happier. The Burger King even responded to Karcher's thanks by saying,
"The world needs more kindness and empathy. Thank you for giving us the chance to do this for Cody."
Nothing will ease the pain of eventually losing Cody to his battle with cancer, but at least the sweet pup will know he is appreciated, loved, and cared for in his final days.
Thank you to Burger King and the Karcher family for caring so much about a sick dog!
Please 'SHARE' to pass on this story to a friend or family member