We all want our dogs to live forever. And we all know that's not possible. But when a dog gets taken too soon, the pain from the loss is immeasurable. Aaron Salkill, a Cobb County, Georgia EMT Firefighter knows this loss all too well. Recently Ember, his adopted 5-year-old therapy Dalmatian, was diagnosed with kidney failure. When we are faced with death, it's important to celebrate life, and that's exactly what Aaron did in the weeks leading to and following her death.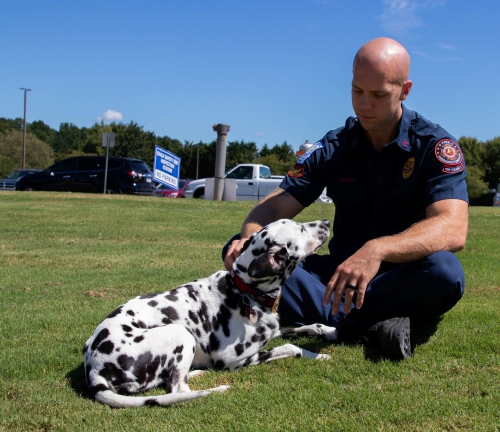 Facebook/Cobb County Fire & Emergency Services
It's also important to believe that certain people and animals are placed in our paths for a reason. They are like keys who unlock a specific life-altering path. As you read this article, I want you to recognize the impact Ember had on so many lives. There is a detectable pattern that is unmasked as Aaron shares his story.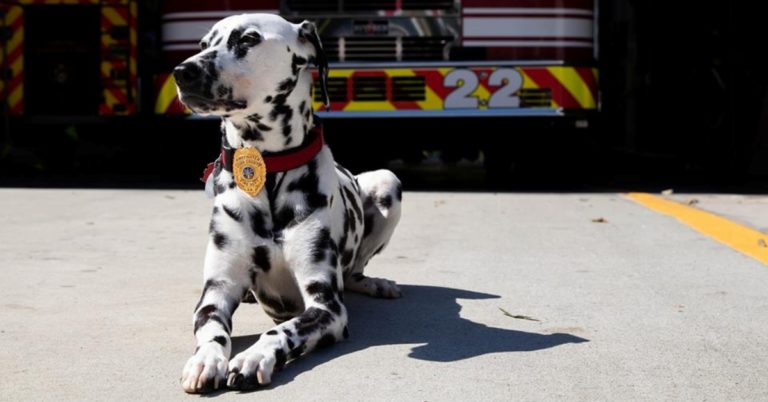 Facebook/Cobb County Fire & Emergency Services
Aaron took to an online platform called lovewhatmatters.com to share Ember's story with the world. He went on to share that during his bachelor years in 2013 he was looking to adopt a dog. It's funny how the universe knows when you're ready and suddenly places your perfect match right in your path. That's exactly how it went down for Aaron when a close friend offered for him to adopt a Dalmatian puppy.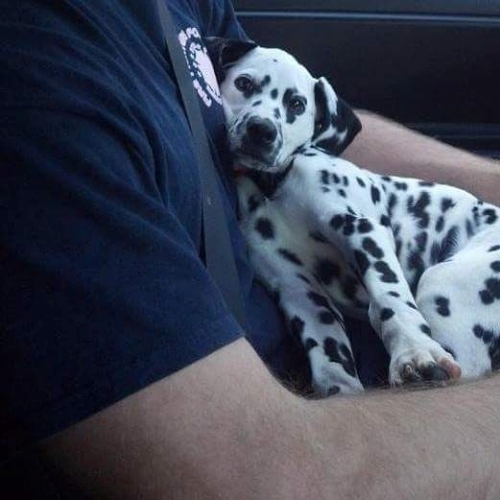 Facebook/Aaron N Salkill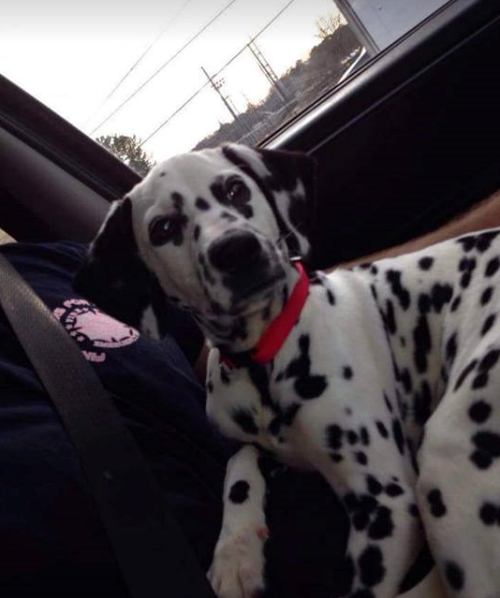 Facebook/Aaron N Salkill
"I nearly jumped out of my shoes with excitement. I had been working as a firefighter for a little more than a year, but the idea of actually finding a Dalmatian puppy had seemed far-fetched to say the least. I knew I had to meet her, so I raced to my car and went to the vet's office where she had been abandoned by her previous owners. No one was able to tell me why, but for some unfathomable reason, they had left this perfect beautiful 3-month-old Dalmatian puppy. It was love at first sight. I named her Ember." – Aaron Salkill/lovewhatmatters.com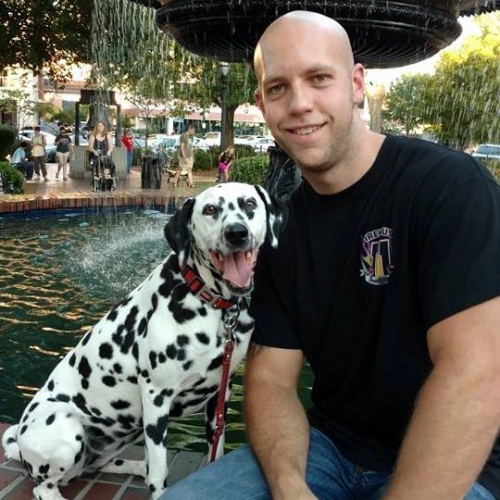 Facebook/Aaron N Salkill
Aaron quickly learned that Dalmatians are high energy and require loads of stimulation and outdoor play. And he was game for it. He spent much of his spare time bonding and playing with Ember outdoors. This interaction led him to realize that Ember was special. Not only was she noticeable from a mile away, but she brought joy to so many others, just as she brought joy to him.
"There were even times that the playground in front of the dog park would be empty, and a line of children would form to come and get a glimpse (and maybe even a pet) of this beautiful little Dalmatian." – Aaron Salkill/lovewhatmatters.com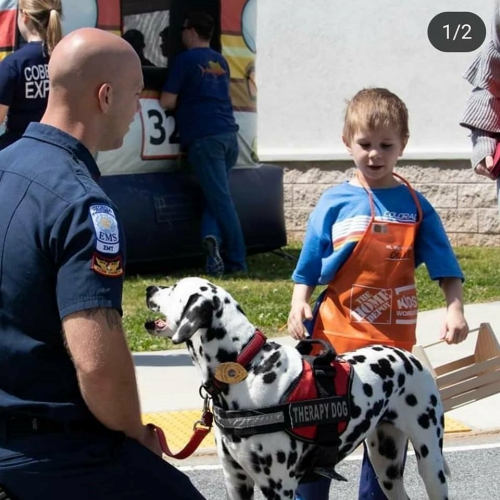 Facebook/Aaron N Salkill
This immediately sparked the realization that Ember was meant for greater things than just long walks and frisbees. Aaron immediately began a mission to get her certified as a therapy dog. Over the next year, they bonded on an even deeper level as they spent countless hours training together. Ember passed her certification effortlessly, and Aaron was prouder than ever of his beautiful, loving Dalmatian.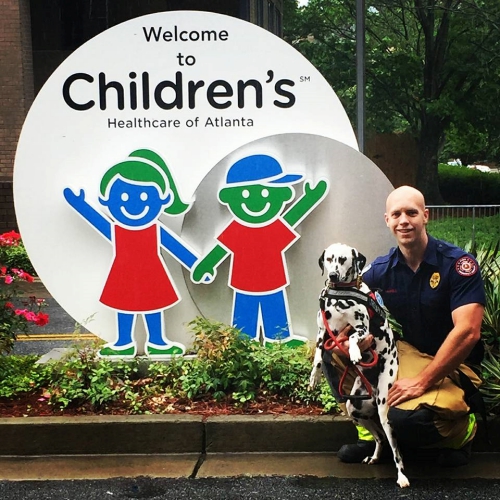 Facebook/Aaron N Salkill
They made their first appearance at Children's Healthcare of Atlanta on Halloween of 2016 to cheer up the kids who weren't able to go trick-or-treating. The nursing staff was in on the big surprise for the kids as they dressed up in costumes to hand out small toys. One nurse was dressed up as Cruella Deville, an unplanned yet perfect match for Ember the striking Dalmatian.
"It was magical to see how much their faces lit up when they first laid eyes on the dogs." – Aaron Salkill/lovewhatmatters.com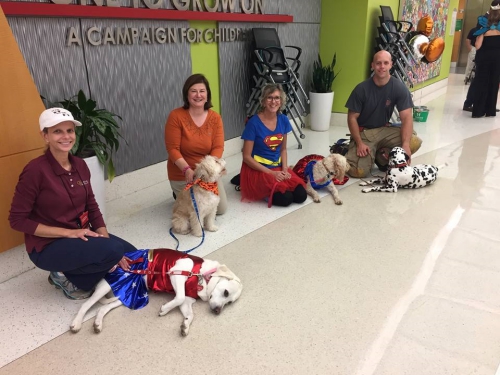 Facebook/Aaron N Salkill
Aaron had many highlights that evening, seeing Ember in action, and seeing the faces of sick children light up, some who hadn't smiled in months. One mother of a suffering young girl with cancer came to him and thanked him,
"her mother came up to me gently sobbing and began to thank me for bringing a smile back onto her daughter's face. She went on the explain to me this was the first time her daughter had so much as walked in weeks. The chemo had drained her of all desire to move until the excitement of seeing a real Dalmatian had given her the energy to run. That single thank you was one of the most rewarding moments in my whole life." – Aaron Salkill/lovewhatmatters.com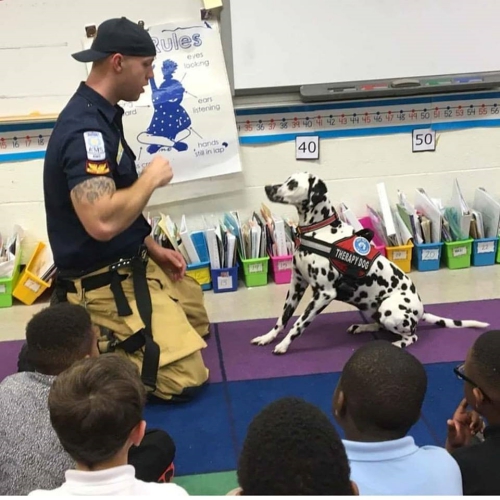 Facebook/Aaron N Salkill
Ember and Aaron spent the next two years making their rounds at local hospitals to brighten the spirits of sick children in the Greater Atlanta Area. They even landed a day job as the "Fire Safety Dog" at the Cobb County Safety Village where they taught children about how to safely interact with dogs. Together, they were impacting so many lives. And moreover, Ember was impacting Aaron's life.
"She has been with me through good times and the bad. When I had no one else, I could always rest easy knowing my sweet girl would be waiting excitedly for me with all the snuggles I could handle. Ember even helped give me a family of my own." – Aaron Salkill/lovewhatmatters.com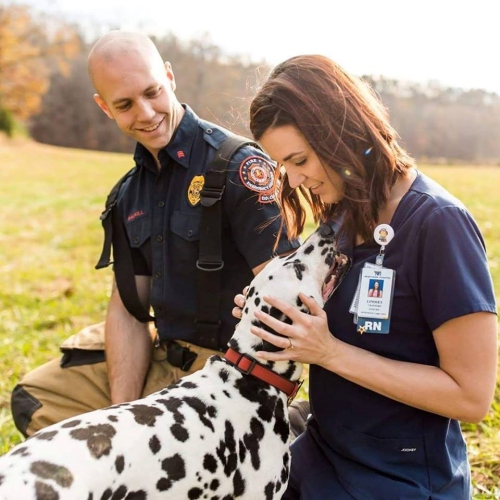 Facebook/Aaron N Salkill
There is no question that Ember has left her paw print on the lives of many. Especially Aaron. And not just for the immeasurable moments of intangible reward, but Ember is actually responsible for finding Aaron's wife! On the evening of their first appearance at Northside Cherokee Hospital, Aaron was set up on a blind date coordinated by one of the attending nurses. That date would later turn into Aaron's wife, Lindsey Salkill!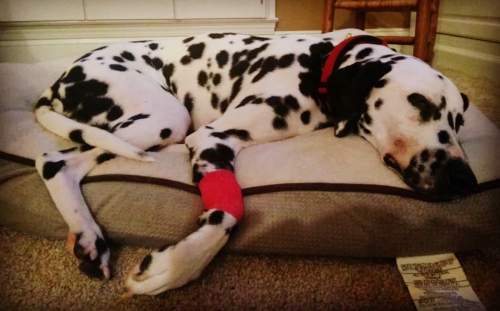 Facebook/Aaron N Salkill
Sadly, the paw prints came to an end much too soon. "Your dog is in renal failure", is something no one expects to hear from their vet when their best friend is only 5-years-old, but that news was delivered late this summer to Aaron and his wife. Immediately Aaron wanted to do everything he could to make it stop, but he couldn't. So he did the next best thing by making sure Ember lived out her last days having her best life ever.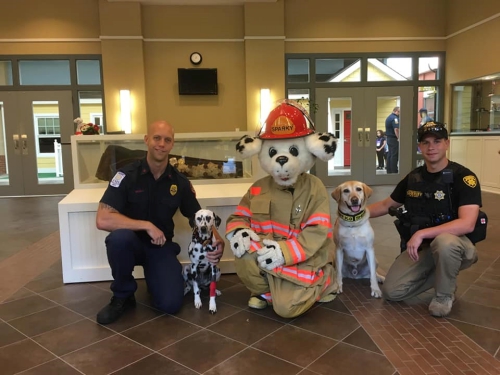 Facebook/Aaron N Salkill
They spent those days together visiting kids, going on photo shoots with local fire departments, cuddling and hiking outdoors. Aaron celebrated her life on his Facebook page, posting photos of her highlights and updates as her condition declined. As Ember grew more tired, Aaron and his wife knew it was time for her to go.
Ember came into Aaron's life like a whirlwind, destined to be his best friend from the beginning, fated to impact lives and change his life forever. And that's exactly what she did. I have so much gratitude towards Aaron for seeing the potential in Ember and fostering her innate gift to heal.
Please 'SHARE' to pass on this story to a friend or family member