Recent studies and reports by the FDA have left pet owners anxious and confused after learning that grain-free foods may be a factor in dogs getting dilated cardiomyopathy (DCM).
Many of the "grain-free" foods contain a large amount of peas, lentils, other legume seeds (pulses), and/or potatoes in different forms (whole, flour, protein, etc.) as one of the first ten ingredients.
The FDA has now released a more detailed report, which shows what dog food brands have been most associated with reports of DCM.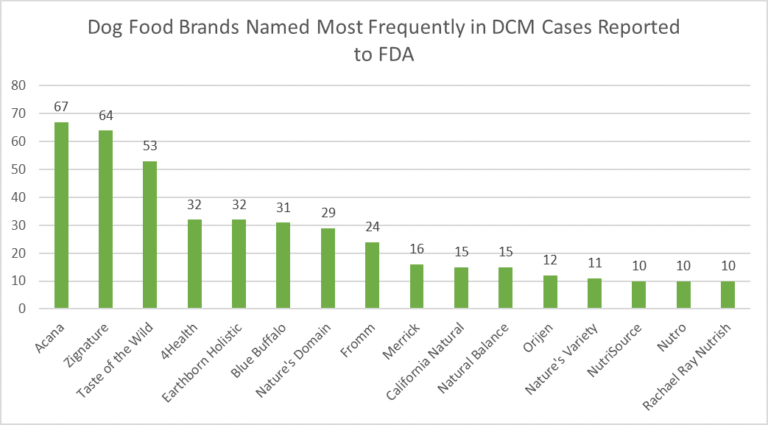 FDA.gov
While there could be other brands and more cases, these specific cases were ones that have been reported to the FDA.
The top five dog food brands named most frequently in DCM cases reported to the FDA are Acana with 67 cases, Zignature with 64, Taste of the Wild with 53, and 4health with 32. (The graph shows 12 more foods, while the full report discusses even more brands).
After receiving cases of which brands were associated with DCM the most, the FDA broke down the product labels and ingredients in each brand.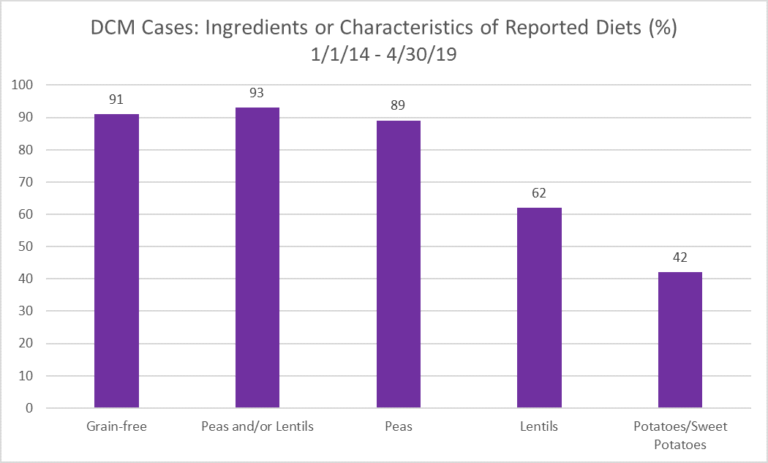 FDA.gov
More than 90 percent of foods were "grain-free," and 93 percent of reported foods had peas and/or lentils. A smaller portion contained potatoes.
In addition to those ingredients, they also studied which animal protein sources were in the reported diets. While many contained more than one protein source, the most common proteins in the diets were chicken, lamb and fish.
While this has left pet owners worried and even more confused, the FDA encourages everyone to speak with their veterinarians to discuss the healthiest, most appropriate diets for their pet's particular needs before switching to a new food.
FDA.gov
According to the FDA and past research, taurine is not usually considered an essential amino acid for dogs, since they can synthesize taurine from cystine and methionine. The majority of grain-free dog foods contained methionine-cystine values above the minimum nutritional requirement for adult maintenance food for dogs.
The FDA continues to research taurine metabolism and how it may have a role in reports of CDM.
Vet-LIRN has also been working hand-in-hand with Chesapeake Veterinary Cardiology Associates (CVCA) to gather medical records, interview from the dog owners, and diagnostic samples from pets with DCM that were diagnosed by a board-certified veterinary cardiologist by echocardiogram.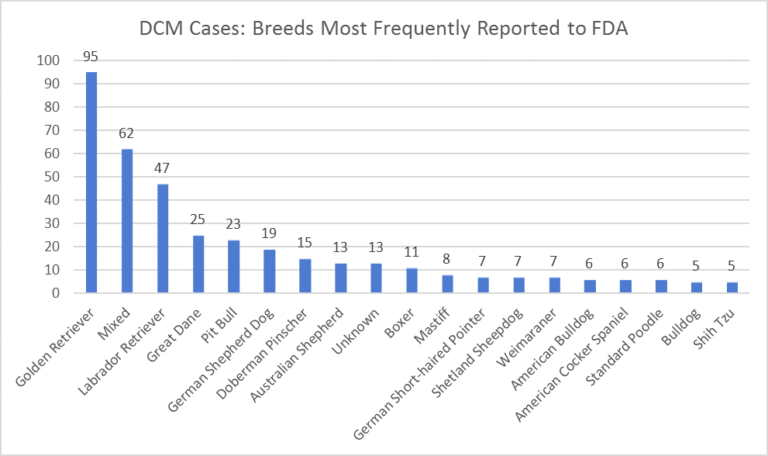 FDA.gov
They then collect blood, urine and feces from the dogs in the reported cases and document treatments and diet changes. They then monitor the dogs and recheck their heart after being on the new diet for several months.
The FDA welcomes people who have dealt with their dogs getting DCM to submit case information to them to help further their studies. Click here to learn how to report your case.
Click here to read more about DCM and pet food brands related to the disease, and click here to read the full report of all affected foods.
Please 'SHARE' to pass on this story to a friend or family member