It's not every day that three women in their 70s and 80s walk into an animal shelter and say they'd like to see a dog that nobody wants.
But to Sisters Veronica Mendez, Virginia Johnson and Alice Goldsmith, nuns who live together in Nyack, N.Y., the request made perfect sense. Why not adopt an animal most in need?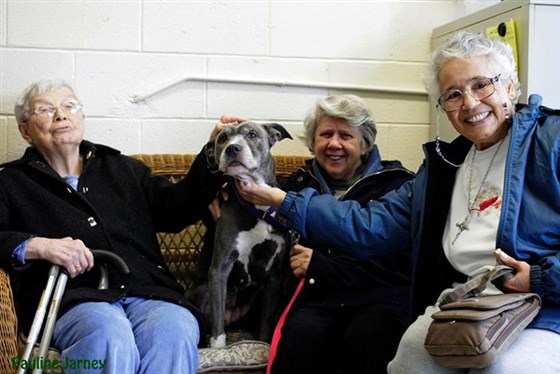 Source: Today
That mindset led them to Remy, a 9-year-old pit bull that had been overlooked by shelter visitors for more than three months.
"As soon as I saw the sign that said '9 years,' I said, 'This is the one,'" recalled Sister Veronica, 71. "'No one is going to want this one.'"
There are two types of dogs that struggle to be adopted, and consequently languish, unwanted, before being euthanized: senior dogs and pit bulls. Remy was both.
Many people think it'll be too sad to adopt dogs over the age of 6 or 7, even though they tend to make the calmest, easiest pets and they're already house-trained. It's often a perception problem.
The perception is even worse for Pit bull. Many people still see them as aggressive and dangerous. People are afraid that if they get a pit bull their insurance will go up, they won't be able to find a place to rent, or they might hurt someone they know.
But the nuns' connection with Remy was immediate and deep. Like most pit bulls, she was sweet. When they first met, Remy laid her head on Sister Virginia.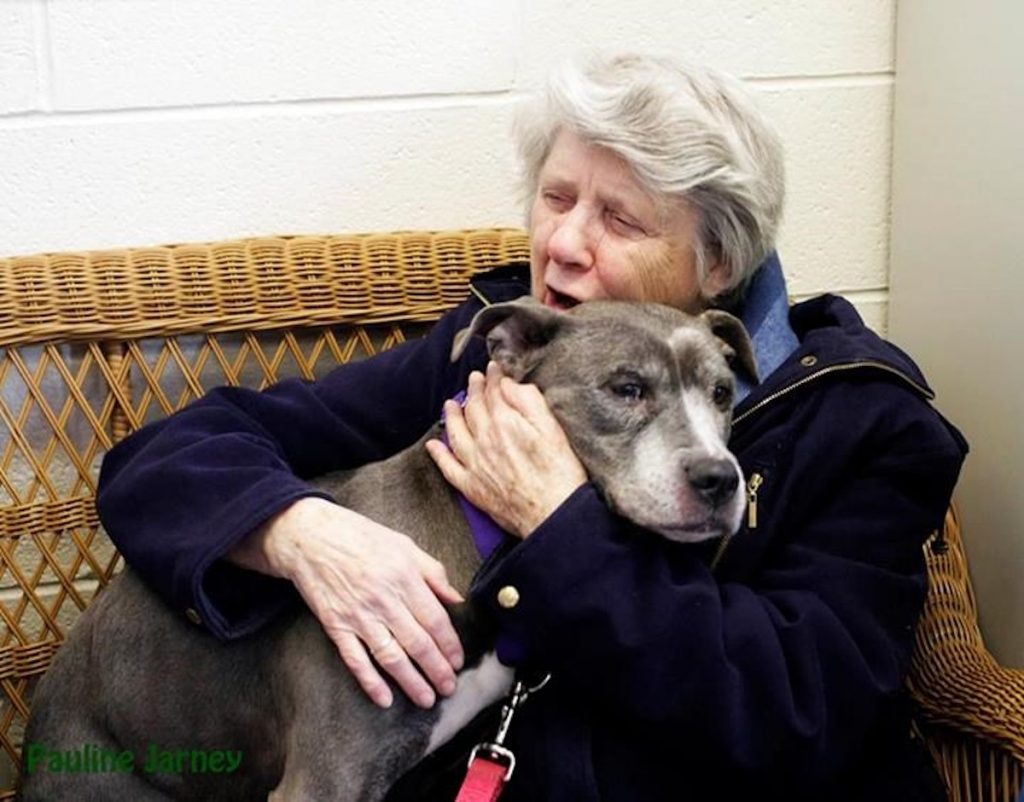 Source: Today
"She just got right up there," said Sister Virginia. "She said, 'This must be my new family.'"
The nuns were anxious to find another dog. They had recently lost their dog, Kate. She had died quickly from lymphoma.
"She was healthy one day and then, all of a sudden, lymphoma?" Sister Veronica said. "I was furious. I was so angry. I cried! Oh, how we loved that creature."
They decided to get another dog. And not just any dog, a dog on death row. A dog they could save in a way they couldn't save Kate. When they arrived at the shelter, they spoke with West Artope, the director of the center. He had just the dog for them.
"It just worked out so well," Artope said. "We did a follow-up with them and went to the house, and the dog is so comfortable in that environment, you wouldn't believe it. It was like a match made in heaven."
They were not concerned at all about adopting a senior pit bull.
"Our feelings were that she was in danger of being euthanized, and we wanted to give her the best three of four years she has left," Sister Veronica said. "Here we are, three senior sisters, so we adopted a senior pet!"
"These women showed compassion and took in this elderly dog that has a negative stereotype simply because of her breed," said Scally. "It's just a strong testament that we really need to change our mindset as a society."
Source: Today