A family of very dapper Fox Red Labradors have been helping Edinburgh Napier University sniff out the best vet students who are hopeful for recruitment.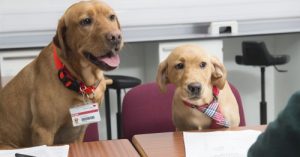 Source: Edinburgh Napier University
The students probably went to their interviews expecting to face a stern professor, so they must have been pleasantly surprised when they saw the 'interview panel' included dad Simba, mother Tia, and puppy Fern.
The dogs put the students through their paces as they were let loose among applicants in a group discussion exercise, allowing staff to discreetly assess how comfortable they were with the playful dogs.
Jodie Smith, lecturer and program recruitment officer, said: "Having dogs present in interviews, in particular, good quality Labradors, tests the aptitude of potential students for dealing with animals."
It also helped create a relaxing and fun environment, because university interviews can be stressful.
It didn't hurt that the dogs were dressed up for the event, with Fern and Simba getting to share a tie to help them look their professional best.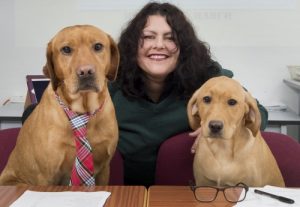 Source: Edinburgh Napier University
However, these are not just any dogs. All three are training with the charity APPAWS to become therapy dogs for children and adults with autism. Heroes.
Labradors are particularly sought after for this type of work because of their sweet nature and work ethic. The 'Fox Red' Labradors are exactly the same as yellow and black labs, but a variation gene brings out the different colors.
So, for your next interview, be prepared for any surprises!
Please SHARE this with your friends and family.