Dogs are incredibly brave creatures. They have proven that many times, and the story of the little Chihuahua named Coco leaves us in awe.
Her owners are real animal-lovers that have a collie terrier and a few other cats. And now that Coco was pregnant, they couldn't wait to welcome more puppies in the family.
However, neither Dawn nor Bill Slater were ready for what was about to come.
Her pregnancy was doing perfectly fine and her human parents made sure she visited the vet for the routine check-ups.
During the last one, the family got some great news. Apparently, Coco was about to give birth to five babies. Wow, that was the best thing they could hear. A litter of five would make their days more fun.
The day of the delivery was finally here, and everyone was overly excited. However, after the fifth puppy was welcomed into the world, Dawn and Bill realized the vet couldn't be more wrong. More babies were on the way.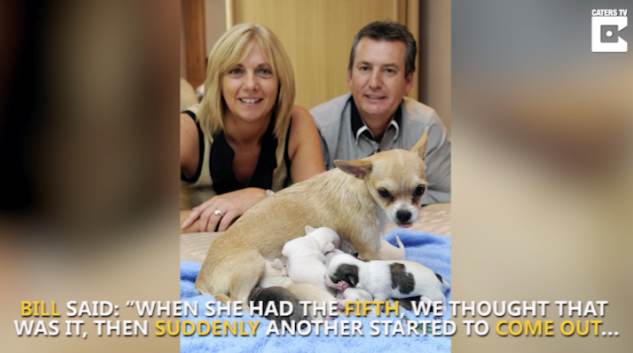 Even after the sixth came, Coco wasn't going to stop. As Bill told MailOnline:
"When we got to the ninth pup he wasn't well, his bag had burst and we were trying to revive him.
We thought to ourselves, this is just impossible, when on earth is it going to stop, when the tenth came out."
Ten puppies?! That really doesn't seem possible, does it?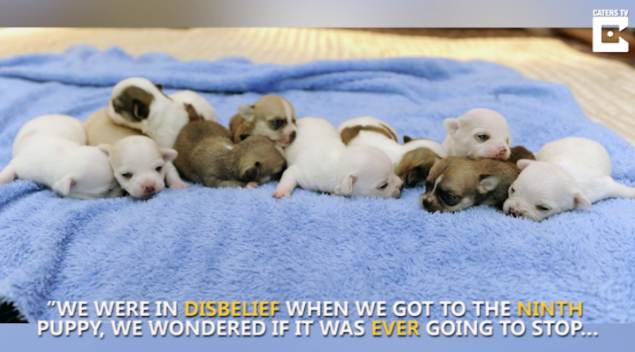 The parents became a bit worried for Coco, because she was already quite exhausted and they feared there could be certain complications because Coco was a tiny dog and having ten babies could be dangerous even for big puppies.
But Coco is a real warrior. Each of the puppies was perfectly healthy. However, the Slaters can't possibly take care for so many puppies so they are about to find perfect families for some of them.
Coco is the first Chihuahua to give birth to a litter of ten which puts her in the book of Guinness World Records.
Think your friends would be interested? Share this story!