This giant ball of fluff and love is Cosmo, a larger than life St. Bernard who has had a rough go of puppyhood until he finally found his forever home.
This loveable mountain of a dog had been born in Nebraska under the care of a dog breeder. While we don't know the reason behind the decision, the anonymous breeder eventually ended up surrendering sweet Cosmo over to the shelter Hearts United for Animals.
Even though the adorable Bernard pup had no idea why his owner abandoned him to the shelter, that didn't stop him from showing everybody there what lover dog he was!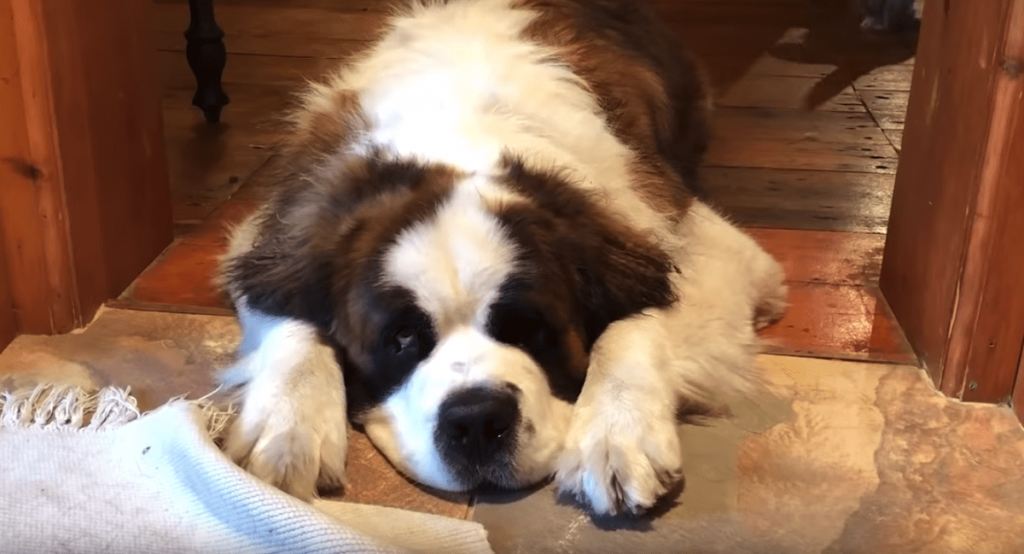 Source: Youtube Screenshot
Everyone at the shelter wanted to see Cosmo go to a loving forever family, and so they shared his pet profile on an adoption website, where a lady named Jayne and her husband first saw the adorable doggy.
When Jayne and her husband saw Cosmo's picture, it was love at first sight and the couple knew that the charming puppy was meant to become a part of their family, but there was just one little problem; they lived in upstate New York.
The couple was already so enamored with the shelter dog, though, that Jayne flew out of New York over to Nebraska, where she then got a rental car to pick her new puppy up and take him on his freedom ride to his new home!
They hadn't even met Cosmo yet and they were already willing to do anything for him!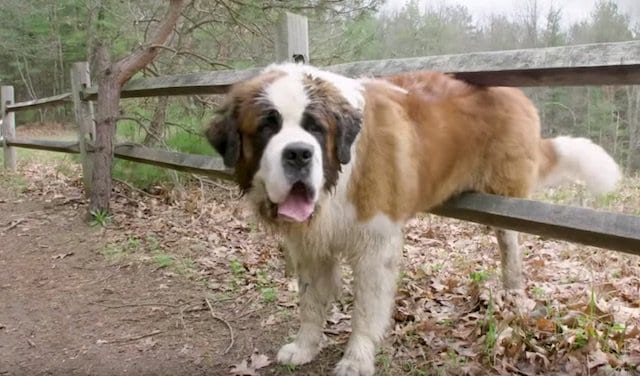 Source: Youtube Screenshot
When Jayne got off her flight she immediately jumped into the rental to go and meet her new furbaby.
It hadn't quite occurred to Jayne before as she was making plans to save the sweet puppy from the shelter about whether or not Cosmo and she would mesh well, but now that she was on her way to meet him for the first time she began to get anxious about it. As it turns out, though, there was never any shred of a cause for her concern.
From the moment Cosmo and Jayne met, they have been the best of friends ever since, sharing an unbreakable bond with one another.
"I don't know if Cosmo has any understanding of what's happening, but I think he understands there's a human here who wants to give him some love and he's pretty happy about it," Jayne says in the video below.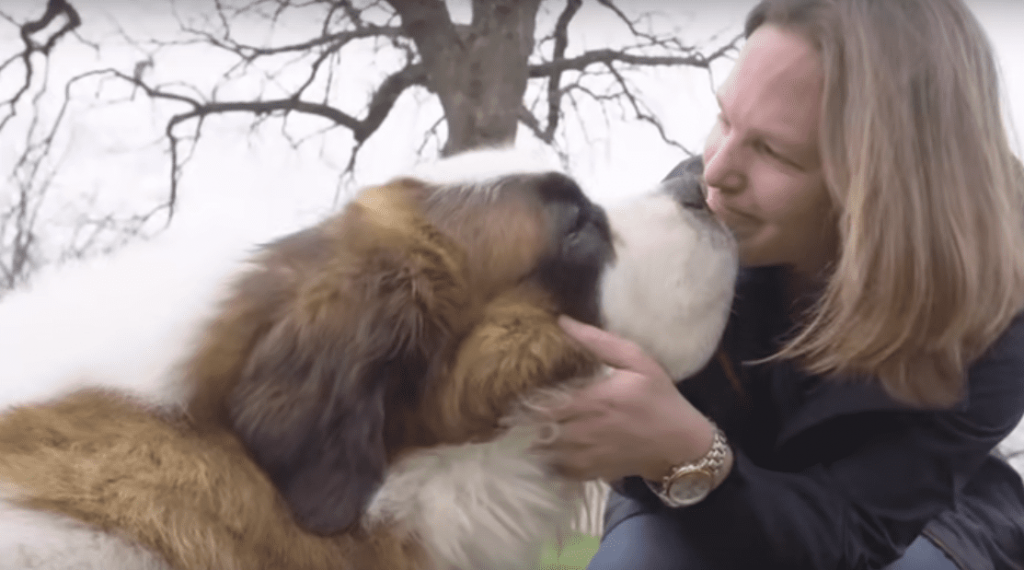 Source: Youtube Screenshot
Tuckered out from her flight and the exciting events of the day, Jayne decided to stay in Nebraska with Cosmo for the night and head out for his first ride home early the following morning.
While he had stolen the hearts of all the shelter workers and they hated to see him go, everyone couldn't have been happier to see Cosmo get adopted to such a loving family.
At first, the ordeal of getting Cosmo in the car was proving a little difficult, as the newly freed shelter dog was a bit sketched out about getting in. Once he crawled up into the car, though, he settled in calmly for the long journey ahead.
From Nebraska to upstate New York, the entire drive was smooth sailing and Cosmo spent most of the drive hanging out in the back of the car.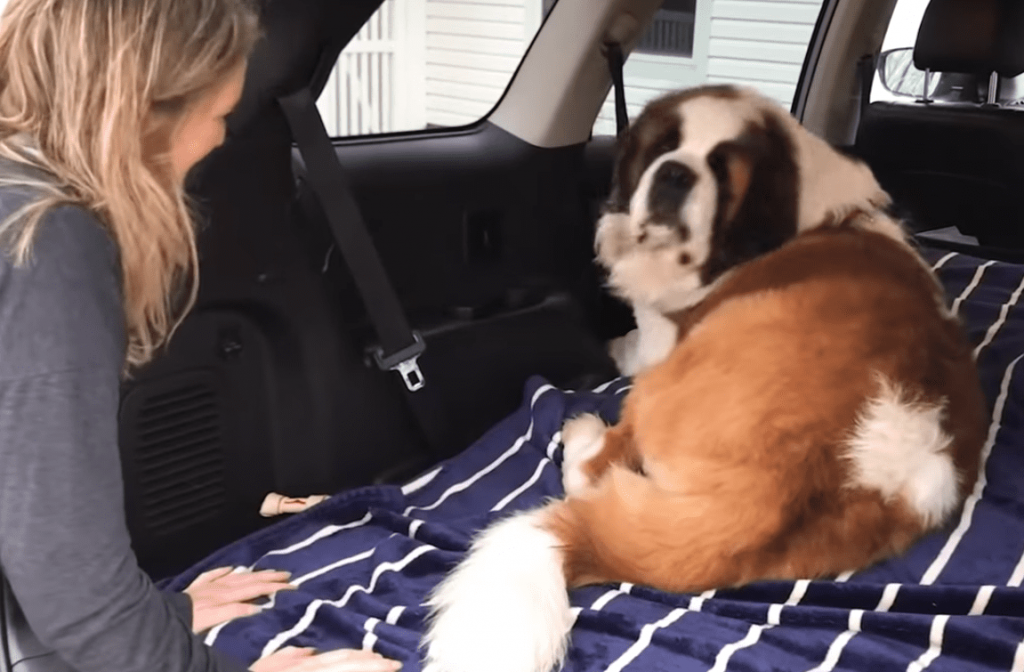 Source: Youtube Screenshot
At long last, Jayne and Cosmo finally drove up to their house and first thing, Jayne let her other two dogs, Grendel and Poppy, out to meet their new brother. To Jayne and her husband's elation, the dogs were instant best friends.
Then the biggest moment of Cosmos life came; the sweet shelter dog took his very first steps into the only home he had ever been in!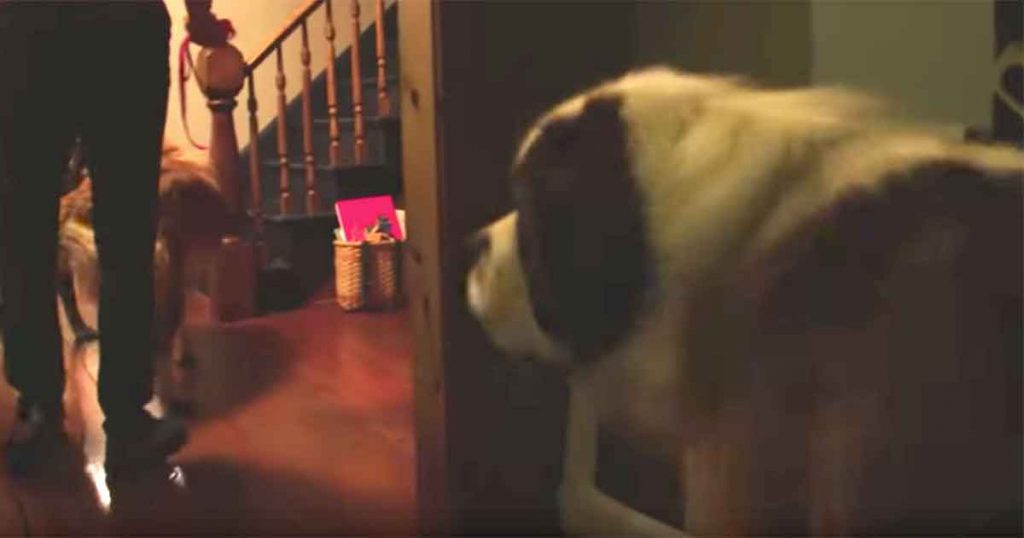 Source: Youtube Screenshot
Knowing that he must have felt overwhelmed with the newness of it all, Jayne allowed Cosmo to poke around on his own, getting a feel for his new home and family. In the video, you can see Cosmo wander about the entire house, sniffing at everything in sight, including Jayne's enormous Angora rabbit!
Jayne herself is just so ecstatic to see the shelter dog in a space that's actually large enough for him to be comfortable.
"It's nice to see him on a big space, see him spread out and put his belly on a cool floor, and just know he's finally staying in a space, a place where can feel happy and comfortable."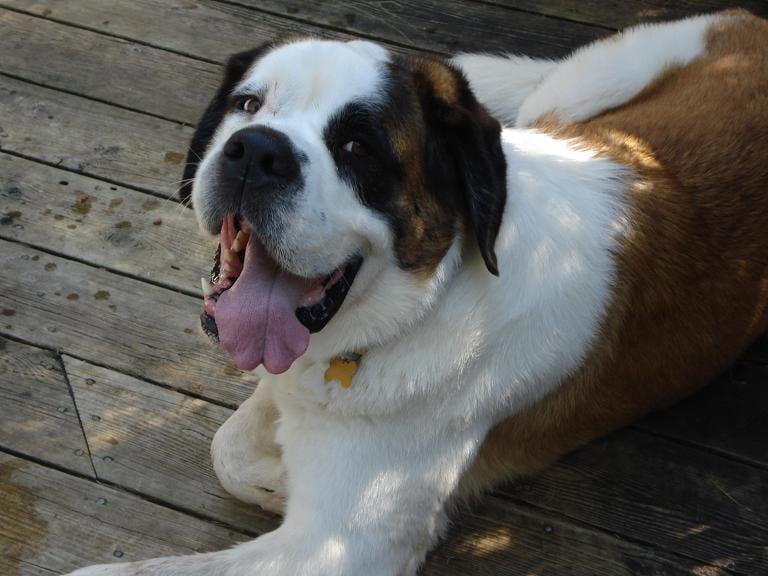 Source: Youtube Screenshot
After meeting the dogs and meandering through his new house, Jayne introduced Cosmo to her kids, Owen and Alice.
This was the moment of truth, to see how Cosmo would take to his new mama's other kiddos, and it couldn't have gone better!
Cosmo's eyes became as bright as the stars when he first met his two new family members, and you could tell from the get-go that Cosmo no longer had eyes for anyone else!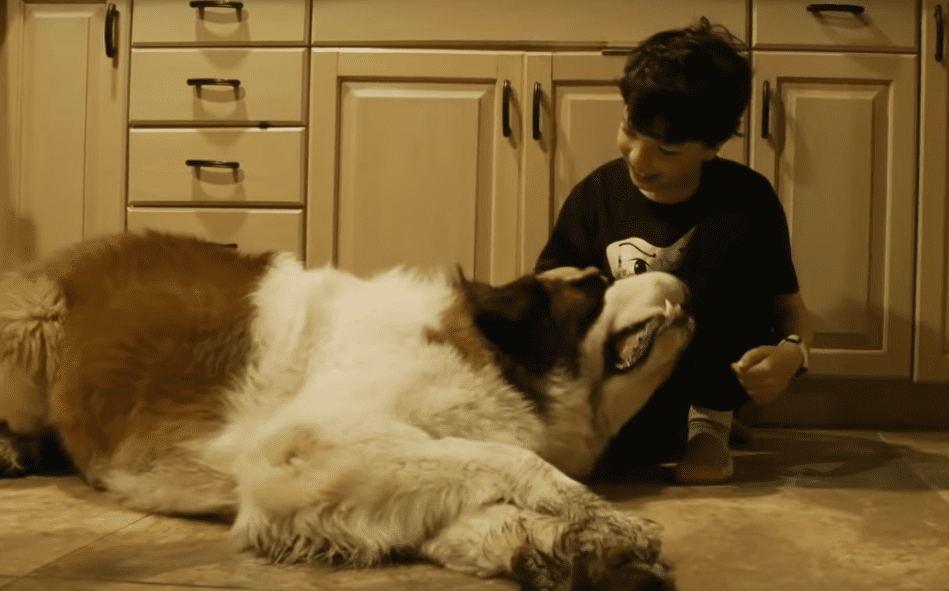 Source: Youtube Screenshot
Now that time has passed and weeks have turned into months, Cosmo knows where his home is. The 130 lb dog feels right at home lounging for naps on the family couch, and gobbling up people treats he gets from his humans. He has also formed a pretty strong bond with his fur-sister, Poppy.
It seems that the once abandoned shelter dog has finally found the home that was always meant just for him.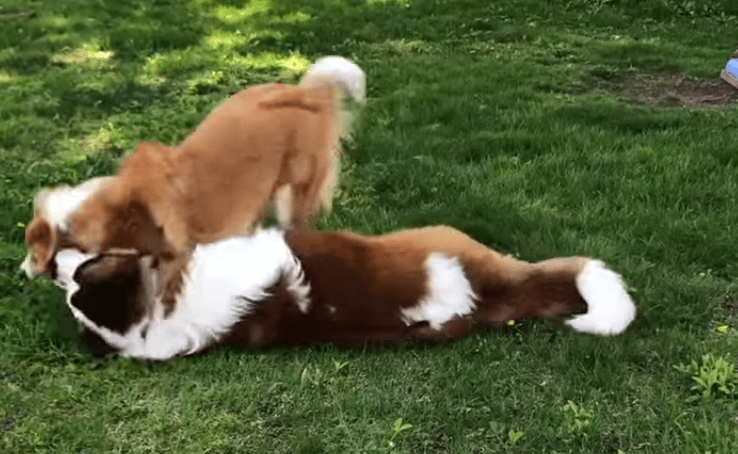 Source: Youtube Screenshot
Now that Cosmo has been hanging out with his family for a few months, it's clear that there was never a better place for him.
Jayne is beside herself with joy that Cosmo adapted so quickly to the new family that loves him so much.
"Animals just understand life a little bit better than people sometimes. It's like they know what's important, and if they have love and food and a roof over their heads…that's all that really matters."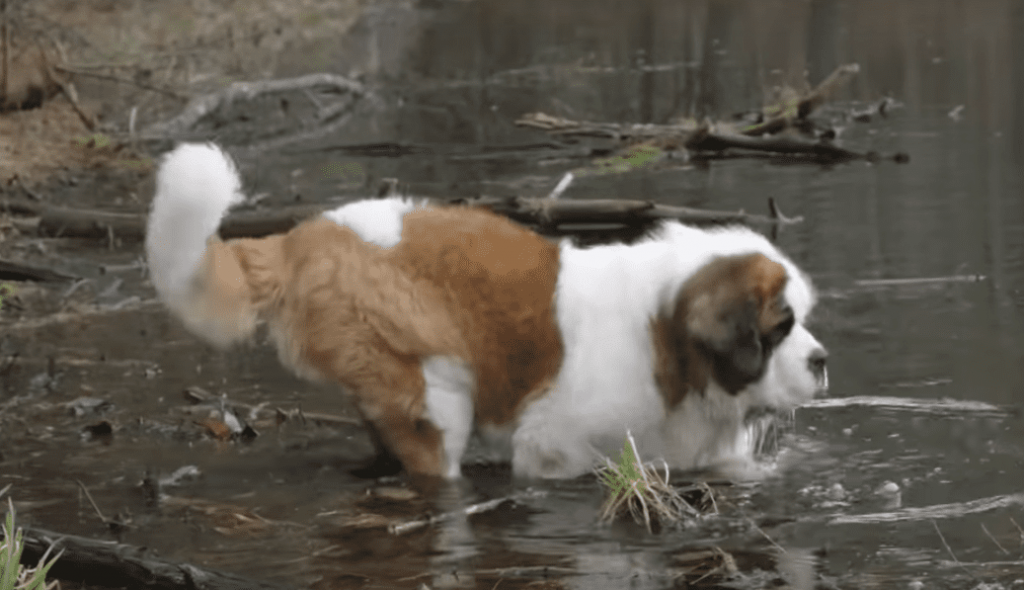 Source: Youtube Screenshot
This loveable, giant furball of a Bernard has found heaven on earth in his new forever home. To learn more about Cosmo's incredible journey watch the video below, and don't forget that if you're looking to adopt a new family member, check with your local shelters first.
They're overflowing with sweet, lonesome furbabies looking for a family to call their own.
Please SHARE this with your friends and family.