There's just something so special about having a best friend. They're the kind of person you can count on NO MATTER WHAT.
Like us, animals often have a BFF too! Most animals tend to befriend those in their own species, but that's not always the case.
In this particular video, this dog's bestie just so happens to be a FAWN!!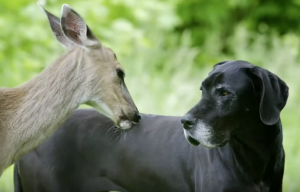 After being abandoned by her mother, a fawn, Pippin, found a loving friend by a Great Dane named Kate.
One day, Pippin wandered into Kate's yard and the rest is history!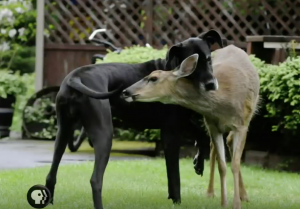 Kate's owner, Isobel Springett described their uniqueness by saying, "When they greet each other, I've never seen anything like it. It's not a deer greeting a deer. It's not a dog greeting a dog. It's definitely something that they have between the two of them."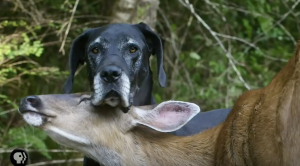 These two have been inseparable since day one. You'll often find them playing and snuggling together in the back yard.
Indeed this is one of nature's oddities, but it is heartwarming and incredible nevertheless!