Military dogs want the same things people want when they retire: comfort, some peace and quiet, and quality time with their loved ones.
That's not too much to ask for a pup who served their country, now is it?
While 90% of canine veterans end up with their handlers, a few end up available for adoption.
Air Force officials at Lackland Air Force Base, the San Antonio base are worried over the sharp disinterest faced by the retired military working dogs post-retirement.
While the trainee puppies who don't make the cut for active duty are readily adopted, the older K9s yearn for a home but keep getting overlooked.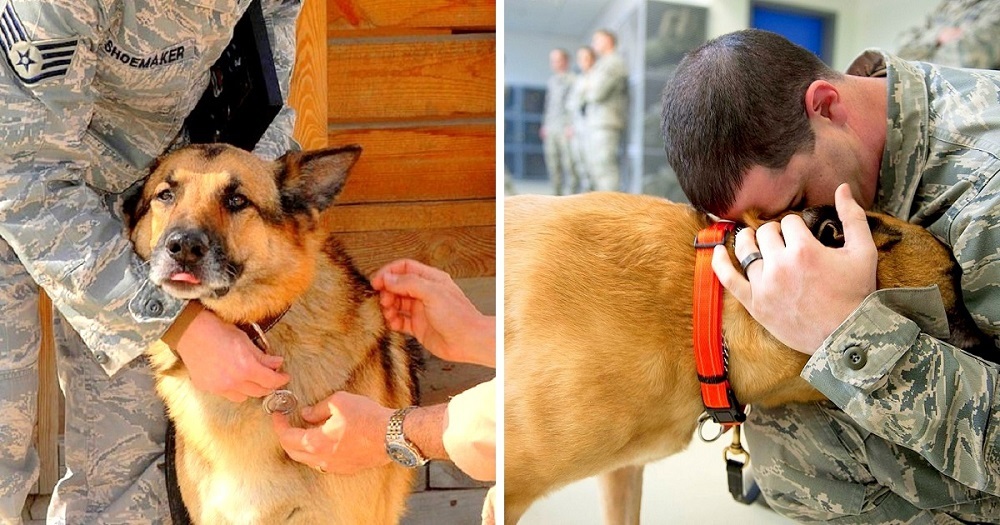 Source: Demetrius Lester/Wikimedia Commons | Senior Airman William O'Brien/Wikimedia Commons
The officials have now turned to the people for help. They have requested potential adoptive parties to consider retired K9s too.
These hardworking K9s have dedicated their lives to the safety of the nation and its people. They will be assets to their new family in every aspect.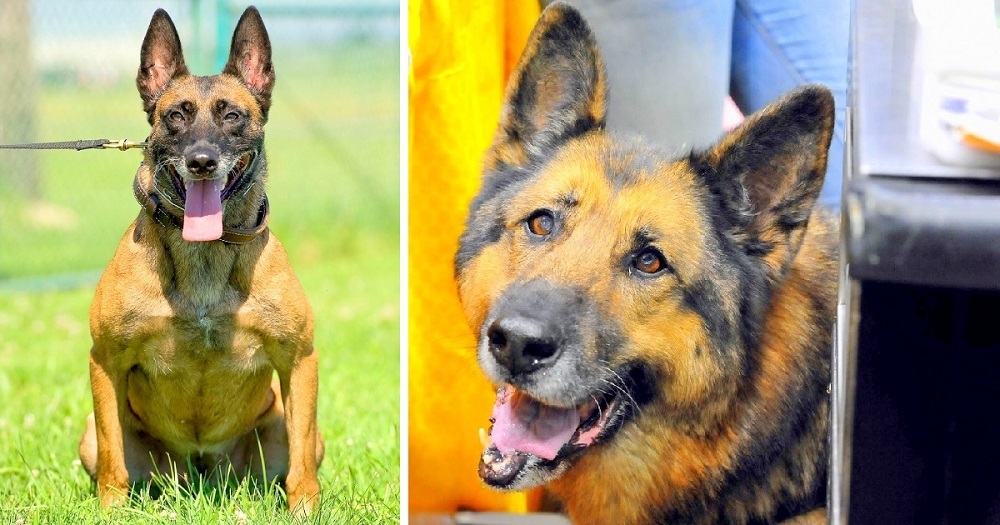 Source: PxHere | State Farm/Flickr
Lackland Air Force Base, the San Antonio base where all military pups receive their training, handles all their own adoptions, as does the Transportation Security Administration.
There are also organizations like Mission K9 Rescue, which help facilitate adoptions of contract military working dogs, which are often harder to reunite with their handlers.
You can expect most retired military working dogs (MWDs) available for adoption to be between the ages of 10 and 12.
Common breeds include German shepherds, Labrador retrievers and Belgian malinois—all loyal, energetic and intelligent.
"Every MWD, when they're retiring, they do a behavioral test and an adoption test to make sure they're not going to be food aggressive or bite a small child or chase the mailman down the street," says MAC Chief Petty Officer Jason Silvis, who works with MWDs at Lackland Air Force Base.
"We do a wide variety of tests before we decide that the dogs are good to be adopted to the public."
Of the dogs that end up back at Lackland, 75% are approved for adoption. At any given time, there can be as many as 200 approved adopters on their waitlist.
According to Silvis, there are a few requirements that have to be met before you can get your paws on a MWD:
A family has to apply and be interviewed by the military to ensure it will provide for the dog and to answer questions about other pets in the home.
A family usually cannot have young children. Unfortunately, most of the dogs aren't good fits for families with kids under age 5.
A family must be willing to travel to San Antonio to get the dog.
Lackland only places about six dogs a month, but like Mama always says, good things come to those who wait.
Interested in adopting a retired military working dog? Contact the officers at [email protected] or call 210-671-6766. Visit Lackland Air Force Base's website for more info.
Please spread the word and help increase the chances of adoptions for our loyal K9 veterans.
Click the video below to watch how amazing K9 veterans are and how you can adopt them!